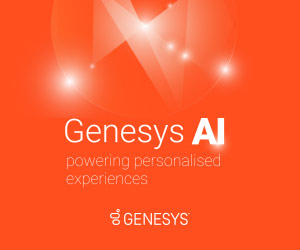 Roe Jones at Genesys explores how keeping your customers' data secure is one of your top priorities. Internal security protection and compliance measures that are less-than-rigorous leave your contact centre vulnerable to a wide range of cyberattacks or data breaches. And those breaches can do irreparable damage to your reputation — and your bottom line.
According to the Identity Theft Resource Centers 2021 Data Breach Report, the number of reported US data breaches increased 68% year-over-year in 2021 — the highest total ever. And those breaches are hurting companies financially.
A study by IBM and the Ponemon Institute found the average cost of a data breach in 2021 reached $4.24 million, its highest in 17 years. The study also found that when remote work was implicated in the event, data breaches, on average, cost over $1 million more than non-remote incidents.
Our "new normal" of a remote or hybrid contact centre workplace likely is here to stay. contact centres that fail to modernize and protect customer data in this new paradigm with the right technologies remain at risk.
In this blog, we'll look at some ways a data security breach could negatively affect your business — and why partnering with the right cloud contact centre technology provider is some of your best protection.
A Damaged Reputation
How companies respond to a data breach is important. Optics matter in an age of constant public scrutiny. And one industry might suffer greater brand reputation damage than another.
According to a study conducted by security platform provider Varonis, 42% of the 1,000 Americans surveyed would still shop with a retail store after a breach, 17% would use a bank afterward and just 7% would patronize a rideshare service following a data leak.
The survey also found that millennials are less likely to trust businesses after a breach, compared to Baby Boomers and Generation X consumers.
Loss of Consumer Trust
Sixty-three percent of consumers believe a company is always responsible for protecting its customer data. So it's not surprising consumer trust plummets following a data breach.
And that loss of trust could mean more than just a temporary downturn for a company; it could lead to financial ruin.
And that same report found that 81% of consumers would stop engaging with a brand online if it experienced a data breach.
Consumers are nearly as likely to blame the company (46%) as they are to blame the hackers (54%) for data breaches.
This puts the onus to ensure the data security of the entire operation squarely on your company's shoulders. Consumers expect you to protect them and their data. And meeting those expectations builds trust.
Lawsuits and Fines
No company is impervious to data breaches — not even the largest corporations. At some point, all industry leaders have been subject to some of the biggest, most punitive fines in US legislative history because of data breaches.
Regulators are becoming more serious about pursuing, to the full extent of the law, companies who neglect compliance measures and fail to protect consumer data, evinced by the magnitude of recent fines: $124 million for a major hotel chain, $200 million for a large home improvement company, a staggering $575 million for a credit monitoring agency.
This more punitive turn is likely to become the norm. According to the National Law Review, "2021 heralded several developments in data breach and cybersecurity litigations that may reshape the privacy landscape in the years to come."
Financial Headaches
While companies can gain customer trust after a breach, the immediate effects take a serious toll on the bottom line. For example, when Target announced a major data breach in 2014, its stock immediately dropped more than 10% — and it lost 46% of its revenue in the following quarters.
All told, the data breach cost a major retailer over $200 million of which only $18.5 million was the fine itself.
And breaches also negatively affect stock prices — in the short and long term. Research on 113 companies that experienced data breaches found their average stock prices declined 5% immediately following disclosure of the breach.
According to Comparitech, stock decline gets progressively worse over time, reaching a loss of 15.6% after three years.
Securing Your Future With the Right Contact Centre Technology Partner
Just as innovative technologies emerge and change how we work and live, so do the tools and tactics needed to secure those technologies.
Security technology moves fast; failing to adapt with the right solutions — or neglecting new technologies —  leaves your contact centre vulnerable to costly data breaches.
As a series of new security threats infiltrate business operations, many companies are ill-fitted to tackle even basic security challenges.
Some are saddled with legacy, on-premises call centre software — and many lack the resources for a much-needed tech overhaul. In fact, 137 out of 194 countries have put legislation in place to secure the protection of data and privacy.
Partnering with a cloud service provider that's better positioned and equipped to offer modern, digital contact centre solutions and know-how that enable them to meet higher cloud security standards and leverage the power of data to improve customer and employee experiences.
With their seamless ability to deliver secure cloud operations, data encryption at rest and in transit, full regulatory compliance, transparency in data processing and intentions, and an unwavering commitment to data privacy, the right technology partner should be a fundamental cornerstone to your contact centre security.
Hackers are getting more savvy every day. Choosing the right cloud contact centre technology partner will ensure you stay one step ahead of them to keep your data secure — and maintain your customers' confidence in you. Learn more about how to choose a partner to help you meet your cloud security challenges now and into the future.
This blog post has been re-published by kind permission of Genesys – View the
Original Article
For more information about Genesys - visit the
Genesys Website