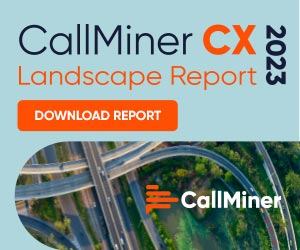 Here are our suggestions for making sure that the contact centre is better equipped to deal with impatient customers.
1. Ensure That Service Levels Are Being Met… Across all Channels
Just because the customer isn't using the phone doesn't mean that they are not in a hurry. In fact, many will start on another channel, grow impatient, and then end up switching to the voice channel.
So, make sure that service levels are being met across all channels, as not only will this better satisfy irritable customers, it will also reduce duplicate and unnecessary contacts.
This is according to Mandy Holford, Director of Customer Services at Echo-U, who says it is also important not to neglect the importance of meeting service levels on emerging channels, which include messaging apps like WhatsApp and Messenger.
In fact, Mandy says that "these channels all need to be managed very quickly and incredibly well. Consumers press 'send' and expect immediate responses. So, SLAs of 30 minutes to reply just won't work.
"Businesses need to continue to recognise that time is so important to consumers; they don't want to wait to be served and want to be able to continue with other tasks while trying to sort their query with our businesses."
So, make sure that service levels are being met across all channels, including the back office. Many contact centres forget about back-office contacts and move staff from the back office to the contact centre when the latter is busy. But then these back-office calls end up bouncing onto the contact centre floor anyway, frustrating customers in the process.
The traditional service levels for six key contact centre channels are highlighted below: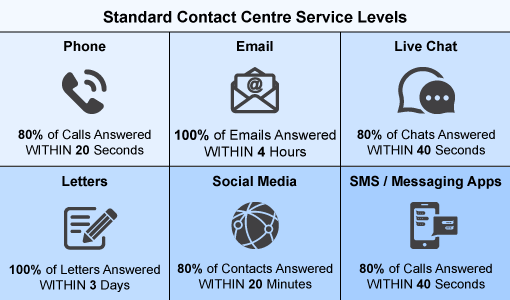 2. Offer a Call-Back Option for Lengthy Queues
Many contact centres are now introducing a call-back option on their IVR systems when the contact centre experiences an unexpected surge in contacts and there is a long queue.
This, according to Steve Hindley, the Creative Director at iNarratorOnHold, is "where a customer entering a long queue has the option of leaving their phone number and hanging up, and an advisor calls them back once they have reached the front of the queue.

"So, despite hanging up, the customer gets to keep their place in the queue." This allows the customer to get on with any other tasks they may have without being "tied" to the phone and listening to "that" hold music, which can rile an impatient customer.
Taking this into account, when designing a contact centre for impatient customers, it could be a good idea to add a message on the IVR that offers a call-back alongside the traditional "waiting on the line" alternative.
As suggested in the article "How to Write an IVR Script – With an Example", try implementing a message similar to the one below:
"I'm sorry about the wait, but we have two options for you. First, you can continue to hold and wait for an advisor. Or, I can keep your place in the queue for you and one of my team will call you back when you reach the front of the queue. So, press 1 for me to queue on your behalf and wait for one of our team to call you back as soon as possible, or press 2 to stay on the line and hold for the next advisor."
3. Route the Call-Back to the Last Advisor the Customer Spoke To
Instead of the traditional direct routing, where a customer phones a sales number to get to a sales advisor, contact centres are now using more innovative ways to route callers, so they don't grow impatient.
One method that we discovered on our visit to the Vax contact centre in Droitwich was to route the customer back to the same advisor they had spoken to before if their previous contact was within the last 30 days.
This helps to calm the customer, as they hopefully already have rapport with that advisor and the customer may begin to feel as though they have a dedicated advisor working for them on the "inside" of the business.
Another creative routing strategy that we picked up from Vax was to allow low-satisfaction customers to bypass the IVR and speak directly with an advocate advisor.
For more on this topic, read our article: The Top 10 Call Routing Strategies
4. Set Expectations About Waiting Time Right From the Outset
Customers will grow increasingly impatient if they are waiting on hold without any indication of how long it will take to get through to an advisor. This is why many contact centres offer an estimated queue time from the outset.
Frank Sherlock, VP International at CallMiner, says that "if this is less than they're prepared to wait, then they'll probably join the queue. If instead you start with an announcement that all advisors are busy or just play the on-hold music, they are more likely to hang up because they are unsure how long it will take."
The benefit of informing customers about waiting time is that it will create a clear expectation. And, according to Frank, "research shows that if this expectation is exceeded (i.e. the IVR message says it will take ten minutes, but an advisor answers the call after five minutes), it is likely to create a positive customer reaction."
Research shows that if this expectation is exceeded (i.e. the IVR message says it will take ten minutes, but an advisor answers the call after five minutes), it is likely to create a positive customer reaction.

Frank Sherlock
However, if expectations are not set, it is likely to increase frustration, as the customer may become agitated and negative contact centre connotations start to spring to mind.
As Frank says, "not only does this not create a good customer experience, but it also makes it much harder for the agent to deliver a good call outcome."
5. Send Customers Updates via SMS or Email
Customer frustration grows if, after their initial conversation, they are not kept in the loop as to the progress of their query. As far as the customer is concerned, the contact centre may not have even started trying to handle their request.
This is where outbound messages can really help to ease the mind of the impatient customer and can demonstrate to them that the organisation is being proactive.
Mandy Holford says that: "We need to be proactive and notify consumers of changes and updates through text messaging, app notifications or emails.
"Let's enable that email or text to become a 'channel' in its own right, so consumers can interact with you with one click."
These messages can be particularly good when a customer is expecting a delivery on one particular day. This is because an SMS at the beginning of the day alerting the customer as to when to expect the delivery, e.g. between 2pm and 3pm, will allow them to organise their plans around this time, instead of having to "wait by the door".
6. Don't Replay Apology Messages in the IVR
With the IVR system being a primary source of frustration for many customers, it is important to know what to avoid when it comes to designing the system and the script.
According to Steve Hindley, one of the key things to avoid when designing an IVR is to have repeated apologies "for the wait", when the customer is in the queue.
Why? Well, Steve says that when a contact centre "apologises all the time, in every message the caller hears, it wears thin very quickly."
Remember that apologies should always be authentic, just as when an advisor is talking to the customer in person. Make sure that automated apologies don't convey a robotic tone, which is often a key source of customer exasperation in the contact centre.
7. Review Dead Ends in the IVR System
Another tip to enhance the IVR system and prevent customers from growing impatient, is to review "dead ends", according to Mandy Holford.
In fact, Mandy suggests undertaking a "review of 'dead ends' in your IVR plans, to see how you can open these up to enable more self-service, redirection to other channels and/or prioritisation based on the value of that customer. It is all possible."
It's also important not to forget to provide an exit route from the IVR system. This is because a customer may press the wrong option, especially if they are in a hurry, causing frustration to set in.
To find other examples of IVR errors, read our article: 43 Things You Should NOT Do With Your IVR Messages
8. Find Ways to Better Support Customers with Off-Peak Time Schedules
I think simplicity is the answer; offer a wide range of contact channels, a great range of hours/days in which you service those channels and make sure you have knowledgeable experts answering the queries.

Mandy Holford
While many of these suggestions have included technology implementation, it is also important to think about the basic ways to greater satisfy customers and lower impatience.
Mandy Holford makes this point, stating: "I think simplicity is the answer; offer a wide range of contact channels, a great range of hours/days in which you service those channels and make sure you have knowledgeable experts answering the queries."
Having a great range of hours/days is arguably the most basic ploy to limiting customer impatience, but many contact centres don't have the resources to open for longer hours, so what else can they do?
When we visited DPD's contact centre in Birmingham, we found out that they put in place a strict 90-minute period at the beginning of each day for advisors to call back customers who had called in while the contact centre was closed.
This a good way of ensuring that the contact centre provides the best possible service to customers who have offbeat time schedules.
Another way to do this, depending on the company's strategy, would be to outsource a channel, such as webchat, to ensure that it offers 24-hour service.
By doing so, a message can be added to the IVR, so that when customers phone in during "closed-hours", they can be directed to the webchat channel for immediate support. If the contact centre has a self-service channel, that could work instead of outsourcing live chat, for certain call types.
9. Discover the Source of Impatience and Remove It
Often, customers grow more impatient on certain call types than others and vent their frustration at advisors. Therefore, the team may be able to tell you which call types and processes are causing the most irritation.
Frank Sherlock says that "phrases such as, 'finally, I've been waiting for ages…' or, 'your IVR was so confusing I just pressed the first option…', will not only indicate a customer's impatience but also the problems with your systems or processes that may further contribute to it."
So, use advisors as a Voice of the Customer (VoC) resource and talk to them about instances that repeatedly cause customer frustration. But also ask them to bring solutions, talk to them about the successful things that they have done to minimise impatience for the customer at these points and share these solutions around the contact centre.
Keeping this in mind, it may be useful to introduce initiatives that can support regular communication with the frontline, whether this is something like a suggestions box or an advisor focus group.
Another way to discover sources of impatience during a call is to implement an interaction analytics solution. Frank endorses this, stating: "If you use interaction analytics technology, you can perform automatic root cause analysis of language, acoustics and other metadata to uncover the possible sources of customer impatience, such as long waiting or on-hold times, silence, repeat contact drivers or unnecessary transfers."
Once the contact centre has uncovered these sources of impatience, either through speaking with advisors or by using interaction analytics, it can focus on improving the "moments" causing impatience, to make the process more efficient.
To find out more on this subject, read our article: Involve Agents in Operations and Strategy
What else can be done to design a contact centre around impatient customers?
To share your ideas, please use the comments section below.