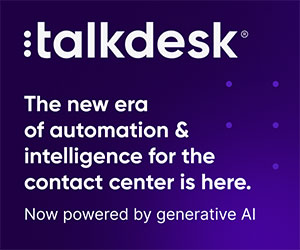 Nuni Brito at Talkdesk shares insights on the differences between inbound and outbound call centres.
Every call centre is designed to support the unique characteristics of a brand, its products, and the markets it serves. There are in-house centres, where the agents are employees of the brand and work onsite at one of its facilities.
It is also common to see outsourced call centres, outside organizations that brands hire to manage and run their call centre operations.
Despite these differences, all call centres fall into one of two categories; they are either inbound call centres or outbound call centres. Let's explore the similarities and differences.
All call centres offer opportunities for a brand to offer a varied array of customer services. The type of call centre best suited to meet an organization's needs will be dependent upon its overall objectives, employee talent, and availability—and budget, of course.
What Is an Outbound Call Centre, and What Services Does It Provide?
An outbound call centre is a function of an organization's sales department. This group of agents are traditionally sales reps who spend their shifts calling prospects. Some companies also use outbound call centres to conduct surveys or other market research, calling shoppers to learn more about their needs and interests.
Here are a few of the typical activities performed by outbound call centre agents:
Conducting telemarketing. Telemarketers have gotten a bad rap for calling during dinner time, but they serve an important role in direct sales, pitching their company's products phone number by phone number. Telemarketers can spread awareness of and pitch products to sales prospects, generating brand awareness or leads, or scheduling appointments.
Generating telesales. To use a baseball analogy, if a telemarketer is a starting pitcher, telesales teams are the closer. Telesales agents have a singular focus on closing deals over the phone. Sometimes, these teams are called "inside sales" and are tasked with improving conversions and increasing revenue.
Setting appointments. Outbound agents can serve as sales development reps and book meetings or schedule product demonstrations for sales executives to follow up.
Generating leads. Agents in outbound call centres also conduct "cold calls" to identify sales opportunities and collect information that can determine whether the opportunity is ripe to pursue, asking questions on timing and budget.
Research new markets. Outbound call centre agents sometimes conduct market research to better understand customer behavior and needs as well as the competitive environment. Market researchers might conduct phone surveys to learn what their target audience plans to spend on a specific category of product or service in the next 12 months. They might also ask about consumers' current product and service usage, and their perceptions of each. From this research, a company can better target prospects and their needs.
What Is an Inbound Call Centre, and What Activities Does It Conduct?
The most common activity conducted by an inbound call centre is customer service. Inbound call centres are not strictly a revenue-eating overhead function and do have the ability to generate revenue.
Here are a few of the typical activities conducted by inbound call centre agents:
Process orders and payments. Despite the popularity of e-commerce, many shoppers still prefer to place their orders over the phone. Inbound call centre agents facilitate customer transactions via phone. Shoppers also might contact a company with billing questions or resolve a payment issue.
Provide product and tech support. Inbound call centre agents help customers solve a wide array of issues, from updating account information and handling complaints to helping users change their passwords.
Upgrade and renew products and services. The popularity of subscription-based business (monthly clothing deliveries, online streaming services, and more) for both consumers and the enterprise, such as software as a service (SaaS) and cloud storage, has provided inbound call centre agents the ability to bring in incremental revenue through product or service upgrades and renewals.
Best Practices for Outbound Call Centres
Outbound call centres need to have a strong orientation around compliance and providing an excellent customer experience (CX).
Here are three best practices for outbound call centres to implement:
Obey regulations. Federal law gives consumers the right to be put on the National Do Not Call Registry to opt out of sales and marketing calls. If a contact has made a request for an organization to add their name to this list, it must do so. Additionally, the Telephone Consumer Protection Act includes regulations for outbound calls including dialling methods, recorded messages, calling hours, and more. Substantial fines, not to mention potential consumer backlash, are the likely result of flouting these rules.
Stick to the script. Be sure that agents can recite outbound call scripts without sounding rote, overly rehearsed—or like they are reading for the first time. Train agents to pay attention to the reaction received from the recipient of the call, including tone in addition to words.
Know the customer. Provide agents with insight into contacts—how do they fit any buyer persona? Knowing that a customer is open to purchasing your product or service should be the first step in the "call" process before dialing.
Best Practices for Inbound Call Centres
There are a lot of unknown forces that can impact the performance of an inbound call centre. Contact volumes can spike at any time for any number of reasons—natural disasters, a new service launch, and a product recall are just a few reasons customers might flood a call centre on any given day.
Here are three best practices for outbound call centre to implement:
Focus on customer experience. Consumers no longer rely simply on price and product; today, it's all about the customer experience. Inbound call centres can play a central role in delivering customer experience—everything from how agents answer calls to training processes to centre KPIs needs to be developed in a customer-centric manner.
Cultivate engaged agents. The idea that happy employees make for happy customers might be trite, but there is a certain truth to it. Engaged employees that feel an emotional commitment toward the company they work for become invested in helping the company succeed. Reward your best agents and inspire others with recognition, whether during a regular staff meeting or via gamification dashboards incorporated into your call centre platform.
Focus on the right KPIs. With so many variables to measure, it's easy to assume each metric is equally important. Such an overwhelming volume of data can lead to analysis paralysis, and the important metrics can get lost. Inbound call centres should have five crucial KPIs to measure the success of the operation. These should include operational (i.e., number of calls answered) and customer-related metrics.
Contact centres can be configured to address a wide variety of a brand's sales, marketing, and customer service needs. When structured to achieve clear objectives, both inbound and outbound call centres can be revenue-generating.
This blog post has been re-published by kind permission of Talkdesk – View the
Original Article
For more information about Talkdesk - visit the
Talkdesk Website