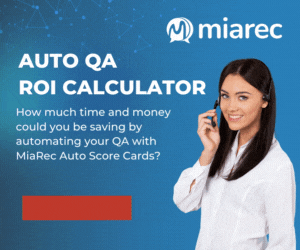 We share how to reduce calls in a call centre with twelve ways to reduce customer service calls.
1. Understand Contact Reasons and Map the Customer Journey
As a starting point to reduce call volumes, the contact centre should gather the top reasons why customers are calling in.
Then, those in the contract centre can ask: which calls do we want? And which calls do we stop?
Now the call types that you want to reduce have been decided, those in the contact centre should ask themselves: what are the alternatives for customers?
To make these alternatives a clear and viable option to the customer, Phil Anderson, a Senior Contact Centre Specialist at The Forum, advises the contact centre to "think about how process change can really support the customer journey."
"Once the origins of inbound calls in the contact centre have been tracked, then also look at the end-to-end customer journey.
"The end-to-end customer journey includes the time before the customer has even thought of the organisation and should be mapped out. This will help to identify pain points that are causing sharp rises in call volumes."
According to Phil, if an organisation were to do this, the contact centre can assess:
How easy it is for customers to contact the organisation at each stage of the journey
The literature and the information customers receive
Where customers find out where to interact with you
When this has been evaluated, and the pain points identified, think about what can be done to showcase self-service and different channel options at these touchpoints.
Also, consider what changes can be made to processes along the customer journey to eliminate the needless call types entering the contact centre, as discovered earlier.
To find out how to map the customer experience, read our article: 5 Steps to Creating a Customer Journey Map
2. Keep an Eye on Service Level Across All Channels and the Back Office
While you need to think about the process from an inbound call perspective, the back-office department of the contact centre and other channels also need to be considered.
This is because if service levels are not being met on one channel, customers who originally contacted the organisation on that channel may phone the contact centre to get their query resolved immediately.
Phil Anderson has seen this happen before, saying: "A couple of years ago, a public service organisation noticed that calls were queuing in their inbound section and started taking people from the back office to answer the calls.
"However, those calls were actually being driven into the contact centre because the back office was understaffed, and when that their back-office service level exceeded ten days, people were then calling in."
So, make sure service level is tracked across each channel and perhaps, if possible, check the bounce rate from one channel to another. This will provide useful information for which channels may need increased quality monitoring or a process review.
For more on this topic, read our article: How to Calculate Contact Centre Service Level
3. Consider How to Predict Customer Behaviours
Better planning can support a reduction in inbound calls by reducing abandoned calls and repeat calls.

Phil Anderson
To reduce inbound call volumes, the contact centre should plan better based on the predicted behaviour of their customers.
So, make predictions based on how a customer is likely to react at each touchpoint of the customer journey. Think about how the contact centre can proactively manage these scenarios or "control them".
Phil Anderson says that it is important to understand "the number of contacts that a customer will make with the organisation throughout their journey, and how better planning can support a reduction in inbound calls by reducing abandoned calls and repeat calls." 
Identifying all the organisation's "known knowns" is key to this. These include any external or internal events that can impact call volumes.
Such events include new product or service launches, sporting mega-events and seasonal changes, where clear deviations in call volumes can be forecast. By ensuring that there is appropriate literature and sufficient resources in place, inbound calls can be lowered and bounce rates across channels may fall.
For similar advice to this, read our article: How Do I… Predict My Customers' Behaviour?
4. Promote Self-Service During Busy Times of the Year
Typically, across the industry there will be certain times of the year that are busier than others, and it is important to know why that is.
Phil Anderson uses UCAS as an example of this, stating: "Every year in August, there is the Thursday that all the A-level results come out, and then there is clearing. However, one year, UCAS got caught out by a rise in calls.
"Since then, they've managed to provide more channel options to customers and do different things to deal with the annual surge in demand."
One such channel the company began to evolve was self-service, to minimise inbound calls. But, as we previously discovered, self-service doesn't always reduce inbound contacts. This is because of failure demand, access to additional information and incomplete information on self-service.
So, UCAS took to creating an informative YouTube video and shared it on social media in preparation for this peak in demand. This video provided students with the perfect guide through self-service, which took away the need to phone the contact centre for many questions.
This proved successful and the company began to create more videos throughout the year, in preparation for other, albeit smaller, peaks in demand, while embedding them into their website. These included "how to guides" for a personal statement, which are shared on social media before deadline day.
5. Provide Different Channel Options, but Don't Force Customers Down One Route
Offering customers different channel options will undoubtedly lower the number of inbound calls entering the contact centre.
However, these channel options should be led by the customer and a channel shouldn't be implemented simply because it is the new craze within the industry.
This is according to Phil Anderson, who says that "one of our members still uses the fax machine for a client in another country because that is the most favourable channel of choice right for that client.
"So, now they've got a fax machine in the corner, which has a service level of 24 hours, which seems out of place in the modern contact centre environment. However, if that's what the customer wants to do, the contact centre needs to honour that or they could lose those customers."
For similar advice, visit our page: 17 Top Tips for Multichannel Customer Service
6. Adapt Advisor Behaviour to the Caller
Aegon successfully had call reduction by over 7% after bringing in behavioural psychologists to talk advisors through handling different call types, according to Phil Anderson.
By doing this, advisors gained greater insight into how to deal with different types of enquiries, and Phil says that, "in some instances, certain customers needed to have spent longer on a phone call. But, having one long phone call meant they didn't need to contact again and had a great experience."
This example also highlights how advisors should not be targeted against Average Handling Time (AHT), because if they feel rushed into completing the call, there is the strong possibility that the customer's query may not be handled fully. This would then boost the chance of another contact.
Another example of reducing inbound call volumes was Legal and General, who successfully did so by including advisors in process transformation. The advisors were trusted to provide key customer insight, as they knew first-hand what the repeat contact reasons were and why customers resorted to the contact centre.
In addition, Phil also referenced Shop Direct, who used analytics to assess what customers were doing in terms of how they used their website by using heat maps to understand how they moved their eyes around. This allowed them to place key literature, such as FAQs, in a convenient position on the website, to attract customer attention and minimise the likelihood of customers "bouncing" into the contact centre.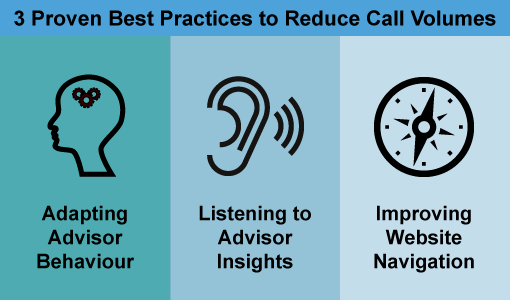 7. Extend Quality Practices Across All Channels
Customers will learn what is the best way to get their problem resolved, so if self-service is the best way they'll use it. If it's the telephone, customers will use that.

Rich Garrett
Organisations that have good rates of take-up across all channels have done so through alignment of people, processes and technology, according to Rich Garrett, Director Pre-Sales and Solutions Consulting at Jacada.
As Rich says,  "Customers will learn what is the best way to get their problem resolved, so if self-service is the best way they'll use it. If it's the telephone, customers will use that.
"This means that the channel of choice will be what the customer believes is their best way of getting their problem resolved."
With this in mind, it is important for contact centres to monitor processes and evaluate performance using dedicated KPIs across each channel. Otherwise, certain channels will fall behind the voice channel in terms of efficiency, and customers will learn to just use the phone as the simplest way of resolving their query.
For more on this subject, read our article: 10 Ideas for Improving Quality Management
Tips From Our Readers
With reducing call volumes being a key interest in many contact centres, our readers sent in their suggestions for how to do so. Their pieces of advice are listed below.
8. Promote All Channels Evenly
Promote all channels of communication equally and do not place any emphasis on one over the other.
Most customers when canvassed in focus groups have said that they like to use all channels offered, as each has its own benefit for the customer, depending on the time of day, subject matter etc.
9. Commit to First Contact Resolution and Volumes Will Lower Automatically
Having a commitment to First Contact Resolution (FCR) helps to keep calls down to a manageable level.
When there is a surge in inbound call traffic, it is often due to a lack of process knowledge because of an influx of new starters.
So, it can be helpful to ensure that extra callers are available during these times, with more advisors being moved onto email and webchat also.
Thanks to Steve
AO have a rookie pad to gently bring new starters up to speed in their contact centre. To find out more, read our article: 17 Things You Can Learn From the AO Contact Centre
10. Direct Customers to Other Channels on IVR Hold Messages
This seems obvious, but within the IVR during hold messages, direct customers to other avenues to self-serve.
Again, these options should not be forced upon the customer, as it is important to respect the customer's channel of choice, but signalling that these avenues are available may help lower call volumes in the future.
Thanks to Alan
To find out what else to include in an IVR message, read our article: How to Write an IVR Script – With an Example
11. Send a Unique URL Link to Customers
Sending customers a unique URL link to their issue log, which is updated continually, can be a successful method of reducing overall contact volumes across the contact centre.
This allows customers to monitor progress when they wish, which seems to make them more relaxed, especially as they can see that a matter is progressing.
Thanks to Rob
12. Improve Website Navigation
Make sure your website is user friendly and easy to navigate, as page leakage is often a reason for high contact volumes.
Also, it could be helpful to reduce the number of contact telephone numbers displayed and push more self-serve options.
Thanks to Juliet
Do you have any other suggestions for reducing call volumes in the contact centre?
Please share your thoughts in an email to Call Centre Helper.