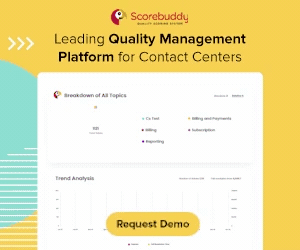 Dick Bourke of Scorebuddy discusses how you can evaluate your contact centre's Quality Assurance (QA) programme and consequently boost sales. 
In today's competitive marketplace, it's becoming increasingly difficult for brands to stand out.
Changing expectations make customer acquisition a moving target, while the ease of ordering from any vendor anywhere in the world makes customer retention more challenging.
Offering a slightly different product selection or marginally better pricing is no longer enough to set you apart from your competition.
The key to customer acquisition, retention, and advocacy lies in delivering an outstanding customer experience (CX).
In fact, customers are willing to pay more for a better customer experience and they'll be more likely to purchase from you again if they're happy with the service.
If you want to drive more sales and increase revenue, it's important not to ignore your customer service.
When you design your brand's customer experience, consider all touchpoints – website, social media, chat, messaging apps, and, of course, over the phone – and how you can effectively deliver a seamless experience.
While online customer support can help expedite simpler questions, customers value real-time conversations when they need extensive assistance or have questions about the purchase of a high-ticket item.
Such interaction allows you to find out exactly what a customer wants and gives you the opportunity to sell them exactly what they need.
Having an agent assist customers with their inquiries, orders, or post-purchase support is still one of the best ways to deliver a customer experience that converts sales and cultivates loyalty.
How to Improve Call Centre Quality to Drive More Sales
To deliver the best customer experience through your call centre, service representatives should be trained to do more than just answering questions or handling complaints.
A well-crafted call centre strategy is designed to proactively deliver the best customer experience, so you can drive more sales and create more loyal customers with high lifetime value.
Here's how to improve call centre quality and increase your profits:
Take Control of the Sales Conversation
Provide proper training to call centre representatives so they understand the needs of your customers and become experts in your products or services.
They should be able to lead the conversations confidently and articulate how your products or services are relevant to each individual customer's circumstances.
Agents should also be empowered to make on-the-spot decisions that will deliver the most desirable experience to your customers.
Focus on Building Rapport
People don't like to be sold to. They want to buy from brands that they like and trust.
Your call centre representative should be trained on communication skills that will help build relationships with your customers and solve their challenges.
When customers have a great experience with your brand, you have earned their trust and they'll be more likely to buy from you.
Leverage Marketing Personalisation Technologies
Personalised marketing is highly effective in driving sales and improving customer loyalty.
Your agents should have access to the 360-degree profiles of your prospects and customers, so they can personalise the conversations and make product recommendations based on a customer's past purchases, preferences, browsing behaviours, and past interactions with your company.
Offer Helpful Recommendations
Your customers are looking for a solution to their problems and they often appreciate recommendations from your representatives.
Encouraging conversations to understand a prospect's needs gives you the opportunity to offer special discounts on specific products and up-sell or cross-sell to increase the average order value when appropriate.
Check in With Your Customers
The cost of retaining a customer is lower than that of acquiring a new one.
In addition, a returning customer is likely to spend more because they already know and trust you, thereby increasing the overall customer lifetime value to your business.
Use your call centre resources to proactively reach out to existing customers to cultivate relationships, build loyalty, and generate more sales.
You can check in with customers on their recent purchases, make suggestions on other products or services that could be relevant to them, and offer incentives to place another order.
Minimise Wait Time and Optimise Process
The longer you put a customer on hold, the more frustrating the experience becomes. Opportunities are lost when customers get impatient and hang up.
You can use an interactive voice response (IVR) system to help customers get to the right representative as quickly as possible.
Don't forget to analyse your data to identify bottlenecks so you can expedite the process and improve customer experience.
Be Available 24/7
In today's global marketplace in which online business has become the norm, customers expect to get support around the clock.
Make sure your call centre is staffed appropriately to handle enquiries during off hours and holidays to service customers from all over the world.
Is Your Call Centre QA Strategy Working?
Monitoring your customers' interactions with your agents, as well as collecting and analysing the data, is the best way to find out if your call centre strategy is working.
For managers to effectively supervise and improve agents' performance, you need to first set quality goals.
Then establish a monitoring process that not only lets you assess individual interactions but also tracks metrics and improvements to ensure that agents are on track to meeting the goals.
A scorecard system is a great tool to give you the big-picture view by tracking essential metrics that reflect company policies, customer expectations, KPIs, and external benchmarking.
To make sure you're measuring metrics that matter most to improving your CX, take the time to learn about your customers' expectations.
Conduct interviews, surveys, and focus groups, and then incorporate the feedback into your scorecard system.
Provide proper training to managers and agents so they understand the quality assurance standards and process.
Keep in mind that call centre QA is an ongoing effort. Evaluate the goals and KPIs used for your scorecard system periodically to ensure that they're reflecting customer expectations and business objectives.
---
Recommended Articles