The winners of the largest and most credible awards programme in Europe dedicated to the customer contact industry were announced last night in London.
The European Contact Centre and Customer Service Awards, now in its 19th year, recognized companies including Ageas, Gousto, Microsoft, Sberbank, Sky, Teledirect Europe and Teleperformance amongst the winners.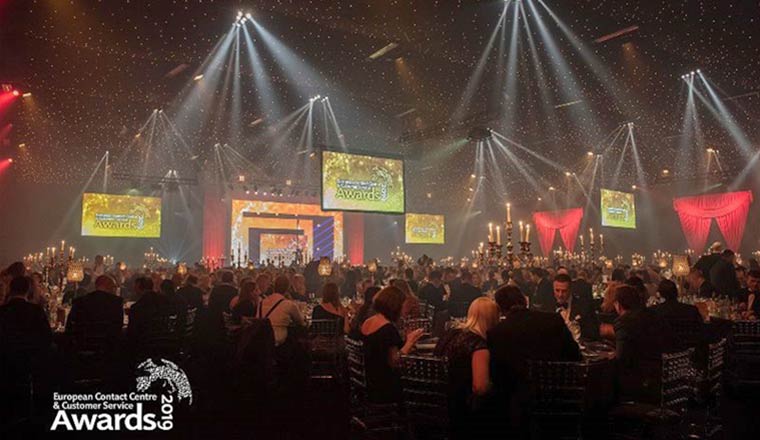 In front of the largest ever attendance at a customer contact industry awards evening, Teleperformance had a great night picking up Best Pan-European Contact Centre, with its Greek operation winning Best Multi-Lingual Contact Centre and Best Large Outsourcing Partnership with Canon.
Aegon won Most Effective Improvement Programme – Customer for their work introducing robotics to improve customer engagement, while Census Group won the Giving Something Back category for their work to rehabilitate prisoners with working in customer service.
Discussing the Census Group victory, the judges said: "This was the most powerful and emotional presentation this year; what these guys are doing is truly life changing."
The 94 judges, all with years of experience working in the industry, were overwhelmed by the achievements of all the Finalists, saying Sitel in Serbia and their Best Small Outsourcing Partnership with The Bodyshop was "simply the best and they are really setting the standard", and Assurant's pan-European fraud processes using data analytics technology was "impressive stuff".
The judges recognized NewDay with Best Use of Customer Insight for their "great example of using multi-channel data to gain a holistic customer voice".
The judges said they were "wowed" by the Expedia Group contact centre's awarding them Best Employer – Great Place to Work – Small, while TTEC's 120-seat Krakow contact centre was described as "an incredible environment", winning them Outsourced Contact Centre of the Year.
Chair of the Judges, Ann-Marie Stagg, was delighted to see the winners enjoying their moment, saying: "It was tough winning an ECCCSA this year. Organizations across Europe are doing outstanding things to improve the employee experience, and the ramping up of technology focused on progressing the customer experience in line with customer demand is incredible.
"Every winner this year, including those that took Silver and Bronze, are fine examples of how the customer contact industry is pushing boundaries and delivering excellence."
"We'd like to congratulate all the Finalists and especially those that took home a trophy," says Sabio Group CEO, Andy Roberts.
"We have been sponsoring these awards for as long as they have been around because they always deliver shining examples of brilliance.
"The industry has come a long way over the last 20 years, demonstrating real value and driving up revenues through improved customer experiences.
"We look forward to seeing the winners share their celebrations on social media."
For all the winners, visit www.ecccsa.com or follow the ECCCSAs on Twitter, LinkedIn, Facebook and Instagram.