In contact centres we get used to using the International Phonetic Alphabet.
This was originally designed for radio operators both in the military and in air traffic control.
It is based on English words, which is fine if you are dealing with English speakers but is not so good in a French or a multilingual contact centre.
French Phonetic Alphabet (Alphabet Téléphonique Français)
In other countries, including France, however, there is no "standard" phonetic alphabet. Instead, French contact centres often use names that are appropriate for their customer base.
For example, a French contact centre could use the following names as a phonetic alphabet when dealing with customers.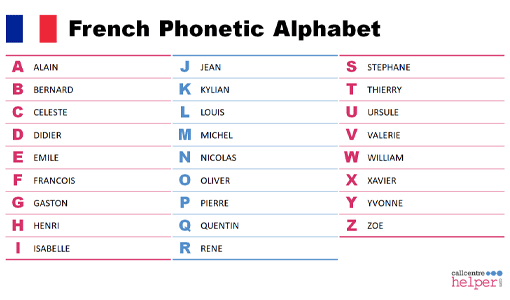 Letter
Word
Letter
Word
Letter
Word
A
Alain
J
Jean
S
Stephane
B
Bernard
K
Kylian
T
Thierry
C
Celeste
L
Louis
U
Ursule
D
Didier
M
Michel
V
Valerie
E
Emile
N
Nicolas
W
William
F
Francois
O
Oliver
X
Xavier
G
Gaston
P
Pierre
Y
Yvonne
H
Henri
Q
Quentin
Z
Zoe
I
Isabelle
R
Rene
Printable French Phonetic Alphabet
Do you want to download this to share with your team?
Get your free download of the French Phonetic Alphabet now: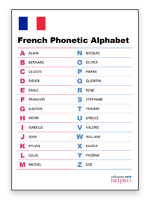 Download Free French Phonetic Alphabet in Editable Word Format
Download Free French Phonetic Alphabet in Editable PowerPoint Format
Do you use a different version when working with French customers?
Please drop us a line to newsdesk@callcentrehelper.com
To discover more about the phonetic alphabet, read these articles next: