While the phonetic alphabet works well for English speakers, it does not work so well if you are a multi-lingual contact centre (or BPO).
If you are working with Spanish speaking customers, you will need to adapt the phonetic alphabet.
Luckily, we have been in touch with Denise Anne Alcaraz, who has provided us with a version that she adopted for Spanish speaking and Latin American customers.
"My team always uses the English Phonetic Alphabet, but it sometimes confuses the customers especially since we support the EMEA-LATAM countries.
I have created an alternate phonetic alphabet list to adapt to our Spanish speaking customers and it has helped a lot."
Spanish Phonetic Alphabet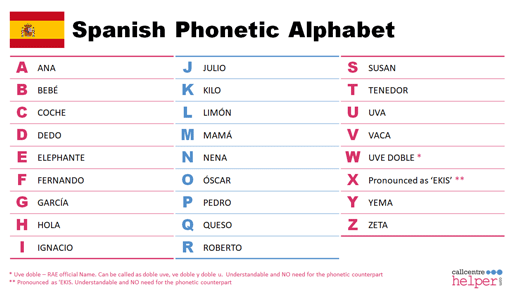 Letter
Word
Letter
Word
Letter
Word
A
Ana
J
Julio
S
Susan
B
Bebé
K
Kilo
T
Tenedor
C
Coche
L
Limón
U
Uva
D
Dedo
M
Mamá
V
Vaca
E
Elephante
N
Nena
W
Uve Doble *
F
Fernando
O
Óscar
X
'EKIS' **
G
García
P
Pedro
Y
Yema
H
Hola
Q
Queso
Z
Zeta
I
Ignacio
R
Roberto
Please note that there is no need for a phonetic Version of W (Uva Doble) or X (Pronounced as Ekis) as they are understandable as they are and cannot be confused.
Thanks to Denise Anne Alcaraz for sending us this list
Printable Spanish Phonetic Alphabet
Do you want to download this to share with your team?
Get your free download of the Spanish Phonetic Alphabet now: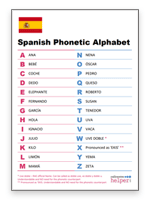 Download Free Spanish Phonetic Alphabet in Editable Word Format
Download Free Spanish Phonetic Alphabet in Editable PowerPoint Format
Do you use a different version when working with Spanish customers?
Please drop us a line to newsdesk@callcentrehelper.com
To discover more about the phonetic alphabet, read these articles next: