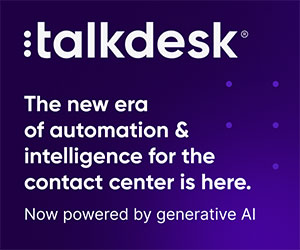 Lídia Dias at Talkdesk explores the challenges and benefits of running a virtual contact centre.
Many companies are taking the leap from on-site hardware to innovative, scalable, and resilient virtual contact centre solutions to ensure operations can be maintained in a work-from-home (WFH) or hybrid environment.
If you are re-evaluating your contact centre's long-term business strategy and considering a transition from a physical contact centre to a virtual one, this blog post is for you.
What Is a Virtual Contact Centre?
Virtual contact centres are accessible via the Internet. All your team needs to use virtual contact centre software is an Internet connection. There is no need to purchase, install, or maintain any costly hardware.
Virtual contact centres can come in all shapes and sizes:
Internal, company-owned contact centres hosted through cloud-based software used by work-from-home or hybrid agents.
Entirely outsourced contact centres, owned by a third-party provider with remote agents worldwide in varied time zones and with expansive knowledge or language skill sets.
Home-sourced or rural-sourced, with a few key representatives to function as virtual contact centre agents as needed.
The Challenges of Running a Virtual Contact Centre.
There are a few downsides of running a virtual contact centre you should keep in mind. While they can be managed fairly easily, you should be aware of them to protect your business:
Hiring virtual employees can be intimidating if you have never interviewed virtually. Ask for recommendations and previous work history to help qualify candidates.
Virtual training and onboarding requires additional structure and review processes to meet quality of service standards.
Virtual contact centre software can assist by allowing supervisors to listen in on call recordings and address pain points.
Creating and inspiring company culture can be difficult with a fragmented workforce. Consider creating online forums for employees to "hang out", thus improving virtual workplace satisfaction.
Six Main Benefits of Virtual Contact Centres.
Using a virtual contact centre environment can help your business in a lot of ways, not least of which is higher operational efficiency.
Let's run through six huge reasons why virtual contact centres can drive more value by providing reliable, professional, and better customer experiences.
1. Easy to Deploy, With Little Risk and Low Investment.
Virtual contact centres are easy to deploy, with little risk. Traditional call centres require investing in costly infrastructure and technology, and take time to organize, program, and launch.
With a hassle-free, cloud-based system, you can create your entire virtual contact centre operation without any hardware.
2. Harness the Power of a Virtual Team of Contact Centre Agents.
Having remote teams of contact centre agents in different time zones can elevate the customer experience and improve operational efficiency.
Cloud-based services have become essential to virtual contact centre infrastructure, enabling remote employees to receive routed calls and connect to your company's network from anywhere, anytime. All a contact centre agent needs is access to the Internet.
3. Increase Operational Efficiency and Business Agility.
It can be a challenge to manage analog phone systems, especially when you have multiple contact centres or customer service agents in different locations. Unlike with traditional call centre infrastructures, scaling a virtual contact centre solution will not require a large capital expense and can be completed in as little as 24 hours.
Once your new virtual contact centre is set up, your team will have unlimited scalability. Adding more agents and purchasing new phone numbers can be done with a few clicks—not code or expensive hardware installation. This enables you to quickly react to changing business conditions, whether it be seasonal peaks or unexpected incidents.
4. Ease of Use.
Virtual contact centre solutions lead the way in user-centric design, providing technology that is advanced, yet easy to use. This allows contact centre agents to benefit from enterprise level functionality without the hassles of lengthy training on archaic systems and daily usability struggles.
Ultimately, both contact centre agents and their customers benefit from the associated productivity gains.
5. One-Click Contact Centre Integrations.
Contact centres typically rely on multiple software solutions, yet integrating these solutions with traditional call centre software can be a hassle. Virtual contact centre software companies can offer one-click integrations with dozens of leading business tools.
This creates a better agent experience by reducing duplicate data entry and increasing agent productivity. Additionally, supervisors gain access to data from multiple systems in a single location, which increases their ability to make data-driven decisions.
6. Future-Proof Your Business.
When a natural disaster or emergency occurs, traditional call centre hardware is vulnerable. Damaged systems may cause significant downtime for your contact centre and leave your team with no alternative solutions. Rebuilding a traditional call centre is costly and takes time. This outage can result in lost revenue and unsatisfied customers.
Moving to the cloud can provide cover. Since a cloud-based virtual contact centre's infrastructure is virtual (not on-site) your software and data is safe, allowing agents to work from anywhere.
Making the Case for Moving to a Virtual Contact Centre.
Virtual contact centres are a rapidly evolving technology and many organizations are taking the leap after considering the benefits and researching dynamic cloud-based software.
When taking the leap yourself, look for cloud-based contact centre technology that can simplify complex systems, improve both your agent and customer experience, and help with the bottom line. Ask yourself: Is my contact centre solution good enough to remain functional and survive any disruption to business as usual?
When business as usual was disrupted in the customer service sector due to COVID-19, leaders turned to their plans, guidelines, and procedures for reacting to potentially critical events that jeopardize business to keep operations running.
In some cases, however, these plans were better suited for short-term disruptions, such as:
The closure of a building.
A temporary network outage
The absence of a significant part of the workforce due to sudden illness.
As the pandemic continued and fully remote or hybrid operations became "the new normal", organizations re-evaluated their contact centre approach to determine the best strategy moving forward.
Enterprises considered the implications of a full-time transition from a physical to a virtual contact centre.
Contact centre IT leaders not only had to maintain operations and guarantee access to systems from outside the company's network, they also had to do so without compromising security, data privacy, and service quality.
This required new discussions on the tech-stack challenges of remote work, the strategic implications of moving to virtual contact centre software, the impact on contact centre costs, and crucial decisions that affected operations in the long-term.
Contact centre leaders had to ask themselves some pressing questions:
What are the pros and cons of the most common methods for enabling a virtual contact centre?
How to evaluate the viability of a virtual contact centre as a long-term strategy?
How to present unprecedented value to business stakeholders at a reasonable cost?
Why moving to the cloud is a strategic decision for future-proofing an organization?
Before You Go.
Even if you only need to run a small customer support operation, a virtual contact centre may provide big benefits:
Lowered overhead costs by reducing or eliminating the need for office space, utilities, and on-site resources.
Easily scalable as needs change—no physical limitations on hardware or office space.
24/7 support opportunities from being able to hire professionals in different time zones or with different work structures.
Greater access to talented professionals spread across the globe—no commutes to affect anything.
A natural fit for employees whose chief functions do not require being on site—helping customers via the phone can always be done anywhere.
Increased productivity from reducing office distractions.
This blog post has been re-published by kind permission of Talkdesk – View the
Original Article
For more information about Talkdesk - visit the
Talkdesk Website