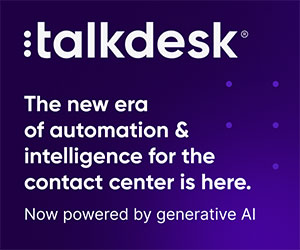 Talkdesk's Celia Cerdeira explains how virtual contact centres operate and why they are the future.
As businesses grow and customer service demands increase, many companies are taking the leap from traditional on-site hardware to innovative, scalable, and resilient virtual contact centre solutions.
These online platforms ensure operations can continue seamlessly, whether agents are working remotely or in a hybrid environment.
If your business is expanding, consider a transition from a physical contact centre to a virtual one.
Keep reading to find out more about:
Six main benefits of virtual contact centres.
Challenges of running a virtual contact centre.
Virtual contact centre best practices.
The Six Main Benefits of Virtual Contact Centres
1. Easy to Deploy
Virtual contact centres are easy to deploy, with little risk and low investment. Traditional call centres require investing in costly infrastructure and technology and take time to organize, program, and launch.
A cloud contact centre platform allows you to create your entire virtual contact centre operation without any hardware.
2. Harnesses the Power of a Virtual Team of Contact Centre Agents
Remote teams of contact centre agents in different time zones can elevate the customer experience and improve operational efficiency.
Cloud-based services are essential to virtual contact centre infrastructure, enabling remote employees to receive routed calls and connect to your company's network from anywhere, anytime. All a contact centre agent needs is access to the internet.
3. Increases Operational Efficiency and Business Agility
It is a challenge to manage analog phone systems, especially when you have multiple contact centres or customer service agents in different locations.
Unlike traditional call centre infrastructures, scaling a virtual contact centre solution will not require a large capital expense.
Once your new virtual contact centre is set up, your team will have unlimited scalability. Adding more agents and purchasing new phone numbers can be done with a few clicks—not code or expensive hardware installation.
This enables you to quickly react to changing business conditions, whether it be seasonal peaks or unexpected incidents.
4. Easy to Use
Virtual contact centre solutions lead the way in user-centric design, providing technology that is advanced yet easy to use.
This allows contact centre agents to benefit from enterprise-level functionality without the need for lengthy training on archaic systems and daily usability struggles.
Ultimately, both contact centre agents and their customers benefit from the associated productivity gains.
5. Utilizes One-Click Contact Centre Integrations
Contact centres typically rely on multiple software solutions, yet integrating these solutions with traditional call centre software is difficult.
Virtual contact centre software companies can offer one-click integrations with dozens of leading business tools.
This creates a better agent experience by reducing duplicate data entry and increasing agent productivity.
Additionally, supervisors gain access to data from multiple systems in a single location, which increases their ability to make data-driven decisions.
6. Future-Proof Your Business
When a natural disaster or emergency occurs, traditional call centre hardware is vulnerable. Damaged systems may cause significant downtime for your contact centre and leave your team with no alternative solutions.
Rebuilding a traditional call centre is costly and takes time. This outage can result in lost revenue and unsatisfied customers.
Moving to the cloud can provide cover. Since a cloud-based virtual contact centre's infrastructure is virtual (not on-site) your software and data are safe, allowing agents to work from anywhere.
The Challenges of Running a Virtual Contact Centre
There are a few downsides to running a virtual contact centre you should keep in mind.
Hiring Virtual Employees
This can be intimidating if you have never interviewed virtually. The inability to meet in person may make it difficult to assess soft skills and cultural fit.
Using video interviews, asking for referrals, and assessing previous work history can help qualify candidates effectively.
Virtual Training and Onboarding
Training employees remotely requires additional structure and review processes to meet quality of service standards. You may need to invest in digital training tools and platforms to provide effective training.
Monitoring Performance and Addressing Pain Points
Virtual contact centre software allows supervisors to monitor calls and address performance issues. This could include listening to recorded calls, analyzing performance, and providing regular feedback.
Maintaining Company Culture
Creating an inspiring company culture can be difficult with a fragmented workforce, but it's essential to create virtual spaces for casual interactions and team bonding.
Regular virtual events, recognition programs, and open communication channels can help.
Data Security
Virtual contact centres must have robust security measures in place to protect sensitive customer data.
This includes using secure software, training employees on cybersecurity best practices, and implementing a strict access control policy.
Technical Issues
As operations are heavily dependent on technology, any technical glitches can disrupt the service. Having a dedicated IT support team and a backup plan can help mitigate this risk.
Best Practices for Running a Virtual Contact Centre
The success of a virtual contact centre largely depends on having the right strategies and best practices in place. Here are some key aspects to consider:
Use the Right Software
Virtual contact centre software enhances agent performance and customer interactions. Agents can access customer data, call scripts, and other essential information in real-time, providing fast and accurate responses.
Monitor Agent Performance
This is crucial to ensure the quality of your call centre operations. Review call recordings, reports, and analytics regularly to help identify areas for improvement and understand how well your team is performing.
This data can provide insights into agents' strengths and weaknesses, helping managers provide targeted feedback and training. It can also highlight trends and patterns that can inform strategic decisions.
Track Contact Centre KPIs
Track key performance indicators (KPIs) to measure your virtual contact centre. KPIs, such as average handle time, first call resolution rate, and customer satisfaction scores, provide valuable insights into your operations.
Regularly monitoring these metrics helps identify areas that need improvement and ensure your contact centre is meeting its objectives.
FAQs
What Is a Virtual Contact Centre?
Virtual contact centres operate through the internet. Instead of using expensive hardware, all your team needs to access and use virtual contact centre software is a reliable internet connection.
Virtual contact centres come in all shapes and sizes:
They can be internal, company-owned cloud contact centres used by work-from-home or hybrid agents.
They can be completely outsourced contact centres owned by third-party providers with remote agents worldwide, across different time zones, with extensive knowledge and language skills.
They can also be home-sourced, with a few key representatives functioning as virtual contact centre agents as required.
Why Use a Virtual Contact Centre?
Using a virtual contact centre offers flexibility, scalability, and cost-efficiency. Businesses can adapt to changing demands, deploy agents worldwide, and streamline customer service operations.
It also enhances disaster recovery capabilities—maintaining uninterrupted customer support during unforeseen disruptions.
What Is the Difference Between a Physical Contact Centre and a Virtual Contact Centre?
A physical contact centre operates from a central location and requires on-site infrastructure and agents.
A virtual contact centre, on the other hand, uses cloud-based technology so that agents can work remotely or in a hybrid environment.
Virtual contact centres provide better flexibility and scalability and reduce the need for expensive hardware and maintenance.
Did you know? Talkdesk also appeared in Call Centre Helper's Top CCaaS Vendors for 2023
This blog post has been re-published by kind permission of Talkdesk – View the
Original Article
For more information about Talkdesk - visit the
Talkdesk Website