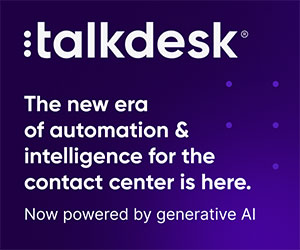 Customer habits have changed and they don't just call every time they need to communicate with a business.
Instead, customers use the channel that is most convenient and expect a prompt, seamless, and personalized experience, regardless of the channel.
Digital customer service uses online platforms to provide customer support through digital channels such as email, chat, social media, and self-service. Digital customer service is not only convenient for your customers, but also for your business.
For example, AI-powered chatbots give customers a smoother self-service experience and enable companies to do more with less resources, as agents can focus on handling complex customer issues instead of handling repetitive, simple queries.
This guide will cover:
Why is digital customer service important to the success of your contact centre.
The key features of successful digital customer service in a contact centre environment.
How to improve the digital customer service strategy.
Key strategies for optimizing your contact centre's digital customer service.
Why Is Digital Customer Service Important for Your Contact Centre?
Integrating digital channels into your customer experience strategy can help you deliver quality omnichannel customer experiences.
This enables your customers to engage with your brand across various platforms, including traditional ones, like phone calls and in-person interactions, and still enjoy a consistent level of service.
Omnichannel customer service is the foundation of a great digital customer experience. It ensures seamless transitions between different touchpoints, which is crucial for meeting the high service standards expected by modern customers.
What Are the Key Features of Digital Customer Service in a Contact Centre Environment?
To keep up with rising customer expectations for frictionless, digital, and omnichannel customer journeys consider these important features:
Seamless Channel Integration
Omnichannel digital customer service provides smooth integration and synchronization across multiple channels, including email, chat, social media, phone, and self-service portals.
It allows your customers to transition effortlessly between channels while your agents provide consistent support.
For example, they can start a conversation via chat, continue it over email, and seek assistance through the phone—all while maintaining a seamless and connected experience with your business.
Integrated Knowledge Management
Omnichannel digital customer service leverages a centralized knowledge base that provides consistent and up-to-date information to agents across channels. This ensures accurate and consistent responses, enhancing customer satisfaction through reliable support.
Intelligent Routing
Routing algorithms direct customer inquiries to the most appropriate agent based on parameters such as skill set, availability, and workload.
This optimizes resource utilization, reduces wait times, and ensures efficient handling of customer queries.
Real-Time Customer Analytics
Analytics tools, that provide real-time insights into customer behavior, sentiment, and engagement across channels, help to monitor and optimize the omnichannel digital customer service strategy.
These insights enable proactive customer service, targeted marketing efforts, and continuous improvement of the customer experience.
Self-Service Capabilities
An omnichannel approach includes self-service options such as FAQs, knowledge bases, and chatbots. Your customers can find solutions to common issues independently, reducing the need for agent intervention.
Proactive Engagement
Omnichannel digital customer service enables proactive customer engagement through channels such as email or SMS.
Your agents can reach out to customers with relevant updates, offers, or personalized recommendations fostering a proactive and customer-centric approach.
Performance Monitoring and Reporting
Robust monitoring and reporting capabilities provide insights into key performance indicators (KPIs) across channels.
This data helps you optimize contact centre operations, identify areas for improvement, and track the effectiveness of customer service strategies.
Delivering consistent, personalized, and seamless experiences to customers across all touchpoints empowers your company to provide memorable customer experiences.
How to Improve Your Digital Customer Service Strategy
The digital customer service strategy should be regularly evaluated and optimized. Here are a few of the optimizations you can make to your channels to improve omnichannel customer service in your contact centre:
Streamline Your Voice Channels With Virtual Agents
To optimize your voice channels, implement technologies that improve workforce efficiency, call quality, and customer satisfaction.
Speech-enabled interactive voice response (IVR) is a virtual agent that acts as an initial point of contact, collecting preliminary information from the caller, and identifying their intent.
By analyzing the caller's input, the virtual agent can determine the most suitable agent to handle the call. When the call is transferred, your agent has access to a single pane of glass dashboard containing all of the customer's relevant information.
This may include previous product or purchase details, a 360-degree view of their contact record from your CRM, such as Salesforce, and even a transcript of the virtual agent conversation.
Integrating these systems effectively equips agents with the necessary context and resources to deliver more efficient and effective customer service over the phone.
Unify Your Channels on One Dashboard
In addition to voice channels, it's crucial for your contact centre software to support digital channels all in one place.
This includes web chat, Whatsapp, Facebook Messenger, chat, email, and SMS. Agents should have a unified view of these channels on one dashboard to have a complete view of their customer.
This makes it easier for them to understand the customer's journey, preferences, and previous interactions as well as make customer interactions more personalized.
To optimize written channels like chat, email, and SMS give your agents access to predefined responses and a comprehensive knowledge base to provide personalized and accurate information quickly.
Managing all of your voice and digital customer conversations in a single, unified interface ensures the optimal customer experience, every time.
Three Strategies for Optimizing Digital Customer Service Experiences
How do you optimize your digital channels for excellent digital experiences? Here's a checklist to get started:
1. Monitor Your Entire Customer Journey and Touchpoints to Identify Issues
Map your entire customer journey, including all touchpoints across all channels.
Leverage visual flow designer to create your map digitally, ready to deploy across your channels.
Learn how AI helps you analyze your customers and discover unknown pain points.
2. Streamline Interactions and Communication Channels
Assess the current communication channels used by customers.
Identify redundant or inefficient channels and consolidate them where possible.
Implement a centralized platform or system to manage and streamline communication.
Implement automation and self-service options to reduce manual, repetitive tasks and improve efficiency.
Provide clear and accessible communication options for customers to choose from.
Ensure smooth synchronization of data and context across channels.
Train and empower customer service agents to handle interactions across multiple channels.
Monitor and analyze customer preferences and behavior to optimize channel offerings.
Leverage technology, such as chatbots and AI, to enhance communication and streamline interactions.
Implement real-time monitoring and analytics to track the performance of communication channels.
3. Personalize Experiences to Improve Customer Service
Let customers engage with your business on their channel of choice.
Enable your agents to move seamlessly across channels within a single interaction to personalize support.
Provide your agents with automated, personalized prompts.
Proactively engage your customers with software that automatically sends personalized, relevant, and timely notifications.
Leverage AI and machine learning to enhance personalization and recommendations.
Deliver Exceptional Digital Customer Service
Optimizing your digital customer service approach is essential to deliver exceptional service and exceed customer expectations. But relying solely on human agents is no longer enough.
The strategies and technologies outlined in this guide will optimize your contact centre's digital customer service and ensure exceptional experiences for your customers, regardless of how they contact you.
This blog post has been re-published by kind permission of Talkdesk – View the
Original Article
For more information about Talkdesk - visit the
Talkdesk Website