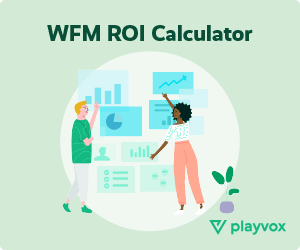 Karina Howell at Playvox explores how high-performance contact centres begin with the right workforce management (WFM) suite.
Most companies aspire to excellence in customer experience (CX). But without getting contact centre performance right, all other CX elements – such as marketing, user experience, etc. – will ultimately fall flat. How do you build a high-performance contact centre?
The foundation of contact centre success is attracting and retaining skilled and motivated employees while giving them opportunities to grow with the company. After all, the employee experience drives the customer experience.
What you need are agents capable of solving customer problems in ways that are not only efficient but also create customer experiences that build loyalty and drive sales. You'll then enjoy a sustainable competitive advantage.
Of course, getting to this point is a journey, and taking the first steps towards improvement can be intimidating.
Fortunately, there is a way forward: leveraging the right workforce engagement management (WEM) tools. These enable you to make progress on your most pressing challenges and transform into a high-performance contact centre.
What Is a High-Performance Contact Centre?
All contact centres are not created equal. Some are able to reliably deliver exceptional customer experiences and perform as strategic, revenue generating organizations, while others deliver sub-par experiences that lead to disappointing performance metrics and frustrate customers, causing them to take their business elsewhere.
High scores on key metrics are the first measures of a high performance contact centre. These include cost and efficiency metrics, such as first contact resolution (FCR) and average handle time (AHT).
With efficiency metrics under control, contact centres can focus on gaining high scores on customer experience metrics such as Net Promoter Score (NPS), customer satisfaction (CSAT), and customer effort score (CES).
While metrics are important to track, it's important to keep in mind that they represent a snapshot in time.
For high performance to be sustainable, it needs to be embedded in the culture and practices of the customer service organization. With the right culture and technology tools, you can cultivate a highly motivated team that improves over time.
The hallmark of a high-performance contact centre is a high employee retention rate. This metric is achieved by ensuring agents have the opportunity to learn and grow in their skill sets, while enjoying a satisfying work-life balance.
By contrast, contact centres that neglect to empower and engage agents will inevitably fail to improve their overall performance.
Elevating your employees' skills doesn't just allow you to build a more efficient and effective contact centre, it also gives you a competitive edge through improved CX. It all starts with empowering and engaging agents leveraging the capabilities of the right workforce engagement management suite.
What Is Workforce Engagement Management (WEM)?
Perhaps you've already heard about the benefits of a WEM suite and its positive impacts on performance, but you aren't sure how to get started with this kind of software.
A WEM suite allows you to elevate and empower employees with tools to schedule, evaluate, motivate, recognize, and reward agents at scale. Customer service organizations that leverage these capabilities are able to take their employee experience – and customer experience – to the next level.
Workforce engagement management suites represent an evolution from workforce optimization (WFO) suites, which were designed to increase contact centre agent efficiency. The key point is that WEM suites represent an evolution. As an employee, do you want to be optimized at work? Perhaps not. But engaged? That's a different story.
Employee expectations have evolved. Fortunately, technology has evolved as well. That's where workforce engagement management tools come in.
The various components within WEM suites work together to support every component of the employee experience, from schedule preferences to skills development to KPI tracking. These individual solutions work together like the instruments in an orchestra to generate operational excellence.
What Are Workforce Engagement Management Tools?
The solutions within a comprehensive Workforce Engagement Management suite typically include:
Workforce Management – to ensure that the right number of agents with the right skills are scheduled at the right time
Quality – to ensure that all your customer interactions are up to standard regardless of channel and agent
Coaching – to address performance gaps found through the QA application
Learning – to allow employees to continuously improve their skills
Leaderboards – to recognize employees for excellent performance
KPI dashboards – for a holistic view of operations
The core of WEM suites are workforce management (WFM) and quality management (QM) solutions.
Contact centres will typically begin with one or both of these solutions, and then expand to leverage additional tools that address issues such as performance problem prevention, motivation, and KPI tracking.
An organization's need for a specific workforce engagement management solution will depend on a number of factors, such as the industry, number of digital channels you offer customers, and scale of interactions handled.
No matter the type or size of your business, a WEM suite is critical to elevating the performance of your contact centre employees. That's why it's essential to choose the right technology partner that allows you the option of either deploying an integrated suite or beginning with point solutions.
When Is the Right Time to Implement a Workforce Engagement Management Solution?
Understanding your contact centre's business and performance goals is important when determining the best time to implement a workforce engagement solution.
Generally, you can anticipate deploying workforce engagement management tools when looking to improve the retention, effectiveness, skills and motivation of your workforce.
If you're looking to upgrade any of these areas for your business — and don't want to be limited by a point solution that only addresses part of the puzzle — it may be the right time to consider a WEM solution.
While deploying a workforce engagement management suite may seem like a major step for your contact centre, adding modules one-by-one allows you to ensure full agent adoption of each component while working towards the full vision of transforming your contact centre performance.
How to Select the Right WEM Solution for Your Contact Centre
A workforce engagement management suite is commonly implemented by forward-looking contact centres to schedule, coach, train, and engage employees. In other words, the right WEM tools enable contact centres to master operations.
A helpful approach is to identify the key challenges you'd like to address, and then document key success metrics, along with lessons learned. Is your key challenge forecasting demand? Identifying and addressing agent skill gaps? Motivation? Tracking KPIs?
When you outline your challenges, you're equipped to find WEM software that's the right fit for your contact centre and your team.
You are then poised to reap the benefits of the WEM suite you've chosen to elevate your contact centre performance.
This blog post has been re-published by kind permission of Playvox – View the
Original Article
For more information about Playvox - visit the
Playvox Website