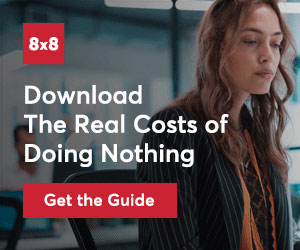 Karina Howell at 8×8 explains how artificial intelligence is transforming contact centres.
Conversational AI gets a lot of attention these days, and for good reason, since the technology promises nothing short of transforming the way we work, live, and learn.
I know that I'm not alone in obsessively experimenting with ChatGTP, Bard, and other chatbot tools in my spare time.
And as a customer experience (CX) professional, I'm busier than ever, since—according to Harvard Business Review, Forbes, and a myriad of other sources—the contact centre is one of the departments that will be most transformed by conversational AI.
AI Investment Is Increasing
Since this transformation is already underway, it's good to ask how contact centre investments in conversational AI are working out so far.
A recent 8×8 survey of US, UK, and Canadian contact centre and IT leaders did just that. The results reveal that contact centres using conversational AI are not only satisfied with the results, but also plan to expand their investment.
Among those who already use conversational AI, 94% of respondents report productivity improvements, while 93% agree that adopting or increasing contact centre automation in the next 12 months is important.
What Are the Main Benefits of Conversational AI?
The benefits of conversational AI in contact centres are widely recognized by those already using the technology, according to the 8×8 survey.
Nearly all respondents using AI-powered chatbots (for voice) (97%), chatbots for digital (for digital) (96%), conversational AI (for digital) (95%), and conversational AI (for voice) (91%) report they are satisfied with their capabilities.
The productivity benefits of chatbot/conversational AI have been widely documented in the industry, and this study is no exception, with 94% of respondents reporting improvements in that area.
When AI-powered chatbots are done right, they deflect routine and repetitive customer interactions, resulting in a more efficient use of resources.
As a game-changing contact centre technology we expect conversational AI to help make contact centres not only more efficient but also more effective.
The survey reveals that a whopping 93% of contact centre and IT leaders report that AI helps resolve customer issues, and 92% report AI saves time resolving these same issues.
This is a highly encouraging result, since it indicates the solution directly improves contact centres' ability to meet their KPIs.
These responses make it clear that by helping to more rapidly resolve issues while also deflecting routine inquiries, conversational AI is a powerful tool to improve customer satisfaction.
How Does Conversational AI Improve the Customer Experience?
First, customers experience quick and convenient responses times, meeting their need for rapid 24/7 service.
According to DimensionData's Global CX Benchmarking Survey, 44% of customers prefer quick and convenient service to detailed and customized.
We see that when conversational AI chatbots are done right, they contribute powerfully to customer delight.
Second, once routine and repetitive inquiries are deflected, agents are less likely to experience stress and burnout, and can instead focus on adding value to more complex customer interactions that require demonstrating customer empathy and leveraging a live agent's expertise.
The agent is also better able to improve their skills with these types of interactions and assistance, and customers are more likely to stay engaged, contributing to improved loyalty and retention.
Escalate From Chatbot to Live Agent Service When Necessary
Yet all these gains will evaporate if customers with more complex problems that chatbots aren't able to solve are forced to start over in a live channel, resulting in frustration. That's why a seamless escalation path between chatbots and live service, both digital and voice, is critical.
Given the importance of tight integrations to ensure customers can escalate from a chatbot to live service when necessary, it's not surprising that 85% of respondents to 8×8's survey report they would prefer to use AI already integrated into an existing contact centre solution.
Execute Conversational AI the Right Way
A Intelligent Customer Assistant (ICA) solution fills a gap in the market by providing a conversational AI solution pre-integrated with a contact centre solution, allowing for both seamless escalations and rapid deployment. The solution offers a host of tools to ease the costs of deployments and operations such as:
A graphical click and scripting tool that offers ease of use for managing dynamic customer experiences. These graphical scripting tools allow a single chatbot to be built quickly deployed across any channel (i.e., WhatsApp, SMS, web chat, etc.).
Out-of-the-box templates that allow administrators to build journeys, the cost barrier is reduced while IT independence is increased.
Automated customer service across channels in multiple languages. Integrations with CRM and other applications allow for personalized customer experiences.
Technology limitations are further reduced with built-in, comprehensive analytics solutions to provide actionable insights for performance optimization. And visually appealing, customizable dashboards offer the ability to monitor and understand intent metrics, channel-specific data, and conversation insights to improve bot performance.
This blog post has been re-published by kind permission of 8x8 – View the
Original Article
For more information about 8x8 - visit the
8x8 Website