Can't stop your staff flying from your business? Let Francesca Randle provide you with some first-rate tips on keeping your call centre agents with you when the going gets tough.
Want to know some interesting facts about staff retention?
Over 50% of the people recruited in to an organisation will leave within two years.
One in four people recruited will leave within six months.
Nearly 70% of organisations report that staff turnover has a negative impact.
Nearly 70% of organisations report having difficulties in replacing staff.
Approximately 50% of organisations experience regular problems with employee retention.
Reducing uncontrolled employee turnover is a major strategic challenge for practically every employer in the developed world. With an increasingly diverse workforce, it is imperative that employers both attract and retain their key staff. Managers must take responsibility for their own employee retention. A wise employer will learn how to both attract and retain good employees and must be prepared to be collaborative, supportive, and nurturing of their people.
At one time, employers were concerned about keeping all staff regardless of their quality or potential, but this view has changed quite radically over recent years – and understandably so. The process was very much one of attract, recruit, induct, develop, reward and retain. But the fundamental addition to this process has been separation. Acknowledging that separation is inevitable and separating positively so that staff can return if necessary – and if not, that they at least have a positive view of the organisation when they leave – is important. Organisations cannot keep paying more and more simply to attract and retain key staff.
When does staff retention begin?
In truth, a solid retention strategy begins long before individual members of staff join an organisation. The image an organisation portrays and how attractive it is to potential employees is crucial. Understanding why employees leave and asking why some people do not want to work for your business or reject your job offers is a useful starting point in trying to determine whether your organisation has a staff retention problem.
After that comes the identification of the reasons behind the retention issues. You can do this by a number of assessments and measurements, including surveys, discussion groups, exit interviews and questionnaires, and one-to-one interviews. Examining staff turnover, stability and retention rates can also help demonstrate the difficulties.
Until the problem can be identified and understood, effective solutions cannot be implemented. However, care should be exercised in using any assessment or measurement as employees may not be totally honest. While staff turnover rates provide an overview of problems without focusing on specific issues, for instance, stability and retention rates are often more helpful – providing an indication of how many staff remain in an organisation as a percentage of those leaving or joining.
So, just why do some staff leave and some stay? The reasons are complex and inter-related and, to a certain extent, are dependant upon individual needs and preferences. The very motives for some staff staying can be the cause of others leaving. It is therefore important to understand staff and to address their needs where feasible and practical.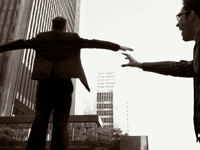 In order to retain your people, strategies need to be put in place both in the short and long-term. Strategies should in general be applied equally and fairly. For example, flexibility of employment and practices to address work-life balance issues should not be exclusively for staff with family responsibilities. Indeed, many young people and other staff, too, enjoy flexible working practices as they enable them to pursue hobbies and other interests. Nevertheless, some strategies may need to be put in place to address specific groups, including talent.

The push and pull of work

A person's decision to leave is influenced by what are known as 'push and pull' factors. Employee satisfaction, commitment, the way they are managed and a range of other 'push' dynamics affect a person's disposition to stay or leave. Meanwhile, the relative buoyancy of the labour market, particularly relative pay levels and the number of suitable vacancies, can act as 'pull' factors.
In reality, organisations can only influence the 'push' and should resist blaming the 'pull'. Decisions to leave are rarely linked to pay satisfaction. Overall, around 10% of leavers across all organisations resign because they are unhappy with their pay. It's not an insignificant amount, but it's by no means the majority. Despite this, most employers place pay-related measures at the heart of their retention strategies.
The real main reasons that people decide to leave are linked to the following key areas:
Intrinsic work factors

– such as varied and challenging work, work which uses employees' skills to the full.

Climate and culture

– many studies have shown strong links between an individual's 'fit' with the dominant culture of the organisation and their propensity to resign.

Leadership style

– in most organisations, line managers influence most of the 'push' factors that can lead to resignation or retention. These include induction, training, job content, promotion and progression, rewards, feedback, job satisfaction and so on. Good managers usually deliver high retention as a by-product.
Expecting blanket solutions to retention problems at work is unrealistic. A good retention strategy should therefore seek to address both the retention climate of an organisation and the specific measures that address the needs of 'high risk' groups. After all, the decision of a valued employee to leave is often a symptom of deeper organisational problems. Retention measures that simply treat the symptom rather than the underlying cause will be expensive and ineffective. Conversely, apparently insignificant things like saying 'thank you' and recognising performance can be vital and yet cost nothing.
Strategies that can help you tackle retention
You've heard the background, but how exactly do you go about retaining your staff? Below is a list of suggestions that might well prove useful:
Good data.

Be able to identify turnover 'hot spots', high-risk groups, costs and trends over time. Avoid spending too much time on benchmarking; it is internal trends and patterns that are the most revealing.

Reasons for leaving data.

Use well-structured exit interviews or leaver surveys to highlight reasons that are in your control. Differentiate between voluntary resignations and other forms of turnover. Identify which factors have 'pushed' staff out – for instance, dissatisfaction,  and which have 'pulled' them out – for example, better prospects.

Risk analysis.

Establish, by looking at the likelihood and consequences of resignation, to what extent you have employees in the danger zone. Target your effort on those most likely to leave and those whose departure would have most serious business consequences. Prevention, they say, is better than cure.

Recruitment.

Avoid recruiting turnover by matching people to posts and by not inflating new recruits' expectations before they join. In your eagerness to fill vacant posts, resist the temptation to over-sell the job.

Training and development.

Tailor and deliver training and development opportunities to the needs of both the organisation and the individual. For many, professional development is critical to their capacity to do their job and to stay at the forefront of developments in their field. Don't believe the mythology saying that if you train people they just leave. There is much more evidence supporting the notion that people will stay after training than leave. Correspondingly, people are much more likely to leave if you don't train them.

Management style.

Ensure the managers have the skills to manage people and that they understand that the way they manage can increase or lower staff turnover. Generally, good managers experience lower turnover among their staff. Setting clear goals, giving constructive feedback, making people feel valued and involving them in decision-making all make a contribution to improved motivation and retention.

Job content.

Allow as much autonomy, team-working and control as practical. Ensure flexibility does not meet only the organisation's needs. If you want people to do a good job, give them a good job to do.

Rewards.

Use loyalty bonuses only where nothing else will work. Even then, don't expect their effects to last. Ensure rewards are seen to be fairly determined and distributed. You should aim to pay the market rate. Paying well, by itself, won't buy loyalty, motivation and commitment.

Flexible working.

Ensure that employees with a need for flexibility in hours or location feel that the organisation is responsive. There is now much more evidence that, when choosing between employers, potential employees are now looking for working patterns that allow them to balance work and life and which avoid unnecessary long hours working. With growth in the number of women in the labour market expected to continue, flexible working is here to stay.
Traditional views of staff retention are no longer appropriate. It is neither sensible nor possible to offer long-term employment for all, and long service does not equal commitment and loyalty. It is not appropriate to retain all staff and it is the quality, not the quantity, of staff that are retained that is important. Rather than recruit and retain, instead attract, recruit, induct, develop, reward, retain and then separate. There are no quick fix solutions to staff retention, but the problem can be resolved. It requires effort, hard work, commitment, planning, awareness, analysis and a variety of policies. Keeping staff is a challenge.
---

Francesca Randle is director at Cactus Search
Tel: +44 8702 866 904
Website: www.cactussearch.co.uk