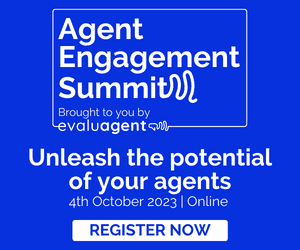 Here are some examples of inclusive language your team can use during the month of Ramadan.
What Is Ramadan?
Ramadan is the ninth month of the Islamic calendar, observed by Muslims worldwide as a month of fasting (sawm), prayer, reflection and community.
A commemoration of Muhammad's first revelation, the annual observance of Ramadan is regarded as one of the Five Pillars of Islam and lasts twenty-nine to thirty days, from one sighting of the crescent moon to the next.
The first and last dates of Ramadan are determined by the lunar Islamic calendar.
Inclusive Language During the Month of Ramadan
As seen on a poster displayed at the BT contact centre in Accrington, Lancashire.
1. Commitment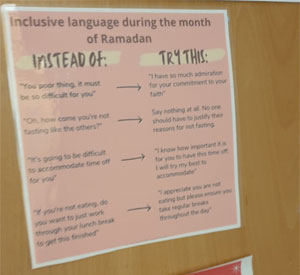 Instead of: "You poor thing, it must be so difficult for you."
Try this: "I have so much admiration for your commitment to your faith."
2. Not Fasting
Instead of: "Oh, how come you're not fasting like the others?"
Try this: Say nothing at all. No one should have to justify their reasons for not fasting.
3. Being Accommodating
Instead of: "It's going to be difficult to accommodate time off for you."
Try this: "I know how important it is for you to have this time off. I will try my best to accommodate you."
4. Taking Regular Breaks
Instead of: "If you're not eating, do you want to just work through your lunch break to get this finished?"
Try this: "I appreciate you are not eating, but please ensure you take regular breaks throughout the day."
If you are looking for more information on the lessons learned from the BT contact centre in Accrington, read these next: