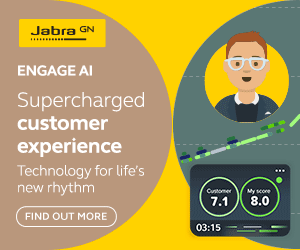 Jabra has confirmed that the Jabra PanaCast 20 is now shipping. Previously announced in April, the premium video conferencing device utilizes cutting-edge technology to deliver the next generation of intelligent, secure and portable video collaboration.
The plug-and-play PanaCast 20 camera offers a personal video conferencing experience, completely reinvented for today's hybrid world.
As businesses over the world adjust to hybrid working styles, video is essential and traditional video tools are no longer fit for purpose.
With the PanaCast 20, however, which clips to any monitor, businesses and employees can have total confidence that no matter what or where someone is presenting the quality will always be exceptional.
Using advanced processors, powerful on-board AI and a premium 13-megapixel camera, the Jabra PanaCast 20 delivers a real-time 4K Ultra-HD image that's sharp and crystal-clear, with virtually no latency.
AI Powered Video – in Real Time
Jabra's AI-driven Intelligent Zoom automatically follows the user's movements to intuitively adjust framing in real time. This ensures that the user is always in the centre of the frame while also allowing for more natural movement, making it feel like everyone is in the same room.
The PanaCast 20 can adapt to almost any lighting. By using Intelligent Lighting Optimisation, Jabra analyses the environment and automatically adjusts the image to enhance video quality, including those situations where lighting is poor.
The PanaCast 20 also features Picture in Picture mode – a technology that uses powerful Edge AI processing to combine two real-time video streams into one. It displays the second stream in an integrated window with the main image. This mode works with any UC platform, even if dual-stream devices aren't supported.
Collaborate in Confidence
Remote working has meant that collaboration had to be reinvented, but it's also produced new security challenges with many employees leaving businesses open to threats. With the PanaCast 20, security isn't an issue.
The intelligent personal camera is engineered for data security because the on-board AI processor drives all the features of the device. As a result, all actions take place on the device itself, significantly reducing the risk of a data breach.
At the same time, the PanaCast 20 also features an integrated privacy cover that can be positioned over the camera lens, giving the user total control over when they want to be seen – or not.
The Jabra PanaCast 20 works with all leading UC platform forms and users of the personal camera will also be able to partner the device with other Jabra audio solutions such as the Jabra Evolve2 65 headphones and Speak 750.
Regular software updates will also be available throughout the product lifespan ensuring maximum ROI.
Aurangzeb Khan, Senior Vice President of Intelligent Vision Systems at Jabra, said: "Over the last year and half, the world has had to adapt to hybrid working styles and video conferencing has been the glue that holds teams together.
"Getting it right is essential when it comes to everything from building professional relationships to staying productive. Quality should never be compromised no matter where you are and this is why we have created the Jabra PanaCast 20.
"The product is designed to set a new standard when it comes to video collaboration and help to overcome the video fatigue that we've all succumbed to over the last 18 months."
Key Features and Specifications:
Premium AI-powered 4K Ultra-HD video quality
AI-driven Intelligent Zoom keeps you centre stage
Intelligent Lighting Optimisation for a picture-perfect image, wherever you work
Picture-in-Picture for even more impactful presentations
Powerful on-board AI processor improves data security
Integrated privacy cover guarantees privacy when you need it
Built for flexible working. Clips to any monitor. Comes with protective case
Truly plug-and-play. Works seamlessly with all leading UC platforms
For more information, please click here.
For more information about Jabra - visit the
Jabra Website