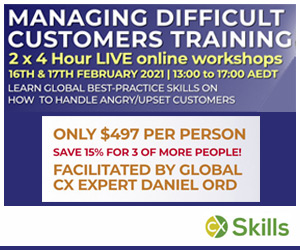 The Essentials:
Online delivery by Daniel Ord, a CXPA Recognized Training Provider and 30 year industry veteran in CX, EX, Contact Centers & Customer Service
A one day workshop split into 2 online sessions of 4 hours each
Recommended audience:
Frontline Team Members who interact with Customers across any channel or environment. Team Leaders, Team Managers, Quality Assurance & Customer Experience professionals.
Workshop overview:
Encountering difficult situations is an intrinsic part of dealing with Customers & Clients – whether internal or external. And it takes confidence and skill to effectively manage these kinds of situations.
It begins with our internal viewpoint and belief systems – so that we don't things too personally or slip into chastising or blaming the Customer. That's when it all falls apart.
Of course we cover the skills part. What to say, when to say it and how to say it. That really matters.
But we also apply a bit of science by identifying the different types of difficult Customers and the different types of difficult situations. Once we know that – we can apply the correct solution with confidence. Because there's no point in offering the wrong thing in the right way.
From learning how to say yes, how to negotiate, how to employ empathy well, learning how to say no effectively and with professionalism, the Managing Difficult Situations course is the ideal program to help your Team members handle difficult situations with grace and style.
Published On: 18th Jan 2021 - Last modified: 16th Feb 2021
Read more about - Archived Content
---
---