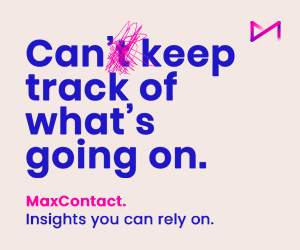 Customer engagement technology provider MaxContact has announced it saw record growth in 2021, becoming one of the fastest-growing contact centre specialists in the country.
The company has seen record sales across the year, with a 45% growth in subscription revenue in 2021, while it has also doubled its headcount from 30 to 60 staff in its Manchester office.
MaxContact provides customer engagement software that goes above and beyond to build smarter customer experiences, with a 97% CSAT rating.
In an industry where new features and innovations are rapidly evolving, MaxContact prides itself on combining great people, the right approach and powerful technology so customers can reach the right people, on the right channel, at the right time, every time.
Growth in Spite of Adversity
They have achieved this record growth despite the challenging economic backdrop of the pandemic, when many businesses across the world were forced to downscale operations. By contrast, over the last two years, the company has developed an exciting new product suite through internal development and strategic partnerships.
One strategic move was integrating speech analytics which uses machine learning and artificial intelligence to measure customer and agent sentiment. The software analyses speech patterns, keywords, emotion and intonation to help businesses identify and assist dissatisfied or vulnerable customers.
The company was also named one of the North's top 50 fastest growing tech companies in the Northern Tech Awards 2021.
The company is taking a stand to improve its users' well-being by making 2022 the year of the agent. It is announcing a full rebrand to reinforce its commitment to transform the lives of those who interact through customer engagement platforms each day.
Ben Booth, CEO of MaxContact, said: "It feels like an understatement to say the last year has been challenging for businesses up and down the country, but I'm incredibly proud of what our team has achieved in this environment, in such a short space of time.
"My co-founders and I set up MaxContact because we saw first-hand the frustrations organizations experienced in this industry with solutions over-promising and under-delivering on features, support and resilience.
"At MaxContact, people are at the heart of what we do – not just in terms of building a team of passionate, expert staff but also making sure we improve the lives of people that interact through engagement platforms.
"We want the business to be a force for good, not only for our people and our organization, but for the industry.
"We have big dreams to continue our rapid growth and transform the industry in 2022 and beyond and with a strong team behind us, we're excited to work with our customers and partners to get there.
"Whether that's creating new features, raising issues promptly, encouraging and empowering ourselves and each other, training customers or supporting partners, every action matters and will take us a step closer to our goals."
For more information about MaxContact - visit the
MaxContact Website