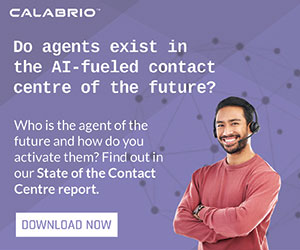 Teri Kocon of Calabrio gives 8 ways that moving to the cloud will benefit your call centre.
Moving to a cloud call centre can prove particularly valuable, with virtually limitless resources; fast, cost-effective scalability to accommodate seasonal changes and sustained growth; and access to new or more robust technology such as customer interaction analytics.
Yet despite the many benefits, concerns about data security—and the cost and effort to migrate data to the cloud—continue to plague contact centres wanting to make the move.
In addition, many companies hinder their ability to get started because they believe switching to a cloud call centre means they must transition all systems at one time, when actually taking a phased approach and transitioning select applications over a pre-planned period of time can lead to a smoother, more manageable transition.
But mistaken concerns such as these aren't just pesky nuisances—they can be downright detrimental to your business. That's because constantly growing competitive pressures demand that businesses:
are agile and can move quickly;
empower and enable today's mobile workforce;
leverage advanced technology like machine learning and analytics; and
minimise the expenses required to do all of these things.
Still need convincing? Here's what you need to know to help build the business case for migrating your contact centre to the cloud.
1. Enjoy the benefits of a redundant, highly available system that you don't have to maintain
Every minute a contact centre is down, customers are impacted and a company is at risk of losing money. Unplanned downtime can have a lasting impact—some brands never recover from the damage done to their reputations.
Add to that the cost associated with deploying and maintaining a fault-tolerant, highly available system that can protect against malicious efforts—such as a distributed denial-of-service (DDoS) attack—that can bring down systems, and the unintended harm that can be caused by hardware/software failure or mistakes made by an employee.
That's why the built-in business continuity provided by cloud solutions is so appealing. Cloud contact centre solutions ensure stability and reliability with things like always-on security monitoring, geo-redundancy, intrusion detection and more—all maintained and monitored by the cloud provider.
2. Access the latest and greatest software at no additional cost
Historically, contact centres have been challenged to get ahead or keep pace with their competitors when it comes to technology, especially when budgets are tight. Having up-to-date software with all the new features is key when it comes to being able to outpace the competition.
That's where the cloud comes in. By moving to a cloud call centre, you have access to the most up-to-date versions of applications several times throughout the year, not just once every three to five years. And you can do this without having to allocate resources or budget to make it happen.
3. Quickly expand capabilities or add functionality and start to innovate
Cloud gives you access to applications and technology that you previously might not have been able to afford. Look at multinational e-commerce company Radial. The main reason they transitioned to the cloud was to further innovate and stay ahead of the curve.
They were able to quickly achieve this with a cloud-based approach, where they can easily expand the capability of what they already have while adding new functionality. They now have the ability to continuously modernise their contact centre operations because of the new technology advancements readily available to them.
4. Stop relying on inaccurate capacity estimates
Companies forced to estimate capacity prior to deploying an on-premises solution often miss the mark. That's because it's difficult to estimate what will be needed in a constantly changing world, even if you wager a guess based on historic data. Inaccurate forecasts cost your company money—expensive resources stand idle, or customer needs go unmet.
With cloud computing, these problems go away. You can access and pay for as much or as little capacity as you need, when you need it. You can also automatically scale resources up or down as forecasts change.
5. Trade capital expenses for variable expenses
Moving to cloud software changes how you budget and plan for your applications. A new, on-premises contact centre solution can lead to a costly capital expense for which it can be difficult and time consuming to secure internal buy-in.
In addition to a large, up-front investment in infrastructure, an on-premises approach requires your IT resources spend time managing and maintaining equipment instead of spending time on higher value activities that drive upside for the business.
With cloud contact centre applications you don't need to purchase and implement hardware and software to support the application, you only pay for ongoing usage as you consume the computing resources. Without having to implement and manage hardware, your IT resources can focus on more strategic business initiatives.
6. Ensure ease-of-administration for global organisations
For large-scale or global organisations it's not "if," but "when," in regards to moving to the cloud. A cloud-based approach ensures greater flexibility and agility, and helps improve productivity and competitiveness.
With the cloud, these organisations can easily deploy their applications around the world with just a few clicks. The cloud also ensures ease of administration for global applications and remote workers, making it easier and more efficient via resources that are accessible anytime and anywhere.
7. Improve the security of your data
People still have questions and concerns about the security of contact centre data stored in the cloud. Yet studies show that data stored in the cloud is actually more secure than data stored in legacy on-premises systems for several reasons including:
The cloud provides instant access to the latest security tools in real time
Leading cloud solutions ensure encryption of data both in-transit and at-rest
The professionals who build and maintain cloud-based data centres are experts on data security and laser-focused on securing the cloud
The level of security used in the cloud is several steps beyond that used in on-premises applications
Most organisations can't come close to matching a cloud provider's spend on and dedication to security
8. Position your call centre for omnichannel success
Delivering a personalised, omnichannel experience requires you to seamlessly link all of your communication channels to ensure your contact centre managers, analysts, and agents have comprehensive visibility into customer interactions and the entire customer journey.
Cloud-based applications–like artificial intelligence (AI)-fuelled analytics–provide deeper insights into customer interactions and enable the contact centre to operate more efficiently so agents can work smarter and deliver a more consistent customer experience across every channel.
With the cloud, contact centres can make leading-edge technology like analytics a cost-effective reality, so they can analyse and share data and insights from a wider range of sources across the business.
Don't be fooled by the common misconceptions associated with cloud call centres. As the cloud transformation accelerates across every industry and every aspect of the enterprise, the cloud-based contact centre is rapidly becoming the model for the most innovative and successful organisations.
This blog post has been re-published by kind permission of Calabrio – View the
Original Article
For more information about Calabrio - visit the
Calabrio Website