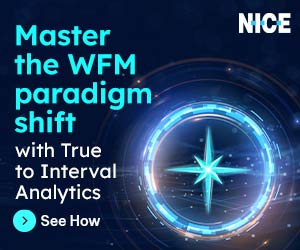 NICE has announced the launch of FluenCX, a complete, integrated suite of digital CX solutions, created to deliver the best outcomes using AI to understand customer data and build exceptional, orchestrated customer journeys.
FluenCX's robust suite of solutions builds a seamless relationship between a customer and brand by targeting areas for conversational AI and automation to then match the best solutions – self-service or human to fit those outcomes.
FluenCX allows organizations to provide service beyond the contact centre, meet customers where their journeys begin, and surpass expectations by meeting customers at any touchpoint, anytime, anywhere, and integrating with any CX provider's platform, wrapping all interactions, reporting, and analytics into a single cohesive experience.
Fulfilling the promise of Customer Experience Interactions (CXi), the FluenCX suite of solutions is fuelled by Enlighten XO to clearly understand intent and act accurately in real time.
By focusing first on outcomes and data, FluenCX enables smart, human-level, proactive self-service at every step of a customer's journey, helping brands get smarter with every interaction.
This data-first approach to matching solutions to the most pressing pain points is the core of FluenCX's efficacy: the process targets the most impactful and important use cases, saving brands time, effort, and money while increasing customer satisfaction and loyalty by laser-targeting the areas of most urgent need.
"FluenCX takes customer experience to the next level by delivering the best digital self-service and conversational AI experiences for any brand and is an integral part of CXi," said Barry Cooper, President, CX Division, NICE.
"By prioritizing the customer's expectation for digital fluency, fuelled by data, brands can seamlessly identify the best opportunities to improve automation and plug service gaps.
"This propels customer experience beyond the contact centre and reinforces the value and flexibility of a single, cloud-native platform to reduce costs while increasing customer satisfaction."
"FluenCX shows NICE's commitment to delivering on the CXi story," said Keith Dawson, Vice President and Research Director at Ventana Research.
"This family of solutions provides tangible and immediate benefits to any digital CX or self-service pains. FluenCX demonstrates how these solutions both save companies money while also improving customer satisfaction, which makes NICE stand out in the market."
For more information about NICE - visit the
NICE Website