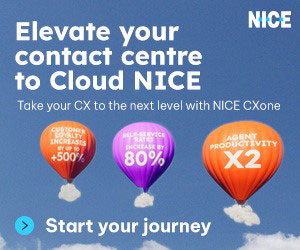 NICE inContact announced that Ergon Energy Retail, a subsidiary of Australia-based Energy Queensland Limited, has chosen NICE inContact CXone as its cloud contact centre provider.
CXone will help Ergon Energy Retail deliver exceptional customer experiences and increase operational flexibility while supporting a growing community of remote agents through an all-in-one integrated platform. This relationship was established via NICE inContact's strategic partnership with Optus Business.
In the wake of economic uncertainty and upheaval, Ergon Energy Retail has a critical role as an essential service provider, and the flexibility of their contact centre empowers their workforce to meet and exceed the rising customer expectations and demands.
Understanding their core customers' needs and adjusting course in real time delivers better services to their customers. NICE inContact CXone delivers a contact centre that isn't just scalable, but also offers a wide range of applications and a full library of open application programming interfaces (APIs) so businesses like Ergon Energy Retail can tailor a solution that works for their unique ecosystems.
"As a Queensland Government-owned business, we distribute electricity to 738,000 customers and answer 1.5 million calls per year across Queensland, Australia," said Ayesha Razzaq, Executive General Manager of Ergon Energy Retail.
"It's mission critical that we're able to meet our customers' needs and communicate with personalized, engaging experiences at scale – whether that's coming from a contact centre or our agents' homes. CXone will help us keep our agents up and running from anywhere, while ensuring customers are getting the real-time, exceptional experiences they deserve."
As a result of the COVID-19 pandemic, contact centres are focused on building a culture of flexibility and adaptability for essential workers to ensure continued consistent customer and agent support – often leveraging cloud solutions. Research from NICE inContact found that 74% of contact centres that are not using cloud today are planning to accelerate their move to the cloud.
"The current climate has put a spotlight on the unique challenges individual contact centres and their customers face," said Darren Rushworth, APAC President for NICE.
"There is no one-size-fits-all model, because there is no one-size-fits-all customer. NICE inContact is handing Ergon Energy Retail the tools to customize and craft the customer experience solution that takes their needs and considerations into account, first and foremost."