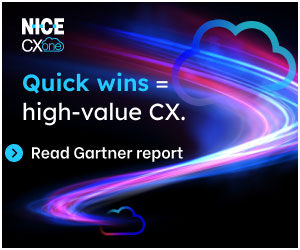 NICE has announced that Scope, one of Australia's largest providers of disability support services, has chosen the NICE CXone platform to help streamline its contact centre operations and better support its clients across Victoria and New South Wales (NSW).
The implementation provides Scope with one smart and complete CX platform underpinned by omnichannel capabilities that will scale and expand with the business into the future.
Scope has more than 70 years of experience supporting people with physical, intellectual, and multiple disabilities and developmental delays.
Following its acquisition of NSW's Disability Services Australia (DSA) in 2021, and to keep pace with changing industry needs and requirements, Scope needed to upgrade its system to a centralised solution that could provide more consistent call management.
In addition, it needed a solution that offered comprehensive call tracking and recording for improved training, quality, and audit purposes that wouldn't risk its compliance.
Scope engaged NICE partner Generation-e to help it transition from its outdated incumbent on-premise solution to a cloud-based contact centre solution that integrates seamlessly with Microsoft Teams Voice and Contact Centre.
With CXone, Scope can now look to intelligently meet its customers wherever their journey begins, enable resolution through data-driven self-service, and arm agents with the tools they need to create a personalised, efficient resolution for any needs event, delivering frictionless experiences across the entire customer journey for the contact centre – and beyond.
Glenn Rao, Project Manager, Scope, said, "Scope is in the midst of a once-in-a-generation, sector-wide transformation, which has presented an opportunity to recalibrate as a business and put client choice and control at its heart.
As part of this transformation, Scope needed to transition to a more consistent and comprehensive cloud-based contact centre solution that would scale with the business and deliver a platform for future growth.
"Scope identified NICE CXone as its ideal solution as it offered more features, functionality, and call recording capabilities.
In addition, CXone offered the scalability that Scope needs to support its continued growth across Australia. CXone also lets Scope more easily manage and train staff, which in turn lets the company better support its most vulnerable customers."
Darren Rushworth, President, NICE International, said, "NICE, along with its implementation partner, Generation-e, is pleased to help Scope to successfully implement CXone across the organisation's contact centre operations.
Scope provides essential services for vulnerable Australians, and CXone is helping the organisation streamline its contact centre engagement and deliver greater support for its clients through exceptional, frictionless agent and customer experiences."
Biagio LaRosa, Managing Director, Generation-e, said, "Given the changing environment that Scope operates in and the type of customers it caters to, NICE CXone was the ideal cloud-based solution to help the organisation deliver the comprehensive support for its clients.
CXone provides a great user experience for staff and the end customer. Based on its scalability, CXone was the solution Scope needed to support its operations now and into the future."