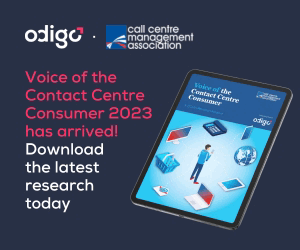 Intuitive, scalable, AI-based CCaaS solutions can make life simple for any contact centre. This is why ISG has named Odigo a Global Leader in the ISG Provider Lens CCaaS 2022 report for the third consecutive year.
Odigo's focus is on users and human connection, whether it's a customer seeking a speedy answer to urgent and unexpected questions, or the agent tasked with responding to numerous such requests.
Our commitment is that with our contact centre as a service (CCaaS) solution, our clients can handle these interactions, even at high volumes.
We make this possible by leveraging the latest innovations in artificial intelligence (AI), provided using a software as a service (SaaS) model, for a scalable service with simple interfaces, all so agents can focus on enhancing customer experience (CX).
Ensuring CX Effectiveness No Matter the Size of Your Brand
Being a Global Leader means having the ability to support international brands in their efforts to plan and deliver world-class CX. A global voice network, pay-per-use structure and omnichannel capabilities create an advanced scalable service for growing organizations even across borders.
Odigo's CCaaS solution also has you covered for rich content capabilities like sharing knowledge-based articles with customers, for example, via WhatsApp or chatbot.
In any size of organization, visibility of customer information is key to the integrated personalized journeys customers expect today.
To this end, Odigo has a number of strategic alliances with firms such as Google, Salesforce and AWS. These partners and the ability to utilize open APIs means information can be shared simply and securely between platforms or applications.
These accurate, real-time customer details are then available to agents and can augment decision-making every step of the way.
Champions of AI and NLP for Customer Engagement
Employing AI in CX is not a passing trend. Open API connectors, such as Google Dialogflow CX, leverage AI to assist contact centre agents in the moments with vital information for customers.
WhatsApp Business uses natural language understanding and processing for its chatbot functions so expanded options can be provided. Given the benefits to customers and agents alike, we can no longer talk of AI as being the future when it is already established as part of present CX delivery.
Indeed, 89% of European business leaders say their investments in AI to improve CX have paid off. The global conversational AI market is poised to grow as much as 30% by 2024. Thanks to its numerous applications at nearly every point along customer journeys, trust in the benefits of AI is growing.
Odigo Concierge, having been developed over the last 17 years, has long relied on NLP and AI capabilities to help brands deploy a seamless customer engagement strategy.
Together with ensured scalability through the SaaS approach, there's no further question about why ISG chose Odigo as a Global Leader three years running.
An Honour to Help Brands Serve and Scale Up
Odigo's focus on the human element of CX drives innovation and creates scalable, AI-driven CCaaS solutions with an intuitive design.
"The recognition of Odigo as a Global Leader in the ISG Provider Lens contact centre as a Service report makes us very proud," said Odigo CEO Erwan Le Duff.
"We constantly concentrate our efforts to innovate, taking advantage of AI to meet customers' ever-changing needs.
"We help orchestrate seamless omnichannel customer journeys on a global scale. Odigo contact centre solutions offer a new customer relationship model where technology solutions are inspired by empathy. That's the way Odigo works: our customers' business objectives become ours."
This blog post has been re-published by kind permission of Odigo – View the
Original Article
For more information about Odigo - visit the
Odigo Website