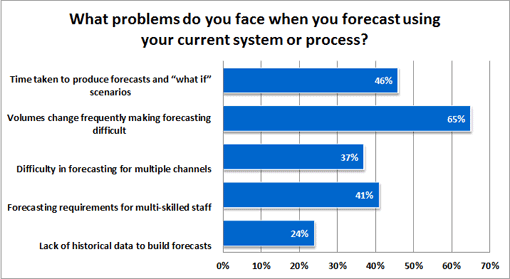 According to our poll, 65% of contact centres are struggle with frequent changes in call volumes when forecasting.
Other hurdles that contact centres are facing, when forecasting, include: time taken to produce forecasts (46%), requirements for multi-skilled staff (41%) and taking into account multiple channels (37%).
Poll – What problems do you face when you forecast using your current system or process?
Lack of historical data to build forecasts – 24%
Forecasting requirements for multi-skilled staff – 41%
Difficulty in forecasting for multiple channels – 37%
Volumes change frequently making forecasting difficult – 65%
Time taken to produce forecasts and "what if" scenarios – 46%
(Multiple answers were allowed during this poll, so the total does not add up to 100%.)
Source: Call Centre Helper webinar: Introduction to Workforce Management     Sample size – 82     Date: June 2012
Published On: 22nd Nov 2012 - Last modified: 18th Feb 2020
Read more about - Archived Content
---