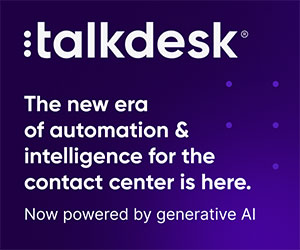 Steve Bell of Talkdesk discusses three new outbound dialler capabilities designed to improve contact centre efficiency.
Anything to improve efficiency so call centre managers can achieve more with less is good news.
Customers expect more proactive, personalized communication. They expect nothing less than the great customer experience they deserve.
Companies must step forward and meet the customer on their terms with a lean sales and service team.
New outbound dialler capabilities empower CX-obsessed companies to proactively engage with their customers to deliver effortless, personalized sales, customer service and support, in new and more efficient ways.
1. Native Predictive Dialler
Modern predictive diallers enable your organization to proactively connect with current and prospective customers in a highly efficient manner.
This capability dramatically increases the number of live outbound connections an agent makes, keeping them at peak productivity.
Rather than getting frustrated listening to unanswered calls, voicemails or busy signals, agents talk to real people.
Native predictive dialing capabilities must encompass:
Streamlined, intuitive, campaign management: Set dialling ratio, abandon rate, ring time, answering machine detection. Run multiple campaigns at once, each with its own strategy and settings.
List management: Upload comma-separated values (CSV) files or push records from your CRM or business system via an application programming interface (API). Leads can be inserted into a running campaign and dialled immediately, thus winning the race on a hot lead. Ensure agents are connecting with the right prospects at the right time.
Dialling management: Set caller ID, calling hours, attempts and retries. Define the best time to reach out to your audience across multiple time zones. Stay both compliant and productive.
Agent management: Assign agents to specific campaigns with integrated call handling via agent desktop integration.
Voicemail detection: Avoid unproductive voicemails.
Reporting: All attempts, records and campaign reporting should be available in one single interface.
With these capabilities you can achieve a higher agent productivity rate, with three to four times more contacts per agent per hour, higher revenue, cost savings and higher agent satisfaction, leading to more productive calls and improvements in Agent Retention Rate.
2. Proactive Notifications Capability
Proactive notifications enable organizations to send personalized, timely outbound communication to customers via phone or SMS in a completely agentless mode.
Use cases include job offers, fraud alerts, appointment reminders, bill payment reminders, shipping status updates and more.
Once hearing the message, your customers are prompted with an IVR option to connect to an agent if they want to learn more, hang up, or any other action you define. Proactive notifications capabilities include:
Built-in campaign templates: Upload a list to dial and manage campaigns through shared properties for voice and SMS communication, with the ability to tag and group campaigns under different categories.
Voice and SMS campaigns: Set start and end times for campaigns. Create, view, add and import records (campaign lines), start, pause and cancel voice and SMS campaigns.
Voice capabilities: Text-to-speech (TTS) IVR with the option to forward calls to another number, including conditional TTS messages based on which number is selected, and TTS voicemail drop.
SMS capabilities: Static SMS messages or dynamic options with opt-out/in response opportunities.
IVR functions: Standard selections such as "press 1 to be connected to an agent, press 2 to hang up", or customizable greeting and message options.
Attempt reporting dashboard: Real-time voice channel metrics, including total calls, answered calls and voicemails left, and current SMS metrics, including total messages, successful messages and unsuccessful messages.
Campaign hit ratio: Set the number of calls launched per available agent.
Records: Include customer name and phone number.
With proactive and personalized notifications, your contact centre can benefit from higher Customer Satisfaction (CSAT), reduce service costs, reduce operational costs around appointment no-shows and rescheduling activities, improve on-time payments and more.
3. Integrations to Preview and Power Dialling Capabilities
Salesforce Dialer Integration offers preview and power dialling capabilities from within Salesforce in a seamlessly integrated environment.
This integration is ideal for those who live and breathe in Salesforce, running B2B campaigns addressed to current customers, renewal, up-sell and/or collections calls.
For B2C scenarios where sensitivity to call abandons is more important than to have a high call volume, or high-touch B2B relationships and account management, Salesforce Dialer can offer notable improvements in connect and success rates.
With record filtering and list creation capabilities within Salesforce, agents dial down a list sequentially for a faster and efficient cadence of outbound interactions, avoiding the inefficiency of manual click-to-calling.
Preview and power dialler capabilities include:
Preview dialling capabilities:
Agent can preview records before a call is launched
User-definable preview time (00:05-5:00 mins)
Agent can call the record or skip to the next record in the list
Ideal for cases when record information can enhance the interaction quality and outcome
Power dialling capabilities:
Dialler automatically launches a call from pre-defined list when agent becomes available
User-definable delay between calls (0-30 secs)
Ideal for B2B campaigns such as to current customers to renew or up-sell a product or service
These three outbound dialling enhancements alleviate several pain points across your contact centre.
A predictive dialler is the right capability if you are facing issues with unproductive agents, delivering 200-300% more contacts per agent per hour and increasing the number of minutes agents talk to live people from 15 minutes to 48 minutes per hour or more – according to Talkdesk research.
Proactive notifications is the perfect capability to reduce customer attrition with proactive, personalized outreach, driving more CSAT, loyalty and retention.
The integration is the perfect outbound dialling enhancement if reducing call abandonment rather than increasing call volume, or "quality over quantity", is the highest priority in your contact centre.
This blog post has been re-published by kind permission of Talkdesk – View the
Original Article
For more information about Talkdesk - visit the
Talkdesk Website