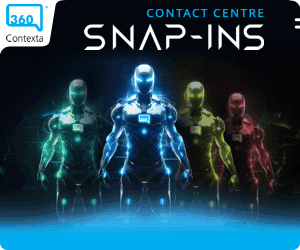 Rene van Popering at Contexta360 outlines four thought-provoking ways to reduce call queue times and after-call work.
Today, throughout the contact centre landscape, mandatory agent after-call work (ACW) is the norm and is deployed to avoid asking customers to repeat their details, reduce call times, capture relevant conversational information and generally classify process.
Around 60 to 120 seconds is the typical time allocated to agents to make post-call notes and schedule follow-up tasks. Mathematically, for an average call centre of 200 agents, that's an incredible amount time to take them away from customers. Not to mention the pressure it puts on agents to complete their ACW accurately within the timeframe.
1. Raising Agent Engagement and Empowerment
On average, customer-facing employees use two to three applications during call engagements, mainly to register customer needs or actions. Conversely, using these various applications can negatively impact agent efficiency, motivation and morale.
Therefore reducing, if not eliminating, post-call administrative work should be a priority for contact centre leaders. This will not only ease next-in-line queue pressure, but positively impact agent wellbeing, post-administrative workload, and call-handling quality.
Enabling agent workflow processes by utilising optimisation technology such as AI automated conversation summarisation and intelligent speech analytics, connected to the company Customer Relationship Management (CRM) system, offloads administrative pressure and distractions by eliminating unnecessary post-conversational work. This will raise team spirit and improve performance.
2. Reduce Your Repetitive Tasks by 10%
Using AI speech analytics technology has the benefit of surfacing 100 per cent data-driven insight, which provides detailed performance and business health views. It will help discover and render accurate and effective ways to understand customer friction, effort and satisfaction, as well as detail any inconsistencies.
Full conversation transcriptions provide the next level of conversational business insights, displaying why certain issues, such as dissatisfaction or success, occurred.
Comprehensive, full transcription record insights are fundamental to improving the decision-making processes, together with workflows and staff knowledge. This is particularly true at the workflow level, where using AI automated summarisation reduces the average administrative time by 10 to 20 per cent.
3. Create Active Listeners
Removing the tedious tasks of ACW allows agents to focus and dive deeper into customer issues. Liberated from the pressure of remembering and summarising end-call customer comments, agents are able to be freethinking, are actively listening and are primed to provide an exceptional customer experience.
AI auto summaries are devoid of writing style and time pressure constraints and consistently provide concise conversational call summaries.
Agents can confidently provide individual customer attention, safe in the knowledge that the latest and most accurate call summary information is immediately to hand.
4. Support Contextual Coaching
Emotional intelligence is paramount when it comes to working with customers. Adapting to the needs of the individual customer is an agent skill like no other. Being human is both a blessing and a curse, especially for leaders, when it comes identifying and navigating individual agent coaching needs, from streams of agent call data.
Contact centre coaching requires a broad spectrum of conversation monitoring, as business health and performance results identify which agents require personal coaching and which aspects need a team education approach.
Using AI summarisation pinpoints the areas of immediate concern, while eliminating the need to work through the full conversation and transcript.
Without doubt, AI auto call summarisation speeds up the coaching process so that agents are coached more effectively. This is something that will raise morale as agents will no longer need to endure blanket coaching, saving time and training costs.
This blog post has been re-published by kind permission of Contexta360 – View the
Original Article
For more information about Contexta360 - visit the
Contexta360 Website