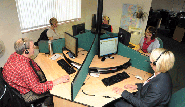 Robert Woodhead deploys an integrated field service management and customer contact solution to reduce administration and improve customer service.
Robert Woodhead is an award-winning builder based in Nottinghamshire, specialising in the design, construction, refurbishment and restoration of buildings. They pride themselves not only on the quality of their building service but also on the exemplary customer service they provide as part of their maintenance contracts.
To help them meet their own rigorous targets for customer service, the company decided to develop their service management offering as 'Woodhead One' and sought assistance from mplsystems, sister contact centre technology company to incumbent call handling partner, mplcontact, in the design and delivery of the service's critical elements.  These had been identified as a self-service portal for clients to log and track jobs and a field service management solution for communicating job details, updates and results to their contact centre, field service and sub-contractor staff.
mplsystems were tasked with creating a solution that would incorporate Robert Woodhead's existing processes to identify each maintenance task, the correct resource to allocate to the job and manage the request through to completion and client acceptance. The resulting Woodhead One facility, which includes outsourced contact handling, the online customer service portal, field service solution as well as a 24/7 helpdesk response service, has allowed Robert Woodhead to expand their repair and maintenance customer base.
As well as using the Woodhead One portal, clients can call or email service requests which are handled either by Robert Woodhead staff or by the outsourced contact centre agents, who use the same portal to coordinate the requests.  Clients do not experience queues, the service is available 24/7 and all agents, including the outsourcers, have the knowledge and training to deal effectively with these requests. Once the service request has been made, clients have full visibility of the job and its status via the portal. Urgent jobs are immediately automatically allocated to the appropriate resource based on the service type, priority and location; non-urgent requests received during out-of-hours periods can be screened out for resolution during office hours.
The field service solution for maintenance staff is based on the new Windows Phone 7 platform and ensures job request and details are sent immediately from the portal to the correct field staff member.  All job details and status updates are sent directly to their mobile device, reducing outbound call costs and the possibility of human error as agents do not have to manually select contact details from a rota.  The solution also incorporates Health and Safety check forms for field staff to complete upon arrival on site, which are then automatically submitted on completion, as well as Customer Satisfaction surveys for completion once the job has been closed off.
Woodhead One is expected to reduce response times for managing service requests by 50%.
The combination of outsourced resources, the web portal and mobile field service technology has reduced the administration workload on managerial staff by 40%.
Improved customer experience courtesy of the direct access clients have to their job details, status and costs through the portal
"The solution is a major part of the way we offer our maintenance service. Job requests and details are sent immediately to the most appropriate member of staff via their mobile device, which helps us to achieve our response times.  With our clients using the online portal it has also helped us to drastically reduce outbound call costs. Clients have been really impressed with the improved communications and the 360 degree job visibility they now have means they can follow the live status of a job from its inception to completion."
Paul Duggan, Woodhead One Operations Manager
---
---