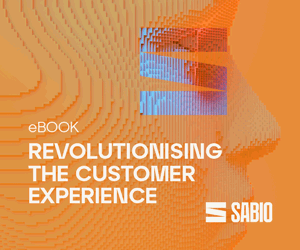 Sabio Group has launched a major new release of flexAnswer – the company's powerful virtual assistant (VA) and knowledge management platform.
flexAnswer helps to make digital journeys more efficient and easier for customers through chat and voice calls – providing accurate responses to customer questions within a configurable and user-friendly interface.
With Sabio's innovative question answering system featuring advanced proprietary natural language processing (NLP) technology, flexAnswer provides CX teams with the ability to cut enquiries into their contact centres by up to 30% – and in some cases by up to 50%.
Key highlights in Sabio's latest flexAnswer release include multi-engine capabilities, cross-project search functionality and improved reporting & analytics, as well as CX channel support with the addition of WhatsApp and Facebook.
flexAnswer also features a cleaner look and feel, providing organizations with no-code options for knowledge-base management and configuring virtual assistant UI and functionality without requiring external developer assistance.
"Our flexAnswer technology has been successfully deployed at scale for some of the largest digital assistant projects, handling millions of customer questions and significantly reducing the volume of enquiries that would previously have gone to contact centres," commented Sabio's Chief Product Officer, Tom Mullen.
"With this latest release we have focused on making it even easier for organizations to provide their customers with a high-quality conversational interface that helps simplify online customer journeys. Deploying flexAnswer helps drive significant channel shift and frees up expert contact centre agents to handle more complex customer interactions."
The latest flexAnswer platform features:
Multi-engine support – flexAnswer now offers the ability to use other engines alongside the proprietary flexAnswer engine, including a new flexBERT engine as well as Google's DialogFlow. The superfast flexAnswer advanced NLP can also now return more than one answer to the question asked, and multi-engine support will enable clients to power up their solution with alternative engines as required
Cross-project search – Customers should receive the right answer to their question, regardless of where they asked it. When multiple virtual assistants are used, cross-project search relays a customer's question across various knowledge bases to supply full and detailed information. For example, if on a government healthcare site a customer had a driving licence renewal-related question, cross-project search would be able to feature answers from the driving and vehicle agency's website knowledge base
New, configurable look & VA functionality for faster project turnaround – flexAnswer's clean new look backed by responsive design and modern feel means that no additional coding is required to support custom appearances. This allows customers to change the look and feel of the virtual assistance interface along with its functionality without external developer assistance – encouraging faster project turnaround and lower overall costs
For more information about Sabio - visit the
Sabio Website