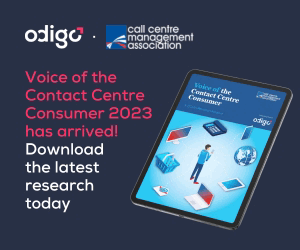 Neil Titcomb discusses how a self-service solution which is made available around the clock can benefit your customer experience.
People are evolving with technology as much as technology is evolving with people, but regardless of how quickly the world changes, one thing remains constant: the expectation of the customer. This necessitates an all-encompassing service solution that is there as and when any given customer needs it.
In today's busy world, a connected experience is a prerequisite of an excellent customer experience (CX), so people can rightly expect the same level of service from multiple points of contact with your company.
However, as The Institute of Customer Service (ICS) found in its latest report on the state of customer satisfaction in the UK, overall consumer happiness across the 13 surveyed sectors is actually in decline. This accounts for multiple aspects of customer journeys, but it is clearly indicative of the failings of some companies to meet the needs of their customers.
Moreover, it shows that developing a 360° view of your customer experience is wholly necessary for achieving CX success. It isn't easy, but it is attainable if you pay attention to the personalisation of your customer journeys at every potential touchpoint, whether it is self-service or otherwise.
Self-Service Strategy: Giving People What They Need, When They Need It
No matter how or where they contact you, your customers deserve a joined-up approach to resolving their queries.
This is where a thorough understanding of what your customers want and when they want it becomes so critical to success.
An analysis of the data collected from your previous engagements with customers will show not only what people are asking, but also the manner in which they ask.
Some of the most common questions your customers have, for instance, might be best served in a series of onsite guides or FAQs that can be accessed at any time of the day or night.
By providing this kind of around-the-clock accessibility for your customers, you can demonstrate how much you truly value their time and, moreover, free up more time for your agents to deal with more complex queries on the phone.
Convenience is becoming much more valuable than a surplus of choice in a world that is already packed with options, so it's important to make it as easy and efficient as possible for your customers to contact you when they want and how they want so they don't have to fit their lives around yours.
Make Vital Time for Creativity and Innovation in the Workplace
We all want easy interactions when it comes to customer service. Whether you're a customer or a contact centre agent, there's little denying that efficiency and convenience are our most basic desires.
No customers want to explain the reason for their call five times to five different people, and no agents want to explain the password reset process to a thousand different people every week.
That's why self-service solutions like chatbots, callbots and help centres are so conducive to optimising customer engagement processes.
A chatbot conversation can help to qualify interactions before a customer gets put through to an agent or, more to the point, it can answer queries in full so that a customer doesn't even need to speak to an agent at all.
The time this can save when multiplied across hundreds and thousands of agents and customers can work wonders for your overall CX – it can change the way people think and feel about you as a company.
What's more is that it can change the way people actually talk about you, too. The aforementioned ICS report found that almost a quarter (24%) of people chose to use a company based on a recommendation from a family member or friend after a positive experience.
The benefits work both ways. Customers are more satisfied because they've found it easier to reach a resolution, and agents are more productive because they've found more time to think creatively at work, which brings us round to the most important part of any business: the people.
Creating Seamless Interactions With the Human Touch
We believe that a comprehensive understanding of your customers and their most common needs will help you serve them better, but a true openness to empowering your staff to do just that in the most innovative ways is also vitally important.
Self-service isn't designed to replace personal interactions with other people; it's designed to sit alongside them to help you finetune the way you serve your customers in an ever-changing world.
That's why your people, processes and systems always need to be synchronised around the customer if you are going to achieve CX success.
This blog post has been re-published by kind permission of Odigo – View the
Original Article
For more information about Odigo - visit the
Odigo Website