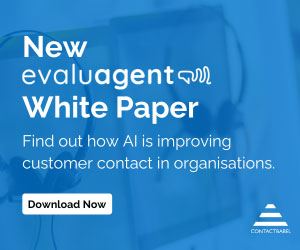 Reg Dutton discusses why silos in the contact centre are counterproductive and can damage the customer experience as well as business growth.
"The customer experience is the new battleground!" Forbes' celebrated rallying cry shows no signs of abating.
With most competitive advantages already commoditised, it should come as no surprise that delivering a superior customer experience is now regarded as the only way that an organisation can truly set itself apart from the competition.
Yet today, only a quarter of businesses have a meaningful strategy in place. One of the major obstacles is the ability to experience your offering from the customer's perspective; not just the product or service itself, but across the different channels and from every single touchpoint along the customer journey.
Too many contact centres blame the fragmentation of the customer journey on the growing demand for multichannel capabilities, while in fact it's the structure of the organisation that holds the key.
How can you get a clear picture of the complete customer journey, when different elements within an organisation have very different views as to what the customer journey actually looks like?
When Silos Are Counterproductive
Operational silos describe any process, business unit, management style or group of employees that don't interact with other processes, systems or employees.
In theory, silos encourage expertise and make members feel responsible and accountable for their role in the organisation, while providing focus for teams and individuals alike.
In practice, silos encourage behaviour that is primarily beneficial to the people within the silo. As office politics develop, collaboration deteriorates, decision making becomes poorer and teams become increasingly inward looking.
Whatever the cause of silos, the mentality they bring with them is rarely in the best interests of the organisation, and never in the best interests of the customer.
Silos Are the Single Biggest Hindrance to Corporate Growth
One survey on internal collaboration showed that 83% of executives acknowledged that silos existed in their companies, and 97% believe they have a negative effect.
In addition, a recent white paper revealed that, according to customer experience professionals, silo mentality is the biggest organisational hurdle to improving the customer experience.
41% of respondents warned that operational silos present a significant barrier to providing a seamless customer experience, while 34% stated that difficulty in unifying different sources of customer data is one of the key stumbling blocks to delivering a first-rate customer experience, a situation that silos only serve to exacerbate.
Operational Silos Quite Simply Damage the Customer Experience
It's time to move beyond channels in order to unite your company and deliver a truly integrated customer experience.
Silos are an inescapable part of business structure. However, what is preventable is "silo mentality", the situation in which regional offices, departments, different communication channels and teams are isolated, proprietary, and competitive.
You can retain silos, but without the mentality that normally comes with them. The key is to ensure that information can flow freely through transparency and permeability.
Transparency allows people to see inside the silo. This enables outsiders to understand what that silo is working on and reassures them that the work is in the best interests of the organisation as a whole.
Permeability facilitates the flow of information in and out of the silo. This enables other groups to leverage the expertise and information across the entire enterprise, while also allowing the silos to better understand their impact on the organisation as a whole.
With information flowing freely between teams, they can see and understand the workings of other teams. As a result, silos no longer hinder operations; in fact, they can even enhance them.
How Effective Quality Assurance Delivers Transparency and Permeability
Contact centres are some of the worst offenders when it comes to fostering the silo mentality, and it doesn't just operate at divisional, departmental or team level.
In most contact centres, silos exist at an individual level, whereby agents have little or no idea of what is occurring beyond their immediate neighbours, let alone what is happening across their team or the business as a whole.
The reason for this is that far too many contact centres still rely on outdated processes such as spreadsheets and whiteboards, while all too often the call centre agent coaching programme is only as good as the skill set of the agent they are sitting next to.
Now add the need to adopt multichannel capabilities and it's this silo mentality that is causing and exacerbating the disconnect in the customer experience.
As a direct result of the lack of transparency and permeability, valuable information is trapped inside the different channel silos, instead of being disseminated, shared and employed to deliver a truly integrated customer experience.
The 21st-century contact centre demands intelligent tools that share relevant information in a clear manner and reveal insights that everyone has access to and can easily understand.
With a platform like EvaluAgent, one of the cornerstones of their solution is their intuitive, easy-to-understand dashboards. These bring together data collected from multiple sources and then present it simply and clearly. As a result, customer metrics, agent performance and management overview have never been so easy to recognise and act upon.
Furthermore, in combination with contact centre gamification software, the solution not only encourages, but rewards, collaboration between teams. This empowers everyone to see how everything they do individually also contributes to the overall customer experience.
By communicating clear information directly to agents, EvaluAgent enhances their ability to act autonomously, which increases engagement and motivation, and in turn improves the customer experience. And lastly, but by no means least, it also helps senior management to stay more connected to the reality of the day-to-day business.
Silos damage the customer experience because by their nature they cause individuals to lose sight of the business's aims as a whole, and consequently they lose sight of the customer.
Delivering transparent, permeable, real-time communications across your entire workforce breaks down the barriers between silos, to the benefit of everyone, especially the customer.