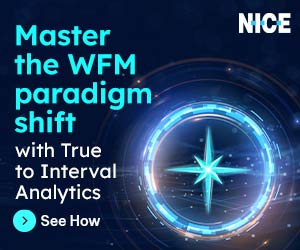 Ashlie Mattson at NICE explains how yesterday's WFM paradigms are creating silos of inaccurate data.
For decades, contact centre workforce management largely focused on inbound calls, but we've recently witnessed a refreshing shift toward embracing all media types, from emails and chats to social channels and more, for forecasting and scheduling.
Customers have started demanding or receiving multiple ways to interact with their service providers, causing contact centres to rethink the concept of what work is and how it is assigned.
While the transition toward digital channels has been underway for some time now, the pandemic accelerated not only the type of channels offered but also the rate at which people adopted them.
Many contact centres have responded with something of a siloed perspective, organizing contact centre operations into separate teams—one that just works the phone, another that just handles chats, another that focuses solely on Facebook, and so on.
Even with the adoption of multiple channels, contact centres have fundamentally calculated staffing requirements in a similar fashion as they did with a single channel (with the exception of accounting for concurrent/simultaneous interactions and longer turnaround times).
In this evolving environment, yesterday's WFM paradigms are creating silos of inaccurate data in a few key ways:
Yesterday's Paradigm: Forecasts Are Based on When a Work Item Is Completed, Not When the Work Was Performed
Almost every platform we collect data from tends to wait until the work item is completed before it reports any data out to the end user; this creates a challenge when work is asynchronous in nature or when a work item is continuous but spans multiple intervals.
This paradigm has in many ways forced a siloing of omnichannel operations from the contact centre and the back office because the data needs of each are so different—and, in many cases, the data needed to manage a fully blended environment simply isn't available.
Yesterday's Paradigm: Work Items Are Assumed to Be Synchronous
Work items like Facebook posts or messaging can span several intervals—even a day or two in some cases—with a lag between an outgoing response and an incoming one.
It's very difficult to plan when work should be happening if platforms assume that every contact is synchronous and report out when work is complete.
Yesterday's Paradigm: Average Handle Time (AHT) Is Shorter Than the Planning Interval
Traditional WFM systems operate well when AHT is shorter than the planning interval, but things break down very quickly when that isn't the case.
For example, if your planning interval is 30 minutes but it really takes two hours to complete something, traditional WFM systems don't know how to deal with the extra time beyond the 30 minutes you're trying to plan. They generally force it all into a single interval, which results in invalid requirement numbers.
Yesterday's Paradigm: A Work Item Is Processed by a Single Employee
Traditional WFM systems fail to account for the fact that work can actually be put back into a general queue and picked up by another employee. That's especially true in environments with asynchronous deferrable work.
Yesterday's Paradigm: An Employee Works No More Than One Work Item Concurrently
This is perhaps the most painful issue customers using traditional WFM solutions are facing. That's because multiple concurrency affects not only the data but also all of the calculations you use to interpret the data in creating your requirement numbers.
It also impacts how you schedule people and how you treat them from an intraday and change management perspective.
Yesterday's Paradigm: A Work Item Resides in a Single Channel
An interaction between a customer and an agent can seamlessly move between channels, and at that point, a channel-specific perspective gets in the way of effectively planning work.
In today's contact centre, it's more about what kind of work is happening—and when—regardless of the channel.
The nature of work has changed irrevocably, and businesses need a WFM solution that breaks the chains of traditional WFM paradigms to stay competitive.
This blog post has been re-published by kind permission of NICE – View the
Original Article
For more information about NICE - visit the
NICE Website