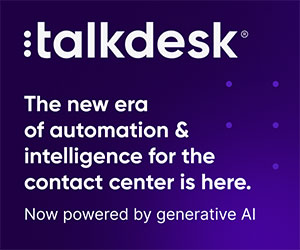 Sonae MC has started streamlining its customer service operations with Talkdesk CX Cloud. Sonae MC is the market leader in food retail in Portugal and a subsidiary of Sonae, a multinational corporation managing a wide portfolio of companies.
Sonae MC's decision to select Talkdesk is motivated by the integration with Salesforce Sales Cloud and the scalability of Talkdesk's cloud solutions to support rapid growth and provide the tools to make customer experience a competitive advantage.
"Talkdesk stood out as a solution that was easy to use and integrate, which was very important to us, as the role of a centralized customer service operation becomes more and more important," said Ricardo Fernandes, head of customer service at Sonae MC.
"We are excited to explore Salesforce integration immediately and look forward to a solution that can grow with us and provide the features we need to offer a superior customer experience."
Sonae MC's transition to a unified customer service operation rests on the deployment of Salesforce Sales Cloud. The Portuguese food retail company will improve customer satisfaction by implementing Talkdesk for Salesforce, including custom routing to reduce handle time, boosting agent efficiency through system automations.
The software improves Sonae MC's call routing to connect customers with the most skilled agents to attend to their issues.
By adding Talkdesk to its shopping cart, Sonae MC answers to the ever-evolving need to engage consumers with excellence in customer service, supporting among other service lines, its fast-growing e-commerce platform and its store footprint, which has been consistently expanding over the last thirty years.
"Great customer service is no longer optional – it's a must. Companies like Sonae MC need technology that keeps up and makes shoppers happy," said Tiago Paiva, chief executive officer, Talkdesk. "Talkdesk will help Sonae MC provide its customers with quick, personalized service — whenever and wherever they need it."
This blog post has been re-published by kind permission of Talkdesk – View the
Original Article
For more information about Talkdesk - visit the
Talkdesk Website