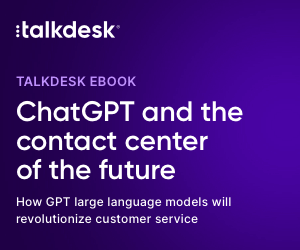 Tandem Bank has selected Talkdesk to power its customer service operations.
The UK challenger bank chose Talkdesk Enterprise Cloud Contact Center to support its growth with a scalable solution and strong reputation for reliability, backed by an available 100% Uptime Service Level Agreement.
"Partnering with Talkdesk allows us to create a more personalized service experience for our customers and fits with our overall ambition to deliver a customer experience that enables Tandem to stand out from its competitors," said Nick Bennett, chief operating officer, Tandem Bank.
"Talkdesk is an outstanding product and has the ability to scale with us as we grow."
Facing significant growth since launching in 2017, Tandem Bank's customer base now exceeds 850,000. With this success came customer service frustrations brought on by a legacy system that no longer met its needs.
Tandem Bank customer service operations sought a scalable cloud solution that could match its growth and meet the high service expectations of its customers.
Talkdesk's enterprise-ready, next-generation cloud architecture maximizes flexibility, allowing Tandem Bank to stay agile and easily self-manage its contact centre with clicks, not code.
Powered by Talkdesk iQ, artificial intelligence (AI) increases operational efficiency for Tandem Bank with intelligent routing, reporting, analytics, context and mobile solutions to improve customer outcomes and maintain visibility across its entire business.
"The most innovative and customer-first companies are winning in today's age of the customer and, as a result, need a platform that can scale quickly to meet their rapidly evolving needs," said Tiago Paiva, chief executive officer, Talkdesk.
"By combining enterprise performance with consumer simplicity, built on cloud-native architecture for flexibility and unmatched uptime, Talkdesk enables companies to improve customer satisfaction, increase productivity and make customer experience their competitive advantage."
Customer service is of the utmost importance to Tandem Bank and a key to its current and future success.
Leveraging Intelligent Routing from Talkdesk, Tandem Bank easily creates customized call-flows to ensure each inbound customer is quickly assigned to the most skilled agent based on the caller's needs.
Seamless integration with its existing Salesforce CRM database was also an area of need for Tandem Bank and crucial to the Talkdesk implementation and transition process.
With Talkdesk for Salesforce easily connecting to its growing customer database, Tandem Bank agents have immediate access to caller information through automatic screen pops, reducing average handle time, caller wait time and improving overall efficiency.