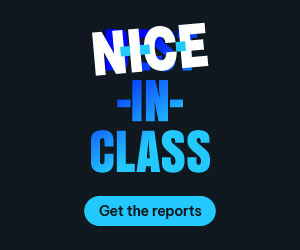 This article explores the answers of 224 contact centre professionals when we asked them 'What Equipment Do You Use for Forecasting and Scheduling?'
The results have been taken from the Workforce Management chapter of our 'What Contact Centres Are Doing Right Now'  2021 survey report, which was sponsored by NICE.
What Equipment Do You Use for Forecasting and Scheduling?
Equipment contact centres use for forecasting and scheduling – results:
| Equipment Used | Percentage |
| --- | --- |
| Spreadsheets | 60.1% |
| Erlang Calculator | 39.3% |
| Hosted WFM | 18.4% |
| On-premise WFM System | 16.0% |
| Pen and Paper / Whiteboard | 10.4% |
| Specialist Forecasting Software | 9.2% |
Spreadsheets Still Dominate WFM
Most contact centres (60.1%) are still using spreadsheets for WFM. In many cases, this will likely be in tandem with an Erlang Calculator – a tool used by 39.3% of operations.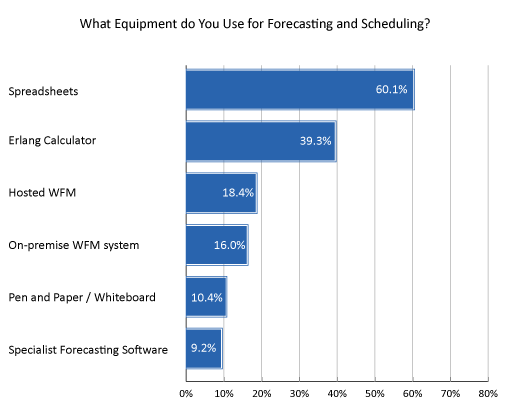 Of course, many will find success in using these tried-and-tested solutions. 10.4% of contact centres have even stuck to pens, paper and whiteboards.
Yet, in large contact centres, these can become difficult to manage, while adding flexibility to them is also a tricky task.
Many WFM Systems Have Stayed On-Premise
While many contact centres have transitioned to the cloud to pave the way for remote working, many have kept their solutions on-premise.
In fact, almost half of WFM solutions remain planted within contact centre walls. This perhaps indicates a commitment to keeping the resource planning function inside the larger operation, despite the rise in remote working.
This survey was done in partnership with Akixi, NICE, Nuance, Odigo, Poly and ProcedureFlow.
Related Research
To download the full copies of our 'What Contact Centres Are Doing Right Now' survey reports follow the links below:
You can also download the full copies of our 'Is Your Contact Centre Delivering Exceptional Customer Service?' survey reports by following the links below:
For more great information check out our other Contact Centre Research