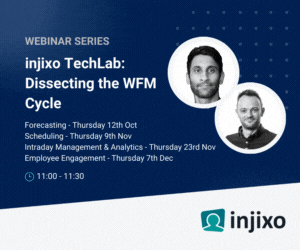 Dave Hoekstra at Calabrio, Nikki Quinn at Playvox, and Alex O'Donovan at Business Systems explain when businesses should make the move from spreadsheets to workforce management (WFM) Software.
At What Point Should You Move From Spreadsheets to WFM?
Dave Hoekstra (Calabrio)
If anyone in your organization has ever said "there has got to be a better way to do this", then that's probably a good point to start thinking about the move.
What we talk about a lot is focusing on the big-picture items. You're spending a lot of time focusing on very manual details, getting information to the right people at the right time. WFM can drastically automate those processes and spreadsheets cannot.
Nikki Quinn (Playvox)
If you can actually recoup any time at all in terms of removing manual tasks, that's just going to be beneficial for any contact centre organization.
But if organizations are looking to improve retention, effectiveness, skills, and the motivation of their people, and even improving things like attrition rates, then workforce management is definitely something that they should be looking at.
If contact centres have a multi-skilled environment, and if they have a digital-first environment, then things are just going to become more complex manually.
We all know that spreadsheets become humongous monsters within organizations, and they're really opening themselves up to risk if the person that's created that monster leaves the business tomorrow.
Alex O'Donovan (Business Systems)
I think there are a number of answers to this.
One is now.
Another is, if you're thinking about it, then you should do it.
Another is when somebody accidentally deletes or corrupts your spreadsheet with all your schedules on it.
Another answer is when your resource planner walks out the door and leaves.
But I think the most sensible answer is when your contact centre exceeds around 20 agents or FTE.
Dave Hoekstra (Calabrio)
Don't worry, we will not get rid of your spreadsheets. You will still get to use them as much as you like.
But the move to WFM can allow you to focus on bigger-picture items as opposed to the minutiae that are often involved with a spreadsheet.
If you are looking for more great video insights from the experts, check these out these videos next: