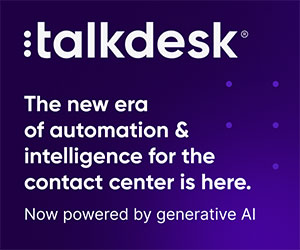 Talkdesk has announced its participation in the Gartner IT Symposium/Xpo 2023 conference, in Orlando, Florida from October 16-19, 2023.
At the event, Talkdesk will showcase its flagship Talkdesk CX Cloud and Talkdesk Industry Experience Clouds, demonstrating how companies are achieving exceptional business outcomes.
At Gartner Symposium, over 80,000 CIOs and senior leaders will explore the technology, insights and trends shaping the future of IT and business, including generative AI (GenAI), business transformation, cybersecurity, customer experience, data analytics, executive leadership, and more.
This year, Charanya Kannan, Talkdesk chief product, engineering, and customer officer, will join the ranks of esteemed speakers to share how companies are supercharging contact centre efficiency with GenAI.
Ken Cohen, senior vice president of sales, executive business development, and revenue growth for JK Moving Services, will accompany Kannan to share how the company has transitioned from a cost center into a profit center, increasing its sales conversion rate by 26% and repeat business by 35% using the Talkdesk GenAI-powered contact centre platform.
Together, Kannan and Cohen will share insights about how the Talkdesk GenAI portfolio — designed to simplify AI and deliver results from day one — provides customers with the tools they need to adopt and manage AI responsibly.
Gartner Symposium attendees can connect with Talkdesk experts and learn more about how Talkdesk is transforming customer experience (CX) with a new era of automation and intelligence for the contact centre, powered by GenAI, at Talkdesk booth #945.
Talkdesk representatives will be available throughout the event to engage in discussions, answer questions, and provide demonstrations of Talkdesk's AI-powered contact centre platform.
Supporting Quotes
"AI is a catalyst that propels contact centres into the future, enhancing customer experience, optimizing operations, and ensuring that every interaction is a step towards excellence," said Charanya Kannan, chief product, engineering, and customer officer, Talkdesk.
"It's rewarding to empower enterprises with CX innovations like generative AI that can unlock the potential to automate complex customer use cases, significantly improve the quality of self-service conversations, and increase agent and customer happiness."
This blog post has been re-published by kind permission of Talkdesk – View the
Original Article
For more information about Talkdesk - visit the
Talkdesk Website