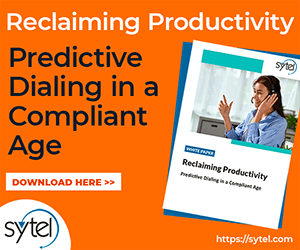 Our panel look at the lesser-known features of call routing software which can add value to your contact centre operation.
Waypoint tagging can help you better understand the customer journey
Waypoint tagging within the call routing system can monitor where potential sticking points are occurring in real time.
By tagging different elements in the call-flow, you're then able to analyse the stats and track the contact routes of each interaction.
This gives greater insight into the entire customer journey. For example, pinpointing if calls from customers are dropping off in a certain queue.
Live dashboards can also show in real time the routes that customers are taking and whereabouts they are within that journey.
Send a personalised email or SMS a week after the initial contact
Workflows can be automated with outbound multi-media, so that they logically follow on from an inbound enquiry.
This might be to send a personalised email or SMS a week after the initial contact to update the customer on their query.
This could also be used to generate a post-call survey to ensure the query has been resolved – and if it hasn't, then this might trigger an outbound call from a more experienced agent.
Offer customers a virtual placeholder if wait times exceed the norm
Call-backs can be offered to customers during times of high call volumes.
For example, within the call routing system, set up a rule to say if wait times hit 5 minutes then offer customers a virtual placeholder with a call-back from the next available agent.
With thanks to Mike Donohue at Magnetic North
Personalise calls with geographic routing
Geographic routing (georouting) is becoming more popular in terms of call routing.  This is where the caller's location can be identified from their telephone number and routed to the most appropriate agent or group.  This can help with language and dialect calls plus personalise calls by directing them to agents with local knowledge.
Cloud-based contact centres make it possible to route calls from both directions i.e. from where the call is coming from and to the most appropriate agent.
This takes customer service to the next level.
With thanks to Mashud Ahmed at Intelecom
Scan outgoing calls to check numbers aren't registered with the TPS
Most companies with a call centre or mass marketing campaigns will have a Do Not Call list (DNC) of numbers who have opted out of contact. The majority of dialler software also has functions enabling them to use these lists to exclude numbers from campaigns.
A TPS-compliant feature can automatically scan your outgoing calls to see if the number is registered on Ofcom's Telephone Preference Service (TPS).
If the number is found to be on the list, then it will route your call to a safe number and prevent it from breaching Ofcom regulations.
Having the ability to do this automatically is often much more preferable to relying on an agent to check a list before calling a potentially troublesome number.
With new regulations coming into force, and the media loving to publish nuisance call stories, you can save yourself a lot of trouble by using outgoing call routing.
With thanks to Kieron James at Nexbridge
Route customers through to the agent who also dealt with their recent email
Multichannel call routing can record and route beyond the traditional and more conventional methods of communication.
For example, should an agent be dealing with a customer's email and the customer happens to also be recognised as a caller in queue, then the enquiry could be transferred to that particular agent.
Route callers back to the same agent
If you are aware that a caller has spoken to an agent within the last hour and that that same agent is logged in and available, avoid repetition by transferring the call to that agent.
Integrating your customer's support desk software can also help you obtain CLI or fault reference data, to see who entered the latest ticket update, and put the call through to that same support desk agent.
With thanks to Ama Johal at ctalk
Text processing can route communications via keywords
There will be specific words or phrases that appear over and over again in online text communications received by the call centre – emails, chat sessions, SMS messages and social media.
A text-processing engine can monitor all incoming communications, so selected words and phrases can be flagged and the communication directed to a particular queue.
For example, "query with my bill" or "question about my bill" can be picked out and all communications containing those phrases will be sent to the Billing Services queue.
With thanks to Michael McKinlay at Sytel
Identify callers before they reach an agent
Don't ask a customer what you can deduce for yourself. If you can uniquely identify the caller from their phone number, you won't have to ask them to type in their ID number.
Or, if the first thing that an agent does when the caller is connected is to ask them for their account number, it's far more efficient to ask them to type it in while they are queuing.
This also means that if customers don't know their account number, then they can go and find it before being connected to an agent.
Smart routing can help you identify and prioritise high-value calls
A smart contact centre will make sure that they never abandon high-value calls.
If you know that a caller is about to renew a policy, place an order, is a high-value account or has been having a poor experience and needs TLC, you can use smart routing to prioritise these calls.
Skills-based routing can connect customers with the most appropriate agent
Not all agents are equal. The cross-trained agent who can handle any call can make resourcing easier, but agents will always be better at some types of call than others.
Once you have decided why you think the caller is contacting you, database- and skills-based routing can help you send them to the team or agent that will be able to deal with them most quickly.
Use clues to route customers through to the right department
Don't assume that the caller will always dial the correct number or even make the correct choice from the IVR menu.
There are many clues to why a customer may be calling you. Consider checking recent orders/returns, open support tickets, policy expiry dates, recent emails and the current status of their account.
Don't be afraid to use these clues to divert the call to the team that is most likely to be able to help them.
With thanks to Paul Cox at Azzurri Communications
What call routing software features have you discovered which have helped you to improve your contact centre?