I was recently asked by a researcher for the BBC, for an upcoming documentary on contact centres, for the date of the first call centre in the UK.
This question stumped me.  I knew of some early ones, but what was the first?  I have done some research and the early results are quite surprising. 
The creation myth
Like many revolutionary technologies, the call centre has a creation myth.  This states that call centres as we know them today originate from the Automatic Call Distributor developed in 1973 by US firm Rockwell (the Rockwell Galaxy) to allow Continental Airlines to run a telephone booking system.
As it turns out, this was all good marketing baloney.  Rockwell did indeed develop their ACD in 1973 and it was installed that year.  But it certainly was not the first.
Rockwell's claim to the first ACD installation may be inaccurate, but they were certainly amongst the first and most successful manufacturers.
Early Automatic Call Distributors (ACD)
But the basic features of the modern call centre can be recognised almost ten years before this, in the mid-1960s. Private Automated Business Exchanges (PABX) began to be used to handle large numbers of customer contacts.
The Oxford English Dictionary defines the term 'call centre' as follows:
call centre n. an office staffed and equipped to handle large numbers of telephone calls, using computer technology to assist in the management of calls, supply of information, etc.; esp. such an office providing the centralized customer contact and customer service functions of a large organization.
That computer technology is the Automatic Call Distributor, and its development is closely linked to that of the call centre. ACD systems allow calls to be filtered and assigned to the best possible agents available at the time. An algorithm determines which agent receives which call.
The invention of ACD technology made the concept of a call centre possible. Essentially it replaced the human operator with a far more flexible automated system capable of handling much greater numbers of calls.
The first call centres
The first ACD systems would probably have emerged in the 1950s to handle central operator enquiries at the main telephone companies.  To date we have not been to find any concrete evidence of this so far.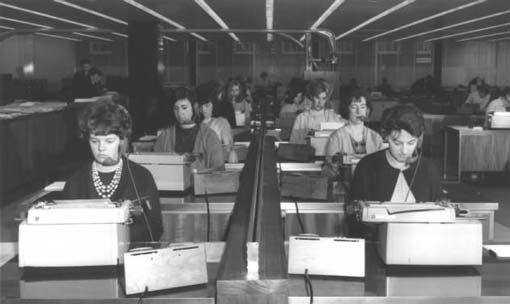 The earliest example of a call centre we can find in the UK is at the The Birmingham Press and Mail.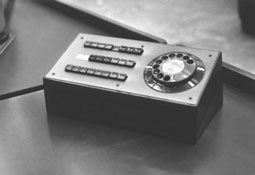 They had a GEC PABX 4 ACD, installed in 1965, as seen in the photos.  Thanks to the British Telephones website for allowing us to reproduce them.
Already the hallmarks of the call centre can be seen in the rows of agents with individual phone terminals, taking and making calls.


The Ericsson PABX ET 4 was a fully automatic Strowger Telephone system with a cordless operator's console. It superseded the PABX No. 3 and was manufactured by Ericsson Telephones of Beeston, Notts. The ACD system was an adaptation of this PABX ET 4 system.
Early adopters
By the early 1970s PABX systems were beginning to include ACD technology, allowing the development of large-scale call centres.
In May 1972, the New Scientist magazine reported that Barclaycard had installed a Plessey PABX at its Northampton processing centre. This included an ACD to allow up to 72 enquiries to be dealt in cyclic order. The agents on this system were able to check the credit card records of Barclaycard's 1.6 million customers via a microfiche reference system.
At the same time, Barclaycard's competitors Access installed a computerised system allowing very fast access to customer records. It was an indication of the future direction of contact centres.
In 1972 Gas World reported the installation of an ACD system at British Gas in Wales.  The system had the capacity to handle up to 20,000 calls per week.  This may have been the first multilingual system as it handled both Welsh and English calls.  It was reported that Welsh-speaking customers in Aberystwyth at first found it strange to be telling someone in Wrexham of their problems.
Big names enter the market
Throughout the late 1970s and 1980s technological advances consolidated the importance of call centres to business. Many of today's big names established themselves in the UK during this period.
Datapoint began working with TSB Phonebank (now Lloyds TSB). [Does anyone know the date when TSB Phonebank started ?]
In 1985, Direct Line was founded by Peter Wood, becoming the first company to sell insurance entirely over the telephone.
Call centre technology allowed these companies to base their entire business model on telephone sales. In the USA, Aspect Telecommunications was founded by Jim Carreker.
Aspect's systems improved upon the early ACDs. They allowed calls made from touch-tone phones to be routed more efficiently, by distinguishing between types of calls and connecting them to specialised teams of agents. This cut down call waiting times, and allowed call centres to deal with an increase in call volumes brought about by the introduction of toll-free phone numbers.
Aspect's flagship product was the Aspect CallCenter, somewhat fittingly, as the company went on to become one of the world's largest manufacturer of dedicated ACDs.
Aspect entered the UK market in 1989, with Microsoft as their first customer. The deregulation of the UK telecoms industry led to a drop in service costs, and as a result the UK contact centre industry became larger than in any other country except the USA.
ACDs systems fuelled innovation, such as the launch of First Direct in 1989. First Direct was the UK's first direct-banking company, and proclaimed itself 'the future of banking' with an unusual television advert made to seem as if it was being broadcast from 2010.
The advert can be viewed here.
When the term 'call centre' was created…
The OED lists the earliest published use of the term 'call centre' as being as recent as 1983, in Data Communications, in this sentence:
Each of these '*call centers' is staffed with agents who work with Honeywell intelligent terminals, enabling them to quote rates and compute discounts given to large users.
Dot com mania
In the 1990s the call centre industry continued to grow, spurred on by the rise of the internet. From 1995 onwards internet-based 'dot com' companies attracted vast amounts of investment from venture capitalists excited by the potential for rapid growth offered by the online economy.
As websites became the central point of contact and sales for an increasing number of companies, call centres were essential in dealing with customer service and technical support. Unfortunately it didn't last, and by 2001 the 'dot com crash' saw many internet-based companies go bust.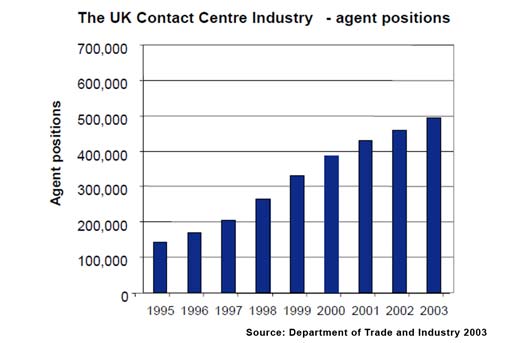 Rise of the offshore call centre
The call centre was still on the rise. By 2003 the industry consisted of 5,320 call centre operations employing 800,000 people in the UK. 500,000 of these people were working in agent positions. The industry had grown by 250% since 1995, and was still growing.
The early 2000s saw a trend for large companies to transfer customer service departments overseas. Cheaper labour costs and in some cases better skills in the workforce made offshore call centres attractive to businesses seeking to cut costs.
Locations in India, the Philippines and South Africa aggressively marketed themselves as offshore call centre destinations. India was particularly popular, as a large number of graduates available for call centre work made for cheaper and technically able agents for technical support phone lines.
Late 2000s: a backlash against offshoring
Offshoring slowed the growth of the industry in the UK. But few companies moved their whole customer service operations overseas, and by midway through the decade a backlash had begun. Customers sometimes had trouble understanding the English spoken by overseas agents. Companies with large offshore call centres attracted negative media coverage for taking jobs away from the UK.
Over the last three years some companies have actively advertised the fact that their call centres are in the UK. NatWest launched an advertising campaign in 2007 based around guaranteeing that customers would speak to agents in the UK rather than overseas. Some companies have also moved customer service operations back to the UK.
The call centre has now been an invaluable business facility for three decades. With the recent rise of social media and technology that may allow call centres to become virtual networks of homeworkers linked by cloud computing, it appears customer service is swiftly evolving.
Call centres are a vitally important source of jobs. As Call Centre Helper reported recently, new figures from ContactBabel show that more than one million people are now employed by contact centres in the UK.
Our history of the call centre is far from complete, and we'd like to include your knowledge. If you have any memories, information or stories about call centre history, drop us a line.

Many thanks to all of the people who have helped to contribute so far to this article, including Derek Massey, Phil Wright, Dirk Speas, Steve Morell and to Bob Freshwater from the British Telephones website.
---
Fantastic article Jonty, really good!

You may be inteerested that Girobank established its Telebank call centre in its centralised Head office in Bootle Merseyside in 1979.

Hi Tony Thanks for that pointer. It would be great if anyone else has any information on it. For example does anyone know what ACD system they used?

Great piece of research Jonty. A mention should also go to:
1) 'Command & control' phone systems which were being used way back in the emergency services' call centres.
2) Dealing systems in the City which performed a similar function to ACDs but within a dealing room. These handled many private circuits as well as simple phone calls.
3) The humble "key & lamp" phone system which I imagine was many people's introduction to small ad hoc call centre working.

The factor these systems shared with ACDs was that they had with more lines than positions and they had control functions beyond the humble phone dial. Phone systems or' PBX's had more extensions than lines and people had an ordinary phone.

I still have my training manuals from 1980 if your desperate for more !

The other significant industry stage was around 1995/6 when a lot of companies started implementing pan-european, multi-lingual call centres, with Dublin and Amsterdam doing particularly well.

To your question: I think TSB PhoneBank was slightly later as I remember Paul Swainbank giving talks when we started doing the first call centre conferences in 1994 through Aspen which was my 2nd company. We focused on call centres after helping build 2 large call centres for HP in 1992 and then C&W in 1993 – the latter still in operation in Wythenshawe. I keep meeting great people who worked at that site in the mid 90s.

A historical mention for 3 people. First should go to Jeanette Menday who spoke at our first call centre conference in 1993 and came from one of the US Airlines with Fran Brookes (now Fish) to start Call Centre Focus in 1994, the first publication for the emerging industry. She and I started what is now the European Contact centre awards circa 1995 – Halifax Direct won if I remember correctly.

Secondly, during those early conferences there was an influential guy called John McCann from Glasgow Development Agency. He went from knowing nothing to knowing more than most by attending all the conferences there were. He's the reason Glasgow has so many call centres. When we started Aspen Scotland we had a launch conference which John helped with and he pushed for the various parties to form a user association which Ann Marie Forsyth, who was a speaker, went on to chair.

Thirdly, Leiderman and Roncoroni was the earliest call centre consultancy going back into the 1980s I believe and of course Simon Roncoroni is still in the industry. There were many ex BT people who came through their hands into consulting and management.

As well as Aspen, the other two centres of excellent people in the mid 90s were Merchants and Decisions. We sold Aspen to TSC, Merchants sold to Dimension Data and Decisions sold to Sitel. You can see this lineage in many contact centre experts' CVs.

Hi – I worked for Yellow Pages from 1976 in what was then quite a pioneering tele-sales operation selling advertising into the various classifications – brilliant job, excellent money and great atmosphere in the office with like-minded colleagues who were aiming high to sell new and renewal ads. to business. Enabled me to buy a house just before age 21, so grateful for that!

It was a compulsory working practice for all 'customer service reps' to disinfect their headsets and desks every morning prior to starting work with diluted Dettol – I can still smell it now. We were seated in banks of 4 staff with one 'Senior' allocated to each bank and a Glaswegian Tele Sales Manager who ruled with a rod of iron, but was highly motivational, dynamic and fair – she was brilliant. Her boss was another Glaswegian who knew each of us well and dished out praise and criticism with no holds barred. Promotion was lightning fast but was so was the door if you didn't perform, "only as good as yesterday's results" was the mantra. Yellow Pages employed hundreds of staff and each year, there was a massive central Sales Rally to which sales staff from all the offices across the UK were transported – the presentations were super-slick and again, highly motivational, but maybe a bit corny by today's standards – they worked though. Turnover was high – people were chewed up and spat back out if they did not hit sales target consistently. Training was continuous and delivered to a superb standard, usually from the HQ in Farnborough. Two weeks residential induction training was mandatory for all, followed by further residential courses as you progressed up the ladder. I wouldn't have missed it for the world and this experience set me up for life, both with lifeskills and financially – it was grand and was headhunted when it split into Thomson Directories and Yellow Pages, so the fun continued until my children needed me more!

I worked in a call centre which did not belong to the business we were taking calls for. Our company focused more than keeping its contract with zero customer service, I left. If the compqany had employed us directly we would hve been paid more paradoxically the company would have paid less for our services as a result. The customer service would have been brilliant and there wold have been lower turnover of staff. Their Indian call centre was appalling.

Datapoint implemented the first ACD for TSB Phonebank in 1979.

Today, we are seeing that many companies are now looking to collaborate across multiple channels by integrating social media, webchat and SMS in to the contact centre as customers demand more routes to interact with businesses.

TSB Phonebank was launched on 9 September 1994

You seem to have avoiding discussing the business of holding long queues of callers paying various exhorbitant fees to make an enquiry or worse a Complaint so we im fact are paying the phone bills and actualy making money for the company we are trying in vain to talk to…Contact us they say on the web site and give you their wonderful phone number. I have heard asked why are the general public becoming angrier in general…What would anyone be considering even the government has started charging us to call them. The police now to call in with an assistance request if not an emergency, after already paying for their services> this will have effectively cut the work load of so many of these people as we give up either in frustration or principal. Most public will be aware that Phone calls actually cost fractions of a penny per minute to operate so the principal is just to cut work response needs and Make vast profits. An interceding call centre surely means a third party could be listening in. Oh they are not allowed to…well that stops it happening then.huh

Im using some of this info for a paper. Can you please tell me how to cite it in APA format?