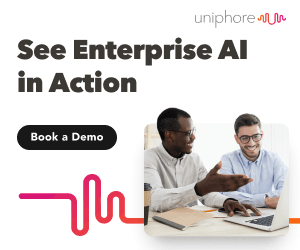 Our panel of experts discuss the best uses of Artificial Intelligence (AI) in the contact centre.
1. Replacing IVR Processes
An IVR has a set of simplistic predefined rules that it follows in a deterministic manner. An example might be a "sales" rule that transfers the caller to the Sales Department.
In contrast, AI, which includes areas like Natural Language Processing and Machine Learning techniques, can understand statements instead of simply giving the user a set of choices.
Also, with IVR, a predefined input gives a predefined output. With AI, a predefined input may give a completely different output depending on what the system has learned through probability calculations.
AI should also eventually improve the caller experience by ending the often frustrating "Press 1 for sales" or "Press 2 for customer service", followed by a queue that negatively impacts modern contact centre interactions.
2. Capturing Data From Customer Interactions
Both AI voice agents and chatbots can capture a lot of granular data around each customer interaction, which can be fed into analytics engines to help optimise the call centre process.
AI tools such as sentiment analysis can also help speed up this process by quickly spotting trends like anger or dissatisfaction within a large data set, often faster than a human advisor can.
Yet the notion of AI completely replacing a human contact centre team is still a long way off, especially considering the attitudes of many towards AI in customer service. For example, nine out of ten people have stated that there should always be the option to transfer to a live advisor in the contact centre.
Thanks to Daniel Yin at RingCentral
3. Navigating Customers Around the Company Website
Staff shortages are a common problem, particularly in larger multichannel contact centres where advisors are frequently time-stretched, and few are multiskilled. AI can be useful when tackling this problem.
Virtual assistants, for example, can begin by directing customers to the correct part of the website or FAQ. If the assistant cannot answer a request, they simply route the customer to a live chat advisor.
In addition, with AI technology, the more it gets used, the more it learns, meaning that it grows ever more sophisticated. This capability makes it ideal for everyday IT processes like password resets.
Thanks to Colin Hay at Puzzel
4. Managing Big Data
Every day, contact centres accumulate vast amounts of customer data. Customers are certainly aware of this and have come to expect improved customer service in return for providing copious amounts of personal information for companies to use.
One frustration that customers often face is having to repeat their details on multiple occasions when calling in, or they may receive an odd offer from the company that is completely unrelated to them. When these things happen, dissatisfaction starts to set in.
In order to tackle this, robotic process automation (RPA) helps to eliminate redundant customer and employee effort by capturing, analysing, cross-referencing, and sharing information across platforms and channels; all of this without being intrusive.
Thanks to Garry White at Business Systems
Discover how else AI is being used to improve customer service, beyond the contact centre, in our article: Customer Service AI: Where Are We Now?
5. Predicting Customer Behaviour
Artificial Intelligence (AI) will enable new trends in customer behaviour to be identified at very early stages in their development.

Frank Sherlock
AI will enable new trends in customer behaviour to be identified at very early stages in their development. Interaction analytics tools already have the capacity to do this, but the addition of AI will accelerate identification and mean that there is less need for human intervention.
Providing this early insight to call centre managers will enable them to brief advisors so that they handle the emerging customer needs and expectations more effectively. This could lead to retaining customers who might have been about to defect or up-selling to customers who are looking for information about a new topic.
The ability to spot trends in customer data will also enable call centre managers to model best practices and predict the outcomes or the consequences of a particular course of action.
By using AI in this way, an organisation could see benefits in resource planning, sales and marketing campaign planning, as well as attaining a more accurate Voice of the Customer (VoC).
6. Removing Humans From Skills-Based Routing Tasks
Familiar processes like forecasting and skills-based routing will become increasingly automated, and will require fewer, if any, humans in the loop.
Companies that achieve self-learning algorithms via AI will gain a competitive advantage because they'll be getting the most from their sea of data. Thanks to that, systems that are currently rules-based will move toward "cognitive" systems that allow for more intelligent prediction and reaction.
This will help to improve the customer experience by improving the way contact centres both predict and respond to demand. It will also mean that advisors can play to their strengths on a more continuous and consistent basis.
Thanks to Frank Sherlock at CallMiner
7. Improving Self-Service
The main areas where AI will be used in the contact centre are in advances to the self-service capability of day-to-day requests and simple interactions.
However, for AI to truly fulfil its potential, sophisticated linguistic processing needs to make people feel like they are actually speaking to a human being, and systems need to be fully integrated to minimise the flaws in its implementation.
For example, if a customer profile is incomplete, this may limit the ability of AI to manage interactions successfully.
To allow AI to automate accurate responses and serve consumers most effectively, it must have the right information and data.
If done correctly, instigating AI in contact centres can ensure that enquiries are managed more efficiently, while improving accuracy and service levels.
Thanks to Enda Kenneally at West Unified Communications
8. Communicating With Customers via Robots
Unlike their human counterparts, robots are consistently reliable, always available and specialise at interfacing with self-service applications and intelligently searching for information, to help resolve queries quickly.
Robots can be a great asset in the contact centre, if implemented well, freeing customers from complexity and reducing costs by limiting the need for human interaction.
Don't just think about AI empowering self-service, also consider how it can empower advisors.

Jeremy Payne
However, getting the right balance between human and robot is important. Don't just think about AI empowering self-service, also consider how it can empower advisors, by giving them more time to build rapport with customers while on the phone.
Find more insights into how to communicate with customers through bots in our article: Chatbots: How Your Business SHOULD Be Using Them – With Examples
9. Monitoring Advisor Performance
One type of AI, which is great from a quality standpoint, is real-time speech analytics (RTSA).
The solution analyses advisor and customer speech to provide live feedback to advisors, team leaders and quality assurance teams about what is being said, as well as how it is being said. It also monitors stress levels, speech clarity and script adherence, all while the call is in progress.
In addition, this technology has the capability of listening into the content of the call and effectively search for and provide the advisor with missing information to give to the customer.
Thanks to Jeremy Payne at Enghouse Interactive
10. Identifying Call Types and Passing Contacts to Relevant Channels
When receiving calls, AI can be used to help identify the type of incoming call request, so that it can be passed on to the relevant channel, be that human interaction or chatbot.
AI can also provide contact centre advisors with useful background information on the customer or the nature of enquiry via a single desktop view, so that they can close the call quickly and effectively.
In short, AI will require companies to rethink the way that they interact with their most valuable asset – their customers.
Future success for companies will be somewhat dependent on how they organise their customer interactions and their willingness to invest in their contact centre team, who are increasingly having to deal with more complex customer interactions.
Thanks to Nigel Dunn at Jabra
11. Predicting Customer Needs
RPA tools can leverage machine learning engines and big data to predict customer needs, so that the chatbot can communicate with them proactively.
By analysing, interpreting and understanding high volumes of customer inquiries, the solution could support up-selling or cross-selling of various products or services, while the RPA robots could auto-fill the application form to save the customer time.
As the technologies mature, it will become easier and more cost effective to create conversational interfaces for customers to interact with chatbots in a more natural way.
12. Automating Responses to Customer Complaints
Combing process automation technology with optical character recognition (OCR) enables the automation of more complex business processes.
A common challenge facing many enterprises today is the ability to make sense of unstructured data in the form of customer complaints and inquiries accurately and efficiently.
So, let's take a look at how this combination of AI can resolve this problem:
Customer letters, emails and web forms are ingested into the system as scanned images (through OCR functionality).
The system has the capabilities to understand the intent of the enquiry and extract all the relevant details from the content. It then produces and sends a recommended customer response over to the human employee. The employee has the option to edit the content before sending it over to the customer.
The structured input is received by an RPA robot for data verification and enrichment (adding additional relevant info to the case).
The updated data is then automatically uploaded to the case management system.
Thanks to Oded Karev at NICE
Bonus 13. Augmenting The Ability of a Call Centre Advisor
AI holds great potential for augmenting the ability of a call centre advisor. From reducing the time spent handling repetitive tasks to automated chatbots.
Some fear that AI might one day replace call centre jobs. It is quite the opposite. People will always value a human conversation more than an automated message. Think call abandonment. How more guilt-free is it to hang up on a prerecorded call than hanging up on a human being?
AI should be viewed as a means of enhancing and augmenting the highly skilled role of a call centre agent. It's about helping agents do more with less. It's about working smarter, not harder.
For example, Vitality's call centre is using AI to prioritise their calling activity. They have done this by  using AI to route agents' calls.
By doing so, Vitality has been able to increase conversion rates by 2X. Additionally, they have also reduced the cost of each new appointment by 24%.
Thanks to Kris Grosbergs at GrowthIntel 
For more uses of AI in the contact centre, read our article: 14 New Uses of Artificial Intelligence in Customer Service