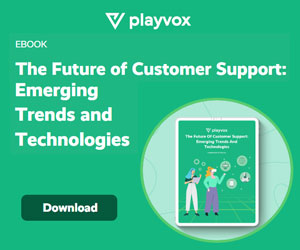 Donna Lightfoot at Playvox explores the human side of workforce management.
During my time as a workforce management (WFM) professional, I have implemented WFM systems into several departments within multiple companies.
These implementations were either with a department or company that did not have a previous WFM system or they had one but were not using it to its potential. In some instances, the workforce management departments I was a part of started out with just a handful of people.
In these cases, the team was easily overshadowed by the needs of the business. Usually when I was hired, it was because the business needs had grown exponentially, but the team in place could no longer handle the workload. Or the team was never properly trained on how to leverage a particular way of doing WFM.
No matter the size or nature of the business, workforce management and workforce optimization can become very complex very fast.
These functions encompass forecasting, predicting trends, leveraging historical data, managing schedules, time off, and so on. All of this needs to be done within or under budget and enable the business to meet established service level agreements (SLAs).
This is where a workforce management solution comes into play. The world of workforce management can seem intimidating and confusing to even the most tenured of staff and involves not only real-time, forecasting, and scheduling, but it also involves the human side of WFM. This should never be overlooked.
What Is Workforce Management?
Workforce management is a set of processes and procedures that a company uses to optimize the productivity of staff members, forecasting future needs and managing day-to-day schedules and tasks.
Simply put, it ensures the right people are in the right place at the right time to service your customers, while staying within an allocated budget.
While WFM is an integral part of a successful contact centre, there are some human behaviors that can negatively affect your business, regardless of the approach you take. These include long aftercall work (ACW), long handle times on interactions (AHT), and overages on breaks or meals, just to name a few.
By focusing on specific metrics and listening not only to leaders in the business but agents on the ground, you can determine where opportunities lie.
Common Issues and Questions to Ask to Improve the Human Side of Workforce Management
To determine what is causing issues in your contact centre, ask these questions.
Aftercall Work (ACW)
If your service level is low and abandons are high, there are a few questions that may help in resolving the issue. It may take some time to effectively lower the AHT, but knowing what is contributing to it will assist you in lowering it.
To establish a baseline, ask these questions:
What is the peer norm?
Are expectations realistic?
Are there procedure or system issues causing agents to stay in ACW to resolve the issue?
What is the average occupancy for each agent?
Do they need a breather between calls because of high volume?
Average Handle Time (AHT)
If calls are taking longer than expected or your abandonment rate is high, there are a few questions that may help to resolve the issue. Bear in mind that it may take some time to get the AHT to the desired range.
To determine if AHT can be lowered, ask these questions:
What is the peer norm?
How many are new hires and are contributing to the higher AHT?
How long will it take a new hire to become proficient so AHT can be reduced?
Is there more training needed to resolve the customer's inquiry?
Are there procedures or lags in the system that cause the handle time to be high?
Are there multiple steps in a process that can be reduced or combined to assist the agent in resolving the customer's inquiry?
Attendance
Is your contact centre seeing a high amount of call outs or no call no shows? There could be a root cause underlying this behavior.
Determine if you can reduce the amount of unplanned time off by asking these questions:
Do we have appropriate time off allocations for the size of staff and workloads?
Could we allow more time off?
Is offering voluntary time off (VTO) an option when volume is low and idle time is high?
Is offering flex time an option to help with work/life balance?
What is the occupancy of the agent?
Are agents overwhelmed from back-to-back interactions?
Are agents bored due to low volume and want to leave?
Are there options to have a 30-minute, 45-minute, or one-hour lunch?
Are there options for a flexible start time to help accommodate work/life balance?
Are split shifts an option?
No Single Point of Contact
When agents have a question or concern regarding their schedule, their time off, or off-queue activities, it can get confusing and frustrating not knowing who to go to or how long it will take to get answers to their questions.
Having a single point of contact for these inquiries can make the process more efficient. While a team lead or supervisor will most likely only review their own team, a single point of contact designated through a WFM system looks at the overall picture and what is best for the business.
To determine if your current process is effective, ask these questions:
What is the process for an agent who has a question about schedule or time off?
Who moves the agent from a scheduled task to an unscheduled task?
Are KPIs and other pre-scheduled activities reviewed prior to the agent moving to an unscheduled activity?
There is a lot that can be determined by reviewing past metrics, observing, and asking questions. The answers may surprise you as well as motivate you to find new ways to keep your agents happy and engaged. After all, happy agents lay the foundation for happy interactions with your customers.
This blog post has been re-published by kind permission of Playvox – View the
Original Article
For more information about Playvox - visit the
Playvox Website