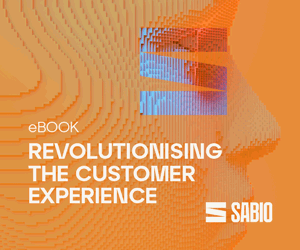 There's no doubt you've heard the buzz about automation and AI within customer experience. The idea of being able to transform your business through technology is certainly an enticing one.
But it's vital to take a step back and not be seduced by these sparkling new technologies. Understanding and prioritising your processes can actually be the deciding factor on whether your automation attempt succeeds or fails. Still, it's something that many companies overlook.
Sabio believes that this step is vital towards putting you on a smoother, more informed path to automation and AI success.
Put Process Before Tech
One of the most common mistakes is believing that technology alone is the solution to your problems. Sadly, it's not quite as simple as just installing a new program and pressing launch.
Even the most cutting-edge technology won't necessarily solve business challenges alone unless it is built around an understanding of an organisation's processes, and is strategically deployed in order to optimise them.
Companies should regard technology not as a magic formula, but more as a tool. And you wouldn't pull a tool out of your toolbox without knowing what you were going to use it for. So what's more important is planning on how to optimise processes.
To do that you need to start by asking yourself the question: 'Why do I want to automate?' 'Because I can', or 'Because my competitors are', although common motivations, are bad answers.
Try asking this from the perspective of what you can improve about your customer journey. When you fully understand what elements you can improve, then you've arrived at the "why" and you'll be in a better position to deploy a solution in order to automate it.
With a clear strategy in place, you can then deploy solutions that fit your goals, not solutions that fit your technology.
Be in It for the Long Term
Another crucial shift in mindset needed is to think more long-term. Basing your strategy around your processes may mean the evolution will take place over time – but that's okay.
You may not realise the benefits immediately, this could take months or even a year to really start to have an impact. This means that defining the processes and developing knowledge and learning is actually the real investment that will reap long-term dividends.
So in order to benefit in the years to come, you'll need to invest in knowledge and people now. This knowledge will be accrued over the years and needs to become part of your company's culture.
Right now, there's a gap between the companies that invested years ago and those who didn't. The ones that succeeded found that it took investment in learning and knowledge, and not simply in a technology.
Small Steps Allow Bigger Leaps
When trying to create an AI-powered contact centre, an error that's often made is trying to implement too large a solution on day one. Major mistake.
Rather than jumping into a big deployment, it's vital you know where to take that first small step. And that comes from deciding which processes to optimise.
Many companies that failed to do this have enthusiastically dived into creating a large and complex project, only to come unstuck when the realities of a steep learning curve hit home.
Think of your deployment like this: jump too far, too soon, and the landing might be painful; take smaller steps along the way and you'll get a softer landing.
The best approach is to work at a small scale, prove it works, then repeat. A more cautious and agile approach of testing and learning as you go puts you in a better position to pivot when your customers' needs change and reduces the risk to your business.
What do we mean by small scale? It might, for example, involve automating a single step in the customer journey and limiting it to 10% of the interactions.
Then, by using the data to get it right for these customers, carry on iterating until it works on a bigger scale, growing both the volume and the number of steps to the journey.
You might find that it doesn't take too many small steps to add up to the leap you wanted to take.
Small-First Means Data-First
Data is the fuel that will power your deployment smoothly forward. So it's key that you track every step of your automation, or supervise your AI's interactions.
Starting small, you can then drive these monitoring processes on the back of the data you've captured from customer response, using this data to optimise and gradually add capability and functionality over time.
The data you harness can be used to identify new opportunities, reaffirming your strategy is on track, and lets you leverage a solid data feedback loop to carry on expanding.
So implemented in a small-first, data-first way, automation and AI can provide an ongoing source of insights into your present and future customers.
Discover More
There's no reason to be hesitant about automation and AI – they can provide powerful new ways to drive your business forward. But remember, only if you get the fundamentals right.
For more information, read Sabio's eBook: Smashing silos & building bridges – Automation and AI that unites all your people.
This blog post has been re-published by kind permission of Sabio – View the
Original Article
For more information about Sabio - visit the
Sabio Website