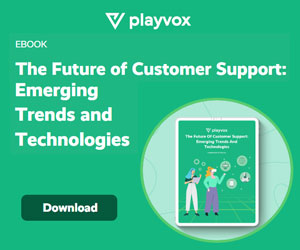 This article looks into building a reputation for good service amongst your customer base. It is the tenth and final strategy presented in our article: The Top 10 Customer Service Strategies
The late, great customer service and contact centre expert Paul Cooper wrote this article for us and here discusses the importance of good communication with your customers, in order to build a good reputation for customer service.
Tell the World!
Being great at customer service is something to tell the world about …  as long as you really are great.
Customers can see through the marketing hype when it comes to service much easier than they often can with products.
The Product Used to be "King"
In marketing, for a long time, product was 'king' and an organisation built its reputation on this. Just think of such names as Coca Cola, Heinz, Mercedes, Kelloggs, Bang & Olufsen, and the like.
Product-led organisations allowed the marketing fraternity to capitalise on the brand's market position.
Product-led organisations allowed the marketing fraternity to capitalise on the brand's market position.
It even allowed them to build, or at least hold, a position in the market for quite a time when their products weren't up to standard, such as Alfa Romeo in the 80s and 90s.
They really built some 'turkeys' in this period, but their excellent marketing department still managed to get every one sold.
The Public See Through Poor Service
For service, however, it is much more difficult to tell the world you're great when you aren't.
Organisations like Sainsbury's and Marks & Spencer tried this several years ago, and the public saw through it straight away.
But, those organisations that are really great at service, like Singapore Airlines, Waitrose or First Direct, may just be another airline, supermarket or bank, but through their excellent service have built their reputation so that they can safely promote this to the world, and we agree with them.
What's holding your contact centre back from achieving good customer service? This article may shed some light: 4 Contact Centre Advisor Habits That Are Really Irritating Your Customers
A Good Reputation
Nowadays, there is a growing push for service quality to be recognised as the real builder and retainer of reputation.
A good reputation for customer service is a key factor in successful business results, and research has shown that to do this an organisation should concentrate on four key issues:
Treating people as individuals
Keeping promises
Handling queries and complaints brilliantly
These are the route to success, but then telling the world, and also regularly telling your staff, are the key to maximising the benefits of having a great reputation.
In fact, the full involvement in, and commitment of, both staff and customers to your organisation's customer service excellence programme can depend greatly on your skills at communicating with them.
A Coordinated Strategy of Communications
Keeping people informed, recognising good performance, celebrating success, and marketing your services requires a coordinated strategy of communications utilising all available tools.
Test it regularly and continually enhance it as new technologies develop.
A reputation for great service can be easily lost by a poor telephone answering system (especially if automatic), confusing website, or lack of a corporate communications approach. Test it regularly and continually enhance it as new technologies develop.
In my articles over the past few months we have seen how to build this reputation, and by following and implementing the previous nine strategic elements you should be able to develop your organisation to the point where you can proudly tell the world.
Find out how to develop a proactive communication strategy in our article: What Is Proactive Customer Service? With a Definition, Examples and Key Challenges
Your Customers and Staff Should Recognise It
The only note of caution must be that your customer service must genuinely be recognised as great by your staff and customers, not just by management
Also, it must be throughout the organisation, not just in the contact centre or sales team.
Start With Great Internal Communication
So how does one tell the world? Well, it should, as all service issues, start with great internal communication – a house magazine perhaps, comprehensive intranet, regular meetings between management and staff etc to share success stories and performance.
The word-of-mouth benefit that can be gained by staff that are proud of their organisation can pay dividends in many areas, such as recruitment, 'going the extra mile', reduced headcount turnover and much more.
Externally, a marketing strategy based upon great service is the most powerful one can have and, again, customer loyalty, and through this their word-of-mouth, is invaluable.
Loyal and happy customers can be an important part, perhaps the most important part, of your marketing team.
Advertising, loyalty programmes, well-placed media articles, high-profile management, and consistently great service can all work together to lift your organisation above others in your sector, whatever the sector is – private or public.
For more on growing customer loyalty, read our article: 11 Tips to Create and Maintain Loyal Customers
Final Thoughts
At the beginning of this series, I closed the top ten listing with some simple dos and don'ts.
I make no apology for repeating them here, as they are an excellent starting point for your journey towards customer service excellence.
Dos and don'ts in customer service
Do:
Have a long-term strategic plan
Be committed at the top
Involve and trust your people
Be customer–centric
Listen to your staff and customers
Measure the right things
Don't:
Ignore your existing customer base
Stop training in the tough times
Pretend you're good if you're not yet
Only listen to the good news
Invest in technology too early
Quit when it gets tough
Find more advice for delivering customer service excellence by reading our article: What Is Exceptional Customer Service?
This article was written for us by Paul Cooper a valued and not-forgotten member of customer service and contact centre industries. 
For more of Paul's great content, here are some more of his popular articles: