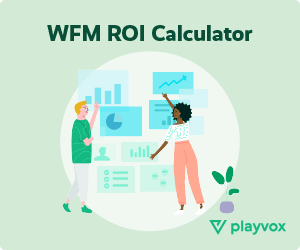 Michelle Randall at Playvox outlines the top four contact centre trends to boost performance and CX.
Contact centre trends can directly impact success. But in an industry — and world — evolving at lightning speed, it's harder than ever to keep up and to know which ones matter most.
For the greatest impact and a clear competitive edge, contact centre leaders must choose wisely when making business decisions about the trends to prioritize and implement in their organizations — because all change, even positive change, costs time and resources.
For today's modern contact centres, a smart place to start is with technology trends that play a pivotal role in directly improving all three of these critical areas:
Customer experience (CX)
Agent productivity
Contact centre operations
This year, in our experiences working with contact centre managers in top-performing service centres, we've seen the following four trends drive the most positive transformation.
Let's take a closer look at each for a deeper understanding of how they can bring a positive transformation in the personalized service you deliver as well as your daily operational efficiency.
Trend 1: Expansion of Engagement Channels
First, let's get clear on synchronous channels. Synchronous customer communication channels involve real-time communication between a customer and a service agent.
When communicating over these channels, the customer expectation is for an immediate or nearly immediate response from the customer service team. There is also a clear start and finish in these conversations.
Synchronous engagement channels include:
Voice
Live chat
Video chat
Real-time messaging
In an asynchronous channel, people interact without concurrently engaging in an active conversation. This kind of customer engagement is open-ended. It can start and stop at irregular intervals, and it can resume at a later time. It is not conducted in real time.
Examples of asynchronous external communication:
Email
SMS
Help desk tickets
Social media messaging like WhatsApp and Facebook Messenger
Synchronous vs. Asynchronous Customer Interactions
Synchronous Interactions
Agent and customer are communicating at the same time
There's a defined start and end point to the conversation
Examples… phone, live chat, video chat, and real-time messaging
Asynchronous Interactions
Agent and customer can reply to each other at any point
Conversation can stop and restart at irregular intervals
Examples… email, SMS, tickets, and social media messaging
Synchronous channels boost efficiency and customer experience with:
Faster identification and diagnosis of issues for quicker resolution
Lower abandonment rates
Higher customer satisfaction
Improved team productivity
More Is Better
Research by CX expert Shep Hyken indicates that 41% of consumers prefer digital first and the phone second. According to Hyken's data, that trend keeps increasing. It's not surprising that CX centers that offer a wide range of digital engagement channels perform best. This is a trend worth prioritizing.
Today, people expect to communicate through their preferred channels. Great customer experience means meeting customers where they are, making it important to expand your channel offering.
How Do I Choose When and What Channels to Add?
It's important to take a thoughtful approach to adding new channels to ensure you are delivering a consistent, good experience with every interaction. A phased implementation is best.
This is the three-step approach we've seen work most effectively to maintain and grow service quality for long-term customer loyalty.
Step 1: Start With Research.
Gather strategic insights to determine preferences, including detailed reports on consumer behavior and data from customer surveys on how they use various channels. Understand and plan for adequate staffing of customer service reps to ensure success.
Step 2: Add Only One New Channel at a Time.
Ensure every customer service representative is well-trained on new engagement tools. Address all challenges that come up — for customers and agents.
Step 3: Once You Have Rolled Out the New Channel, Monitor the Results.
Leverage advanced analytics to gauge metrics such as customer retention rates and employee productivity. Make changes based on these actionable insights. Use analytics to measure CX to maintain or exceed customer expectations and brand standards.
Trend 2: AI-Driven Forecasting and Scheduling Tools
Overstaffing and understaffing due to inaccurate forecasting models are both costly in dollars and CX. The contact centre technology trend toward more sophisticated and AI-driven workforce management software is paying big dividends for customer service centres that adopt these solutions.
Spreadsheets may have been the tool of choice for forecasting and scheduling when contact centres were voice-only. Today, though, customer service agents handle a variety of channels that operate far differently. They need a more sophisticated approach to workforce management.
AI-enabled WFM solutions that are digital- and data-first, cloud-native, and highly intuitive are a technology trend contact centres can't afford to ignore. Solutions that fit this model make it easy to service the channel preferences of your customers and adjust as their needs change.
Take the step to eliminate the inefficiency, inaccuracy, and costs of manual forecasting and scheduling with the most modern WFM software available. You'll gain valuable insights and intelligence to fuel positive and lasting transformation.
Tackle Agent Attrition, Address Burnout With WEM
In 2022, the average agent turnover rate climbed as high as 30% for large customer service organizations. With the cost to replace an agent averaging more than $14,000, you can't afford to stay stuck in this cycle.  Addressing burnout is one solution.
Burnout is real in contact centre environments, especially as CX leaders and contact centre agents continue to navigate remote, on-premises, and hybrid work environments. In addition to creating turnover issues, burnout can also prompt interaction avoidance and quiet quitting.
That means burnout has direct effects on CX and efficiency. contact centre managers who prioritize advanced WEM solutions with AI insights will quickly see benefits to agent performance and CX through more accurate schedules, more visibility to real-time metrics, and more insight into the channel preferences needed for optimal staffing.
Agents won't burn out trying to channel jump to satisfy needs. You can proactively set up your staff for success and schedule them in the channels that most fit their skill sets.
Trend 3: Prioritization of Employee Experience and Employee Engagement
Your help desk is the relationship hub for your brand. Simply put, it's where CX rises and falls. How customers perceive your brand is closely — and often entirely — based on the customer experience delivered by your contact centre team.
The agent's role in contact centre success is critical — and the trend to prioritize employee experience and employee engagement is too.
From the most typical interactions to the most difficult, your support centre representatives have the clearest understanding of customer sentiment. They can quickly uncover when something isn't working with your products, services, contact centre systems, and customer relationships.
Empowered and engaged agents are more likely to communicate to leaders the problems they identify through their customer interactions. Their insights and customer intelligence are critical to optimizing CX.
Employees are also the single biggest contact centre expense. So retaining them has a cascading effect on operational efficiencies and overall organizational success.
These are some of the most effective ways to keep your customer service agents engaged:
1. Communicate Well (And Often)
Ensure your teams understand organizational goals and strategies and invite them to offer input. Be clear about how to succeed. Listen to feedback about what's working and isn't across the team and demonstrate that you're taking action to address issues.
2. Gamification: Sometimes Work Can Be Fun and Games
Contact centre gamification includes a wide variety of strategies and programs designed to introduce friendly competition, social recognition, and a sense of progression into the day-to-day activities of your agents.
Making a typically repetitive and stressful job more fun, engaging, and rewarding is a smart path to employee engagement.
Gamification can contribute to a better agent experience by breaking up the daily routine while promoting collaboration and a deeper sense of community within the team. It's a win for the individual and the organization.
Remember to keep it focused on key metrics. Having gamification elements, such as leaderboards and badges, built into your quality solution helps drive consistent effort toward the same goals and the most important metrics.
Also having a solution that allows peers to recognize each other and be visible helps drive strong culture and teamwork. The gamification software Kahoot!, for example, creates game-show-type quizzes everyone can participate in, even remotely, using Zoom.
3. Accentuate the Positive
For contact centre managers, one of the most important parts of the job is providing feedback. It helps agents improve their performance and stay on track toward achieving goals.
While constructive negative feedback is often necessary, positive feedback is just as important and needs its own focus.
The author of Be a Shortcut: The Secret Fast Track to Business Success, Scott G. Halford, sums up the need for positive feedback best in Entrepreneur:
"Positive feedback stimulates the reward centers in the brain, leaving the recipient open to taking a new direction. Meanwhile, negative feedback indicates that an adjustment needs to be made and the threat response turns on and defensiveness sets in."
To elevate performance and agent engagement, regularly coach your CX team members on where they excel.
Trend 4: Omnichannel Solutions for Context Throughout the Customer Journey
An important contact centre trend boosting contact centre performance is the integration of business systems and an omnichannel platform, both of which help reduce costs and deliver more personalized experiences.
Siloed organizations will not thrive in today's economic climate when every insight into the customer journey is critical to acquiring and keeping customers long-term. That's why every top-performing CX centre is omnichannel.
According to McKinsey & Company, most Gen Z consumers don't think about channels being distinct — and they value brands and retailers based on the seamlessness of their experiences.
Omnichannel communication provides better contextual support to customers and delivers those seamless experiences.
Customer-centric, omnichannel support makes navigating between touchpoints simple. And that's good news for customers, employees, and businesses.
Customers don't want to repeat their problems every time they contact the help desk. The kind of customer experience that positively impacts an organization's bottom line requires agents to know history and context to resolve issues quickly and effectively.
Agents with access to complete information across all channels consistently provide optimal service. That means not only better CX through every interaction but more opportunities for agents to upsell.
While integrated, omnichannel support is a boon for customer experience, there are clear productivity and cost benefits as well.
When customer issues take multiple interactions to resolve, your contact centre needs more agents, driving up the cost of operations. Omnichannel support centres have the tools and information to get to a resolution more quickly.
No business can get accurate customer behavior data when operating in silos. To thrive, businesses must integrate all relevant data across business intelligence, CRM, and ERP systems. Customer support centres must operate in the same manner.
One of the necessary conditions for optimal CX is integrated, unified systems that make it possible for agents to understand a customer's needs quickly. To get there, CX leaders must first identify the systems that need to be tied together for agents to deliver optimal results.
Having the Tool Is Not Enough
Once you've built a fully integrated, omnichannel contact centre solution, ensure your agents are properly trained on it.
To be effective, they must be able to easily access the information that contains the context and history they need for conversations and interactions. That coaching and training is an essential step in getting to a seamless customer experience.
Once the system is up and running, check for redundant or unnecessary steps for your agents and customers, which can lead to frustration. And, remember, this isn't a case of "set it and forget it" — use data and analytics to continually refine and improve processes.
Help Your Contact Centre Leverage These Trends
Identifying and understanding the most meaningful and impactful contact centre trends for your team is a fast track to optimizing performance. Trends can provide strategic insights to guide positive evolution through any economic environment.
But process and technology change is fraught with challenges. An experienced partner can help you navigate and succeed.
This blog post has been re-published by kind permission of Playvox – View the
Original Article
For more information about Playvox - visit the
Playvox Website