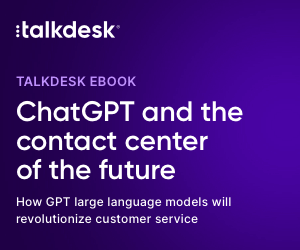 Celia Cerdeira at Talkdesk looks at how customer expectations for flawless service are on the rise and call centre agent training is crucial to meet customer expectations.
Customer-centric companies have to dedicate more time, effort, and resources to enhance the quality of service agents provide their customers.
As a result, they will see an increase in customer retention, customer loyalty, and revenue. Improving how your agents interact with your customers is a great place to start.
First impressions matter. A Talkdesk Research report states that 49% of consumers say that they stopped working with a company in the past year because of an instance of poor customer service.
If your customers are not cared for, they will look for other providers elsewhere. Agents have a strategic role in creating loyal customers and the only way to accomplish that is by providing effortless, memorable service experiences.
This blog post contains information about how to train call centre agents to effectively interact with customers.
Applying these eight techniques to your next training program will help improve the quality of service your agents provide to your customers.
What is Call Centre Agent Training?
Call centre agent training prepares agents and gives them the skills to successfully handle your customers. Empower your agents to reach their full potential by giving them the knowledge to successfully handle your customers.
A good agent training strategy is a key aspect of the customer experience with your business. Positive customer service experiences lead to customer trust and brand loyalty.
The first step to engaged customers is to engage your agents, as engaged agents are motivated to achieve contact centre's goals and ensuring the highest levels of customer satisfaction.
1. Teach Agents Appropriate Call Centre Etiquette
First impressions are so important in call centre interactions as they set the tone for the rest of the call. An agent who fumbles the greeting will come off as unprofessional, nervous, or incompetent to the customer and will negatively impact the rest of the interaction.
It is imperative that you teach your call centre agents exactly what to say and have them practice their greeting until they nail it.
They should also be educated about appropriate call centre etiquette so that their entire interaction is excellent from start to finish.
2. Encourage Agents to Quickly Build Rapport with the Customer
Building rapport with customers is essential to ensuring that their interaction will be as successful as possible. To accomplish this, agents should convey the message that they will be working collaboratively with the customer to meet their needs.
They should also aim to establish a warm, supportive, and empathetic connection between themselves and the customer.
When appropriate—for example while waiting for information to load, if they are searching a knowledge base, and others—they could tell a lighthearted joke, ask about the weather, or ask about a current event, such as "Have you been following the World Cup?"
Establishing rapport with the customer will facilitate the problem-solving process and will help diffuse difficult situations if they arise.
3. Teach Agents Active and Empathetic Listening Skills
Active listening is an essential skill that, if used correctly, will significantly impact the quality of service your agents provide your customers.
Attentiveness, responsiveness, and perceptiveness all have a positive impact on customer satisfaction. This is because these active listening skills allow the customer to be acknowledged and feel understood.
Active listening also encourages the customer to be more open and forthcoming with information highly reducing confusion and misunderstandings.
Teach your agents to allow the customer to talk without interruption, take notes on the important issues, and ask clarifying questions if necessary.
During training, hone their active listening skills by playing a recorded call that demonstrates effective listening behaviors. Then help them identify barriers to good listening behaviors as well as how they can overcome them.
Agents who are skilled at active listening will be more capable of understanding the customer's needs and adequately addressing them.
4. Encourage Agents to Summarize the Customer's Main Points
To effectively interact with customers, your agents must ensure that they are on the same page as them at all times. To accomplish this, teach agents to summarize the main points of the customer's issue or complaint.
This will demonstrate that they were listening attentively and facilitate a mutual understanding between agent and customer.
5. Educate Agents About the Six Basic Needs of the Customer
There are six basic needs of the customer. Once your agents have a comprehensive understanding of each, they can adjust their approach to interacting with customers accordingly.
Friendliness
Customers would like to be greeted politely and treated with courtesy.
Empathy
Customers would like to know that the call centre agent understands their needs, issues and questions and are not critical or judgmental.
Fairness
Customers would like to receive adequate attention and reasonable answers to their questions.
Information
Customers would like to be informed about products, services, and policies.
Options
Customers would like to be provided options so that they can make informed decisions.
Control
Customers would like to have an input into the decision-making process and have some influence on the outcome.
Call centre agent training is essential for agents to truly understand these six basic customer needs and be more prepared to interact with their customers and adjust their approach to better meet their needs.
6. Encourage Agents to Personalize Their Conversations
Customer-centric companies are striving to provide a more personalized experience to their customers in an attempt to better meet their needs.
A recent webinar about service interactions in a call centre found that offering personalized information to the customer was the most important factor in customer rating of service quality.
Thus, when teaching agents to enhance the quality of the service they provide your customers, focusing on offering personalized information should be a priority.
How do you accomplish this? Provide them with call centre software that displays detailed information about the caller, such as name, company, previous support tickets, purchases, previous interactions, call recordings, or voicemails in the browser as the phone rings.
With this detailed information, they will be able to personalize their approach and more effectively meet the needs of their customers.
7. Allow for Autonomous Behavior and Effective Problem-Solving
To successfully interact with customers, call centre agents must be autonomous and trained to find effective solutions to complex problems. Did you just cringe when you read that?
Allow me to convince you that your agents should ditch the script. Autonomous agents are more capable of effectively addressing customers' needs by being flexible, responsive, and personal.
If you would like your agents to provide top-notch service to your customers, you must train them to engage in effective problem-solving and to personalize their approach to interacting with the customers. Doing so will significantly enhance the quality of service they provide your customers.
8. Encourage Agents to Use Word Softeners
Customers don't like to hear "No" from call centre agents. Train your call centre agents how to more effectively interact with their customers by using the following word softeners:
Replace "No" with "I can offer you this or this. Would either work for you?"
Replace "I don't know" with "Let me look into that for you."
Replace "That's not my job" with "May I transfer you to an agent who can better meet your needs? I will pass along your information as well so you don't have to repeat yourself."
Replace "It's your fault for not _" with "I can understand why you are frustrated. Let's figure out a solution to this issue."
Replace "Calm down" with "I'm very sorry that you are frustrated. It is certainly understandable. I am going to work hard to resolve this as quickly as possible."
Using these word softeners are key when your agents are handling an angry caller, interacting with a caller who is at the end of their rope, and when they are unable to meet the caller's request.
Call canter agent training should encourage them to practice using word softeners and provide them feedback on their delivery.
Concluding Thoughts About Call Centre Agent Training
More and more customer-centric companies are improving the quality of service they provide their customers by enhancing call centre agent training.
Following these tips will put you well on your way to training your call centre agents to more effectively interact with their customers. If executed correctly, the result will be increased customer satisfaction, customer loyalty and ultimately, revenue.
Training call centre agents is not a one-time event related to onboarding that teaching agents the basics of to handle customers and use the software applications to do their job.
It should be a continuous process that empowers them to grow and strive to provide memorable experiences to your customers.
This blog post has been re-published by kind permission of Talkdesk – View the
Original Article
For more information about Talkdesk - visit the
Talkdesk Website