Reasons for using call recording by vertical market
Of those contact centres which use interaction recording, the majority use it for both quality assurance and training purposes, so that the supervisor and the agent can both learn from it.
It is encouraging to see 60% of those using call recording solutions are trying to get their senior management involved in what goes on within the contact centre. The finance sector is especially keen to use recording to help with compliance.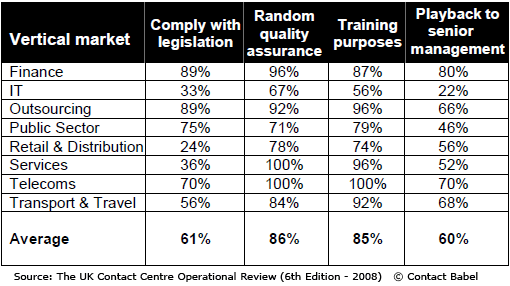 Reasons for using call recording by type
Outbound contact centres are very likely to use call recording for training
purposes, although unlike previous years, they are also getting senior
management involved in the call-back analysis to improve their sales strategies.

Reasons for using call recording by size
Larger contact centres are much more likely to get senior management involved
in using call recording, and are generally more concerned about quality
assurance, legislation and training issues.
Overall, these solutions are an integral part of the way in which the majority of contact centres operate.

Further Reading
Contributors
Steve Morrell of Contact Babel