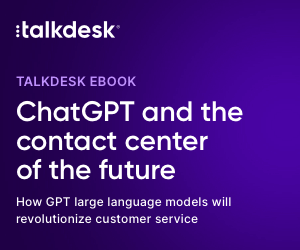 Nuno Brito at Talkdesk explains the importance of customer engagement and how to improve it with contact centre integrations.
Customer engagement is a key performance indicator (KPI) for brands, and an indicator of customer loyalty.
Contact centres have long had a central role in building, maintaining, and measuring customer engagement. The digital transformations in customer behaviour prompted by COVID-19 have made the contact centre an even more pivotal part of the customer experience (CX).
What Is Customer Engagement?
Broadly defined, customer engagement is any interaction between a customer and a brand through online or offline channels. Customer engagement involves long-term interaction, building loyalty among customers, and word-of-mouth advocacy.
The Internet forever changed the nature of customer engagement, providing new ways of communicating with brands in the form of user-generated content, community forums, blogs, and social media.
Prior to the Internet era, customer engagement was a one-way channel: brand broadcasting to the customer.
Advertising on television, radio, print media, and billboards were the most common methods to reach customers, and brands could only rely on sales data to determine whether their efforts were working.
The advent of the Internet not only provided new channels but also gave brands new ways to measure customer engagement. Digital marketers can gather a wealth of data about customers' individual preferences, enabling personalization on a scale that was unthinkable in analog times.
Companies like Netflix and Amazon have refined their recommendation engines and seem to know what a customer wants to watch or purchase before they know themselves.
Why Is Customer Engagement Important?
In a world where any purchase is one click away, brands need to work hard to keep customers engaged. Engaged customers buy more, tend to be more loyal, and share their experience with friends.
In fact, according to a PWC survey, in the U.S., customers are willing to pay more for a product or service if the experience is great—as much as 40% more in some regions.
If great customer experiences encourage more spending and customer loyalty, bad experiences repel customers just as severely.
The same PWC survey found that one in three customers (32%) would reject a brand after just one poor experience. The number is even higher among Latin American customers (49%). Even if a brand has stellar products and speedy delivery, it is all for nothing if the customer has a poor experience.
Great customer engagement is the result of the right company culture, innovative technology, and empowered employees. Customers have strong demands of the brands they engage with: They want convenient, fast service offered by friendly and knowledgeable brand ambassadors.
While technology can meet each of these expectations to some degree, it is the human element that makes for standout customer engagement.
What Is the Contact Centre's Role in Customer Engagement?
The contact centre plays a key role in customer engagement, as it is one of the main human touchpoints that customers have with brands.
Contact centre employees that are engaged and fulfilled in their jobs are more likely to go the extra mile when engaging with customers.
This is especially important in industries in which positive experiences have a higher influence on customer purchases, including healthcare, banking, restaurants, and hotels.
In many cases, there is a disconnect between customer expectations and the experience employees can deliver. Companies that attempt to bridge this gap solely with technology only address part of the problem.
Often, what needs to happen is a change in the way companies—and their contact centres—operate.
Brands that empower their employees with guidelines, such as no-questions-asked return policies or a 10% discount offer without manager approval, not only reduce friction for customers but also increase customer satisfaction (CSAT), earning the brand a little forgiveness after a misstep.
How to Improve Customer Engagement With Contact Centre Integrations.
Integrating the contact centre platform with other software deployed within the organization can increase productivity and improve customer engagement.
A robust contact centre platform should be equipped to quickly and easily integrate third-party apps into its workflow, as well as provide the ability to handle calls and other interactions from anywhere on the desktop via pop-ups, click-to-call, and other options.
There are many benefits to integrating a contact centre platform with other software, including:
Synchronized data. Customer data can be updated across all platforms, ensuring that all parts of the organization—from customer service to sales, finance, and beyond—are working from a single source of truth.
Automated workflows. Contact centre platforms can be configured to automatically trigger events in connected applications—saving agents valuable time.
Simple setup. System administrators should have the ability to quickly and easily connect their organization's contact centre platform with frequently used contact centre software integrations.
There are many integrations that can positively impact customer engagement. Some of the more popular functions include:
Team collaboration. System administrators can optimize contact centre operations by connecting their contact centre and a chat app. This allows teams to respond quickly to changing contact centre conditions in real-time.
Integration with a team collaboration app also allows teams to automate the delivery of key contact centre notifications, based on caller experience, agent coaching, call volumes, and more, to alert relevant individuals or groups.
Improve CX. With an integrated customer relationship management (CRM) app, teams can automate and streamline contact management workflows and extract the most value from customers.
This type of integration eliminates manual tasks, such as updating contacts or setting a follow-up reminder after a missed call in both applications. Agents can focus on conducting more personalized and meaningful interactions with customers, driving revenue growth, and customer loyalty.
Real-time coaching. Managers and supervisors can leverage agent enablement and coaching platforms to improve customer engagement by analysing interactions for compliance to processes and procedures.
This type of integration can also uncover business insights into the customer experience, evaluate and score calls for compliance and quality, and recommend personalized coaching to agents.
Expanded omnichannel support. Many integrations can enhance capabilities that already exist in a contact centre platform. For example, there are integrations that can streamline and automate SMS text messages, live chats, screen sharing and takeover, and more.
These integrations empower customers to get in touch with a contact centre on their preferred channel.
Providing contact centre agents a full set of tools to address any customer issue has a positive impact on customer experience. Organizations that invest in an integrated technology platform and in their team members are better equipped to fulfil customer demands.
This blog post has been re-published by kind permission of Talkdesk – View the
Original Article
For more information about Talkdesk - visit the
Talkdesk Website