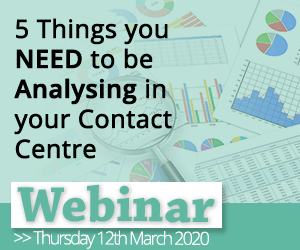 Webinar Date
- Thursday 12th March 2020 at 14:00pm UK time
Click here to register
There is so much customer and advisor insight available to us in the contact centre, but most of us stick to analysing the conventional metrics.
Sure, we can benchmark customer satisfaction, dig-into attrition rates and track repeat calls - these all have their merits. But, what else should we be looking at?
In this webinar, we will explore those areas of our contact centre's performance that are too often underappreciated and highlight why you need to start analysing them. And as it will be an interactive webinar, you will also have the opportunity to share tips and ask questions of the audience and other attendees. We run an interactive chat room in parallel with the webinar.
Panellists

Duncan White
horizon2

Ben Fuggles
NICE Nexidia

Jonty Pearce
Call Centre Helper
Topics to be discussed
Where can you find great value in analysing performance?
How to turn your analysis into actionable insights
Improving contact centre reporting
Where you may be wasting time
Using specialist tools for additional insights
Top tips from the audience
---
Speaker Biographies
Duncan White | horizon2
An experienced and seasoned entrepreneur with a unique business skillset that combines commercial acumen, analytics and creativity with the ability to sell complex solutions and deliver growth for organisations.
Duncan has held board level positions in consultancy, FinTech and service delivery companies varying in size from startups to Fortune 500 companies and is an innovative, strategic thinker with excellent interpersonal and communication skills at CXO level. First class analytical, design and problem solving skills complement a proven ability to deliver against demanding targets and timescales.
Connect with Duncan on Social Media:
Linkedin
Ben Fuggles | NICE Nexidia
Strategy, insight and business development professional with over 20 years experience in blue chip companies across a number of industries.
I am experienced in strategic planning, customer and competitor insight and in-depth analytics, with a constant focus on harnessing them to drive improved business performance. Delivering such projects involves regular engagement at CxO level and the management and development of talent in the business.
Connect with Ben on Social Media:
Linkedin
|
Twitter
---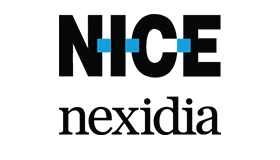 This webinar is brought to you by Call Centre Helper and is sponsored by NICE Nexidia.
You won't want to miss this exciting webinar.


Click here to register
This webinar is held at 14:00pm UK time, 15:00pm in Paris, 16:00pm in South Africa and 10:00am in New York. A replay facility will also be available.
If you are attending one of our webinars for the first time, we suggest you arrive 10 minutes early to allow for the software to download successfully.
---