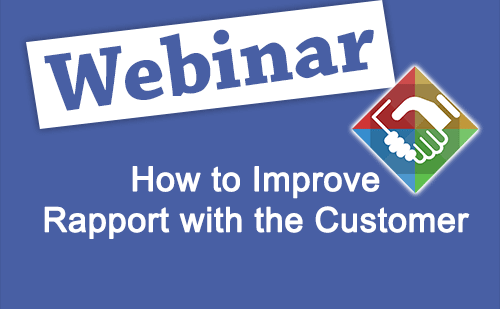 In this webinar we looked at ways to build and improve rapport with customers over the phone.
Agenda
Introductions – Rachael Boynton, Call Centre Helper
Christine Knott – Beyond The Box
Antony Ryan – West Unified Communication Services
Topics to be discussed
Rapport building
Opening the call with a smile
How to start a conversation with your customer
Listening skills
Showing empathy with the customer
Empathy words and statements
Use of the customer's name
Listening to calls
How technology can help improve rapport
Top tips from the audience
Winning Tip – "In our training we prove that people get an impression of you on the phone within seconds. We turn around and say the same greeting (words) in 5 various ways, yawning to show tiredness, professional, angry and growling, flirty (which gets a lot of laughs), and shy and timid. When we turn around we ask for feedback and they guess each time the impression we have given them which demonstrates that we have said the exact same thing yet they made a quick impression." thanks to Terri5
Original Webinar date: Thursday 2nd March 2017
---
Questions and Answers
1.If rapport drops due to taking call after call, does this mean rapport is directly linked to motivation? So if motivation drops, so does energy and rapport…?
CK – Rapport is something that happens with someone else, it is a feeling of commonality.  Rapport won't drop as a result of taking call after call but motivation to speak to someone could. That is down to the individual's mind set and is controlled by themselves.  When an individuals motivation drops it could affect energy levels.  Motivation are two different things both can affect energy through mind set and state adopted.
AR– If the customer service representative is successful in building rapport, the positive vibes from customers usually helps with motivation. And of course rapport will also help to generate successful outcomes which is also very motivational.
But successful rapport won't always generate a successful outcome by itself. That is where technology to empower agents comes in. Because, if an agent is juggling between different systems, this can be challenging motivationally, and have an impact on customer rapport.
2. How do you build on commonality when we are not allowed to divulge personal info and opinions?
CK – Rapport isn't always about divulging personal information and opinions, though it is a fast route towards it.  Rapport is a feeling of commonality, people like people who are like themselves or how they would like to be.  Commonality can demonstrated and sought via other routes that are not personal, the weather isn't personal and one of the best ways to start a conversation to demonstrate commonality.  When we smile, listen, demonstrate empathy rather than sympathy, we are demonstrating traits that people would, in the main hope to recognise in themselves, thus responding to "people like people who are like themselves, or how they would like to be".
AR – Empathy is about showing awareness of the feelings and emotions of other people, rather than talking about your own. You can build on commonality even if you are not allowed to divulge personal information and opinions. Take for example, you ordered some groceries via the internet and there was a broken jar of jam that went on all the other products.  Simply acknowledging that it happened – "no one would like that happening to them" can show empathy.
3. How do you build rapport via an email or webchat chain?
CK – Professionalism, demonstration of understanding the facts and if not, clarifying them in the email/webchat chain. Plus the opportunity to discuss the weather when the conversation starts is still an option.
AR – Email
Use a solution that ensures incoming emails are automatically delivered to the relevant queue, with the available option to set up auto replies based on the email content. Make sure your pre-written templates are empathetic in style and maybe give the customer service representative a choice of options. Ideally agents should be able to choose from pre-written templates that can be easily customised to respond to that email.
Webchat
Use specific questions like "what brought you to our site today" in place of general questions like "how can I help you?". Also, if a webchat is not going well, and the customer is having a rant, let them finish before offering a solution, you never know when agents will come across a slow typist and you may come across as impatient. Your agents will find that customers usually feel better after they have finished. Then close the chat politely and resolutely.
4. How do we gain assistance to improve our technology and customer experience?
AR Some vendors will offer a free healthcheck.
West would also be happy to offer non-obligation consultation and a demonstration of how you can use technology to improve customer experience and build customer rapport.
---