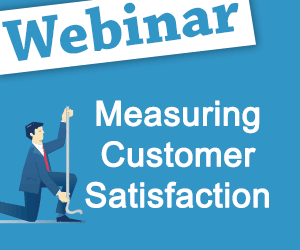 In this webinar we looked at measuring customer satisfaction. Comparing different metrics and working out what will work best in the contact centre.
Agenda
Introductions – Rachael Boynton, Call Centre Helper
Morris Pentel – Customer Experience Foundation
Topics to be discussed
Measuring Customer Satisfaction
Comparing different metrics

CSAT scores
NetPromoter Score
Customer Effort Score
Net Emotional Value

Which method works best
Calibration across channels
The right times to measure customer satisfaction
Pitfalls to avoid
Using Customer Satisfaction to drive change
Use of technology
Top tips and Questions from the audience
Winning tip –  "#tip it's also important to consider the channel for checking satisfaction, related to the visual / emotional scale. Just because a customer contacts via twitter for example, they might actually be wanting someone to talk to" thanks to Ellen2.
Original Webinar date: Thursday 15th February 2018
---