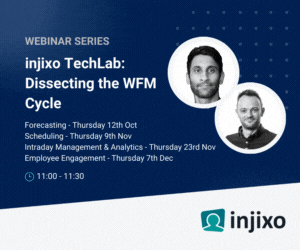 Twan de Leijer of injixo discusses the link between workforce management (WFM) and employee engagement, highlighting why it's so valuable.
Low employee engagement is a problem that many companies face. Sometimes, this may be hard to see, but there are some clear signs for you to look out for.
Especially in this day and age, with unemployment being extremely low, it is already enough of a challenge to recruit new employees for your contact center.
This makes it all the more important to retain the employees that you have and keep them satisfied.
Employee engagement is the ultimate result of everything you do as an organization
I would be the first to admit that increasing employee engagement is not easy and that it cannot be solved by a piece of software. On the contrary, I think the level of employee engagement is the ultimate result of everything you do as an organization.
However, I also think that every department should be tasked with this challenge and should question what they can do to make employees happy. A WFM planner is no exception.
In a planner's case, the software that they use should make life easier. It should automate repetitive tasks, freeing up time for more important work.
WFM software (to schedule your employees) could really support you in driving employee satisfaction, provided that it offers the right set of tools.
In this post, you'll learn more about what WFM software features can really assist you in achieving employee engagement most efficiently.
6 WFM Software Features That Can Boost Employee Engagement
1. Shift bidding allows planners to schedule empty shifts and then gives employees the ability to bid on shifts through an employee portal. Such a feature provides the employee with more control over when to work and it can help reduce the feeling of being just "meat in a seat".
The injixo WFM software offers an employee portal, where employees can participate in shift bidding.
2. Shift swapping allows employees to swap shifts with co-workers. A good WFM tool not only allows employees to do so, but also takes into account the required skills an employee needs to be able to take a shift. This prevents agents swapping shifts for a channel they are not trained for.
3. Availability levels allows employees to indicate when they're available for work and to what level. There may be times during the week that you would be able to work, but you'd rather not if not absolutely necessary. A WFM tool can automatically take this preferences into account.
4. Working from home is a proven method of increasing employee satisfaction. It allows people to create a working environment they feel best in and it can take away those annoying commutes to work.
Your IT infrastructure needs to be prepared in order for agents to be able to work from home. The same goes for your WFM software. The software should provide visibility on who is scheduled to work from home, if they are currently at work, and what they are working on.
The scheduling feature of injixo, for example, provides you with a dashboard so you can see exactly what your remote employees are currently doing.
5. Training is another proven method to show that you are committed to your employees' professional development. It can, therefore, increase employee satisfaction and loyalty.
Good WFM software either includes or can easily connect to a learning management system (a system that houses and keeps track of your training programs).
This allows the software to automatically schedule training sessions at the best possible time and makes it very transparent to the employee that the company is investing in his/her professional growth.
At injixo, for example, we have included a learning management system that contains off-the-shelf e-learning courses from The Call Center School.
6. Forecast accuracy may at first seem unrelated to employee satisfaction. But the more accurate your forecast is, the more accurately you can schedule employees.
This will allow you to hit that perfect level of workload per employee, where your employees are neither overwhelmed by the workload nor bored by the lack of work to be done.
This can make a huge difference in employee satisfaction, because it can be really rewarding to agents to feel productive while having the capacity to delight your customers!
At injixo, for example, we apply artificial intelligence to automatically test hundreds of forecasting models and automatically pick the most accurate one for your contact center.
This blog post has been re-published by kind permission of injixo – View the
Original Article
For more information about injixo - visit the
injixo Website